Midsomer Murders, one of the longest-running British detective series, returns to public TV stations next month with more murders and mysteries in its eleventh series.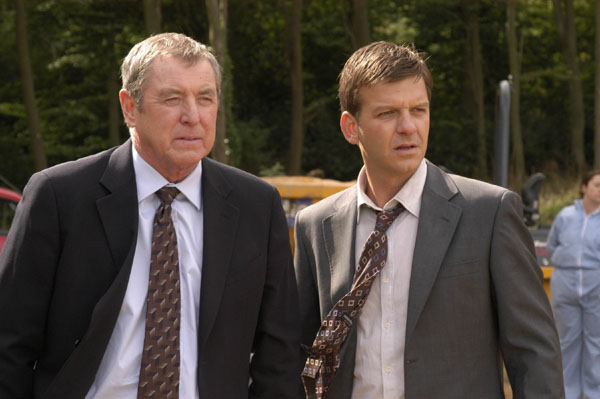 Not only has Midsomer Murders been on telly since 1998, it is one of the most popular British imports on American television. And select public TV stations across the county will soon begin broadcasting Series 11 of the hit mystery drama, starring John Nettles as DCI Tom Barnaby and Jason Hughes as his sidekick DS Ben Jones.
Based on the "Inspector Barnaby" novels by Caroline Graham, these Midsomer Murders' stories are as quirky and humorous as ever, and red herrings are plentiful, as usual. Ditto the guest stars. So, with many of the dastardly deeds being anything but run-of-the-mill murders in the deadliest (fictional) county in Britain, what's in store in Series 11?
"Blood Wedding" — Days before Tom and Joyce's (Jane Wymark) daughter, Cully (Laura Howard), is to be married, Barnaby and Jones investigate the murder of the maid of honor during the reception of a high society wedding in Bledlow. As deceptions are perpetrated and secrets are exposed, another person falls victim to the killer, pierced by an arrow.
Guest stars include Daniel Casey, who reprises his role as Detective Gavin Troy for the final time, Sam Hazeldine (Peaky Blinders), who does the same as Cully's now-husband Simon Dixon, Charles Edwards (Arthur & George), Mark Umbers (Home Fires), and Elisabeth Dermot Walsh (Doctors).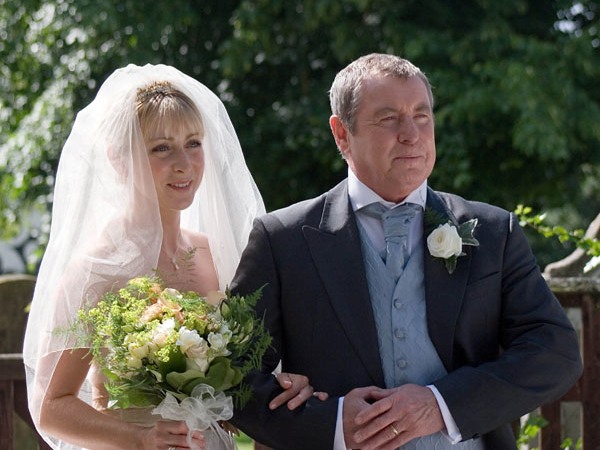 "Shot at Dawn" — After the name of a dishonored Hicks family soldier is added to the Midsomer Parva World War I memorial, the century-long feud between them and the Hammonds looks to have escalated to murder when the Hammond family patriarch is killed following a battle reenactment. As Barnaby and Jones delve into the families' histories, their case expands to include a bombing gone awry and another murder victim.
Guest stars include Malcolm Sinclair (Pie in the Sky), Samantha Bond (Downton Abbey), Charlotte Lucas (WPC 56), George Cole (Minder), Brian Capron (Where the Heart Is), and Gemma Craven (The Clinic).
"Left for Dead" — As villagers protest the building of a new overpass, a reclusive couple are found dead in their home in Dunstan, DS Jones' hometown. Then the manager of the construction company is found murdered. The investigation gets personal for Jones when he discovers his childhood friends are linked to the deaths, while Barnaby uncovers connections between the current cases and a missing persons one from years ago.
Guest stars include Maggie Steed (Pie in the Sky), Harry Peacock (The Kennedys), Marion Bailey (The Trials of Jimmy Rose), Ben Crompton (Game of Thrones), Matthew Flynn (Pride), and Shaun Dooley (The Game).
"Midsomer Life" — A man is found dead in his car in the woods near Midsomer Sonning, and the investigation brings Barnaby and Jones to Midsomer Life magazine and its wealthy owner/editor. During their inquiries they learn about affairs, feuds, blackmail, and a miscarriage of justice, while the dead bodies of persons related to the case start piling up, and Barnaby tries to prevent Joyce from becoming another victim.
Guest stars include Simon Williams (The Bletchley Circle), Pooky Quesnel (The Guilty), Selina Cadell (Doc Martin), Daniel Hill (Judge John Deed), and MyAnna Buring (Banished).
"The Magician's Nephew" — A children's magic show act that had seemingly gone awry turns out to be murder by poison. Barnaby and Jones discover the victim had been a member of a secret occult group, whose leader is in a heated race against a famous writer to locate a priceless antique book. Another local is murdered, and then another, and the detectives must conjure up a way to discover the motive for the homicides and catch the creative killer.
Guest stars include Stuart Wilson (Hot Fuzz), Dominic Rowan (Law & Order: UK), Ronald Pickup (The Best Exotic Marigold Hotel), Brigit Forsyth (Still Open All Hours), and Tom Goodman-Hill (Mr Selfridge).
"Days of Misrule" — The new, young, and overly-ambitious Acting Chief Superintendent has Barnaby and Jones in a team-building workshop during the Christmas holidays, until they're called to investigate an explosion. The case gets complicated when a dead body is found in a lake, two more people are subsequently killed, and the detectives uncover plenty of motives, from a young woman's suicide and shady business deals, to smuggling and blackmail.
Guest stars include Tim Pigott-Smith (The Suspicions of Mr Whicher), Joseph Millson (Banished), Niamh Cusack (Rebellion), Judy Parfitt (Call the Midwife), and Nick Fletcher (True Dare Kiss).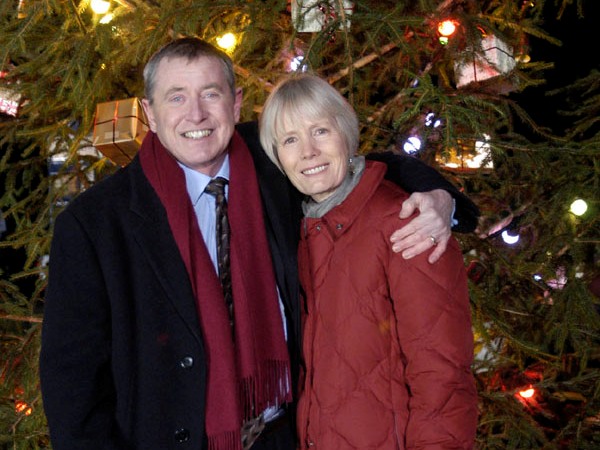 "Talking to the Dead" — Two couples in Monks Barton vanish into thin air and villagers believe something supernatural is behind it, what with Barton Woods being haunted by monks' ghosts and a flamboyant psychic arriving to perform an exorcism. But then the missing are found dead, and Barnaby and Jones think the murders are the work of criminals rather than witchcraft.
Guest stars include Jeroen Krabbé (Immortal Beloved), Paul Jesson (Mr Turner), Anton Lesser (Endeavour), Victoria Wicks (Drop the Dead Donkey), Bill Ward (Emmerdale), and Richard Graham (Vera Drake).
Midsomer Murders: Series 11 begins airing on the following public TV stations starting the 1st of March 2016. The premiere date varies from station to station, so check your local listings or contact the station that serves your area for broadcast dates and times. For information regarding carriage, contact American Public Television.
| STATE | CITY | STATION |
| --- | --- | --- |
| ARIZONA | Tucson | |
| CALIFORNIA | Monterey, Salinas, San Francisco, San Jose, Watsonville | |
| CONNECTICUT | Fairfield, Hartford, New Haven, Norwich | |
| DISTRICT OF COLUMBIA | Washington, DC | |
| FLORIDA | Miami | |
| FLORIDA | Tampa | |
| IDAHO | Boise, Coeur d'Alene, Moscow, Pocatello, Twin Falls | |
| ILLINOIS | Chicago | |
| KANSAS | Topeka | |
| LOUISIANA | Alexandria, Baton Rouge, Lafayette, Lake Charles, Monroe, Shreveport | |
| MASSACHUSETTS | Boston, Springfield | |
| MINNESOTA | Minneapolis, St. Paul | |
| MISSOURI | St. Louis | |
| NEW HAMPSHIRE | Durham, Hanover, Keene, Littleton | |
| NEW JERSEY | Camden, Montclair, New Brunswick, Trenton | |
| NEW YORK | Binghamton, Elmira | |
| NEW YORK | Garden City, New York City | |
| NEW YORK | Rochester | |
| NORTH CAROLINA | Asheville, Chapel Hill, Charlotte, Concord, Edenton, Greensboro, Greenville, Jacksonville, Linville, Lumberton, Raleigh-Durham, Roanoke Rapids, Wilmington, Winston-Salem | |
| OHIO | Dayton, Oxford | |
| OKLAHOMA | Tulsa | |
| OREGON | Bend, Corvallis, Eugene, La Grande, Portland | |
| UTAH | Richland, Salt Lake City, St. George | |
| WISCONSIN | Milwaukee | |
__________________

Add your comments on our Facebook and Twitter pages.

Share this post/page.

Midsomer Murders: Series 11 Set for Broadcast Premiere on Public TV Stations