With rumors having run rampant for months, ITV has confirmed that the reboot of Cold Feet, the iconic British TV series centering on the lives of six friends, is on.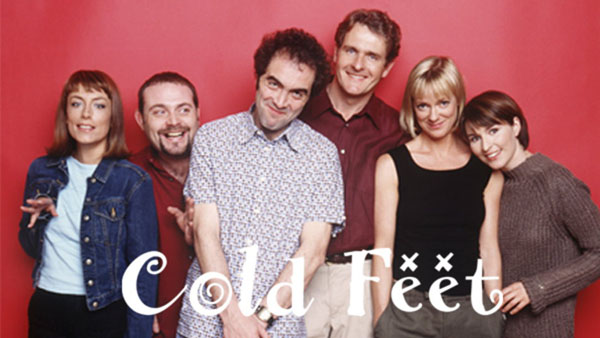 Back when the core of Netflix's business was DVD rentals by mail is when I stumbled upon Cold Feet. It grabbed me from the get-go, just as it did millions of UK viewers who watched it on telly every week across five series. Heartfelt and humorous, Cold Feet captured the stuff of real life, from relationships beginning and ending, to money and health issues.
The original show, which won a BAFTA and several British Comedy Awards amongst its awards, has since been made available for streaming in the US (on Acorn TV and Hulu).
And now comes word from ITV that the reboot of Cold Feet is on its way.
Creator Mike Bullen is reuniting with five of the six actors from the original's main cast — James Nesbitt (as Adam Williams), Robert Bathurst (as David Marsden), Hermione Norris (as Karen Marsden), John Thomson (as Pete Gifford), and Fay Ripley (as Jenny Gifford) — for the new eight-part series.
Not mentioned in ITV's statement about the new series is Helen Baxendale, who played Adam's girlfriend, then wife, Rachel Bradley. But fans of the show have fingers and toes crossed that Baxendale will be a part of the reboot, despite her character's demise.
Said Bullen about the new Cold Feet:
"This feels like the right time to revisit these characters, as they tip-toe through the minefield of middle age. They're 50, but still feel 30, apart from on the morning after the night before, when they really feel their age. They've still got lots of life to look forward to, though they're not necessarily the years one looks forward to!"
When we saw them last, the friends were growing up, settling down, and hoping that life would be simpler once they hit their 50s. Well, now they're in them and finding it isn't. The issues they face might be different, but they're just as challenging as they were thirteen years ago.
The new Cold Feet series goes into production in Manchester in January 2016, with filming set to start in February and additional cast members to be announced in due course.
Bullen is scripting all eight episodes, as well as executive producing with Kenton Allen, CEO of Big Talk Productions, the ITV-owned indie production company producing the series. The producer is Rebecca Ferguson, and Terry McDonough (Better Call Saul, Breaking Bad, The Street) is directing.
ITV's Director of Drama Steve November and Controller of Drama Victoria Fea commissioned the Cold Feet reboot, and ITV Studios Global Entertainment is handling international distribution. Stay tuned for updates.
__________________
Add your comments on our Facebook, Google+, and Twitter pages.
Share this post/page.

Cold Feet: ITV Reboots Hit Romance Dramedy with (Most of) Original Cast