Viewers on both sides of the pond will be bidding a fond farewell to another period drama next year, as Mr. Selfridge returns to ITV and PBS for its fourth and final series.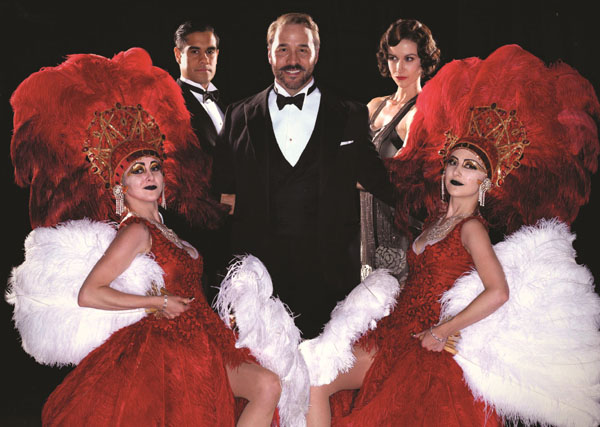 Inspired by Lindy Woodhead's book, Shopping, Seduction & Mr. Selfridge, Mr. Selfridge returns to telly in 2016 for one final series and bring to a close the story of the turbulent life of charismatic American retail entrepreneur Harry Selfridge.
Golden Globe® winner Jeremy Piven (Entourage) reprises his role as the colorful but deeply-troubled Harry Selfridge, as does Katherine Kelly (Coronation Street), who returns to the series as the alluring socialite, Lady Mae.
Also returning are Tom Goodman-Hill (as Mr. Grove), Ron Cook (Mr. Crabb), Amanda Abbington (Miss Mardle), Amy Beth Hayes (Kitty Hawkins), Trystan Gravelle (Victor Colleano), Sacha Parkinson (Connie Hawkins), Samuel West (Frank Edwards), and Greg Austin (Gordon Selfridge).
Joining the cast are Sacha Dhawan (Line of Duty, Last Tango in Halifax), who plays Jimmy Dillon, an ambitious entrepreneur who introduces Harry to some high-risk, high-return new business ventures, and newcomers Lottie Tolhurst, as Mr. Grove's eldest daughter Meryl, and Mimi Ndiweni, as new Selfridges employee Tilly Brockless. Emma Hamilton (The Tudors, Agatha Christie's Poirot) and Zoe Richards (How To Become A Criminal Mastermind) play the Dolly Sisters, the sensational, groundbreaking performers with whom Harry became besotted and who contributed to his fall from grace. And Robert Pugh (Doctor Foster, Game of Thrones) portrays Lord Wynnstay, a powerful newspaper magnate whom Harry struggles to keep on his side as the rest of the press begin to turn on him.
Series 4 opens in 1928, nine years after Series 3, with the Roaring Twenties still in full swing and the Great Depression looming in the not-too-distant future. Harry Selfridge is at the height of his power and public celebrity — a man about town in London and a glamorous gambler abroad, whose latest fling fires up rumors at Victor Colleano's new, bigger, and more decadent nightspot.
This series focuses on Harry's dramatic fall, as he loses hold of the empire and social status he worked so hard to create. Central to the story is Lady Mae, now Madame Mae Rennard, who returns from Paris to be by Harry's side; as events in her friend's life spiral out of control, the responsibility to help him begins to weigh heavily upon her. Another pivotal storyline is that of Harry' son, Gordon, who rises up the ranks of Selfridges department store as his relationship with his father becomes increasingly troubled.
With Mr. Selfridge being as much about the trials and tribulations at the store as it is about Harry's rocky personal life, the stories of other beloved characters are also resolved in Series 4, including "the last heart-wrenching hurdle" in the love story between Mr. Grove and Miss Mardle (Amanda Abbington); Kitty's struggle to balance the demands of being a career woman and wife to Frank Edwards; and whether Harry's excesses will finally push the ever-loyal Mr. Crabb over the edge.
Produced by Dominic Barlow (Garrow's Law, MI-5) and executive produced by ITV Studios' Kate Lewis (Lightfields, Vera), lead writer Helen Raynor, and Rebecca Eaton for WGBH, the final series of Mr. Selfridge was commissioned for ITV by Director of Drama Steve November and Controller of Drama Victoria Fea.
Mr. Selfridge: Series 4 premieres on ITV in January and is slated to premiere on PBS in March 2016.
__________________
Add your comments on our Facebook, Google+, and Twitter pages.
Share this post/page.

Mr. Selfridge: Fourth and Final Series Premieres on ITV and PBS in 2016