Mancunians must be out in droves with cameraphones now, as Lesley Sharp and Suranne Jones are filming the new three-part special of the hit crime drama Scott & Bailey.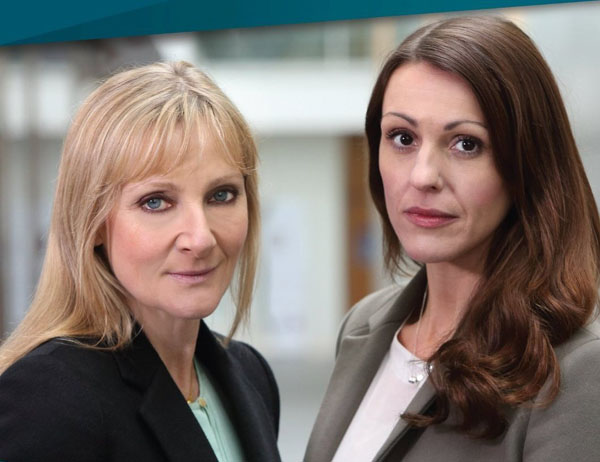 After yesterday's news about Inspector Lewis, I don't think Brit TV fans on either side of the pond can take much more in the way of series coming to an end. So let's hope this Scott & Bailey special is not an indication that this show is coming to a close, as well. Rather, let's cross our collective fingers that it will be just one in a long line of specials (if not more full series) featuring one of our favorite detective duos.
DCI Gill Murray announced her retirement in Series 4, and (unlike Lewis) she has stayed retired. Meanwhile Rachel Bailey (Jones) had been seconded to Vice, and now she returns, ever ambitious, to Syndicate 9's Murder Squad with loads of valuable experience, tons of new ideas, and a singular desire to make her mark.
The usually cool, calm, and collected Janet Scott (Sharp) is thrilled, because she and the rest of the Serious Crimes squad could really use Rachel's help. They've been working on a large-scale internet crime investigation that becomes more terrifying as they get deeper into it. So, with her Vice authorization, Rachel accesses a dark and disturbing world where people brag about committing murder and lay down the gauntlet for the next victim.
It's like a sinister game of truth or dare, where life and death hang in the balance between Scott & Bailey's investigation and multiple killers. The consequences are horrifying and everlasting, as the case takes a devastating toll on both detectives' professional and personal lives and changes both of them forever.
Sally Lindsay, who came up with the idea for the series with Suranne Jones, also reprises her role as  Rachel's sister Alison for the special.
BAFTA-winning writer Sally Wainwright (Happy Valley, Last Tango in Halifax) created the characters of Scott and Bailey, and retired detective Diane Taylor helped shape the series from her experience with the Greater Manchester Police Force.
Lee Warburton, who wrote episodes for Scott & Bailey: Series 4, penned the new episodes with writer Paul Logan. Two new police advisors, Sam Manning and Lisa Farrand, serve as consultants.
The Scott & Bailey special is produced by the award-winning Red Production Company, executive produced by Jones and Red's founder Nicola Shindler (Happy Valley, Last Tango in Halifax), produced by Michaela Eccleston (Prey), and directed by Alex Kalymnios (Becoming Human).
__________________
Add your comments on our Facebook, Google+, and Twitter pages.
Share this post/page.

Scott & Bailey: Suranne Jones & Lesley Sharp Begin Filming New Special