Midsomer maintains its reign as the deadliest (fictional) county in England when the hit mystery series, Midsomer Murders, returns to the US with its seventeenth series.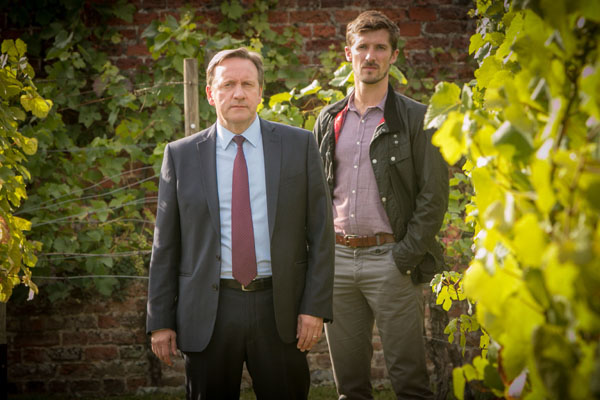 That's seventeen and counting, as earlier this year ITV commissioned an eighteenth series of Midsomer Murders, with six new episodes that are currently in production. (Woo hoo!)
And not only is Midsomer Murders one of the longest-running crime dramas still on telly today, it is the first television program ever to be inducted into the Specsavers Crime Thriller Awards Hall of Fame, joining the ranks of crime novel authors such as Agatha Christie, Sir Arthur Conan Doyle, and Anthony Horowitz, the creator of Foyle's War.
Foyle's War may have ended its run, but Midsomer Murders: Series 17 is soon to make its US debut. So what can we expect in its four episodes? Lots of guest stars and more murders, of course, the latter of which keeps DCI John Barnaby (Neil Dudgeon), DS Charlie Nelson (Gwilym Lee), and pathologist Kate Wilding (Tamzin Malleson) gainfully employed at Causton CID, while John's wife Sarah (Fiona Dolman) tends to the new Barnaby baby, Betty, and dog Sykes while she's still on maternity leave.
"The Dagger Club"
Through one of the more creative methods of murder that I've seen in Midsomer Murders, book cover artist Suzie Colebrook becomes the victim of a rigged roulette wheel. Before she is electrocuted, her home is burgled and the manuscript for the newly-discovered "Jed Dagger" crime novel by George Summersbee, a local author who'd died three years earlier, is stolen. So much for the manuscript being the highlight of the Luxton Deeping Crime Festival, organized by the late author's sister-in-law, Maggie Markham, and being held at the bookshop owned by George's daughter and heir, Bella. Meanwhile, Suzie's wasn't the only surprise package that was delivered, only Barnaby and Nelson don't realize this. Yet. When they do, the pair must determine the connections between the murders, in which life imitated art.
Guest stars include Ed Birch (The Bletchley Circle), Kobna Holdbrook-Smith (The Café), Una Stubbs (Sherlock), Georgia Taylor (Law & Order: UK), Howard Ward (Downton Abbey), and Lia Williams (Doc Martin).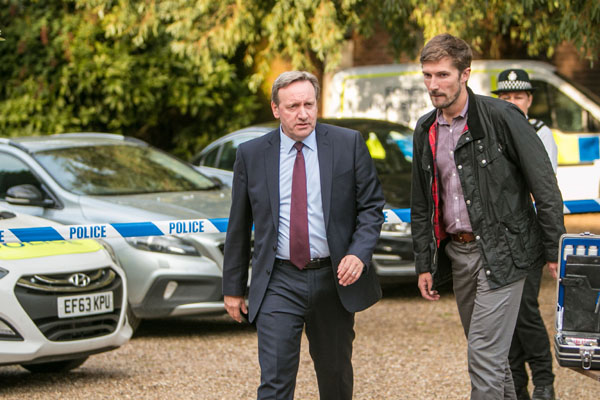 "Murder by Magic"
A fundraiser for Midsomer Oaks Church turns deadly when pub owner Hannah Altman is crushed, not by accident, while at the piano during the magic show being performed by illusionist and new Midsomer resident Gideon Latimer. This, after the show is openly denounced as "an ungodly outrage" by the over-zealous curate, Andrew Maplin, who is on a mission to rid Midsomer of paganism and Midsomer Oaks of the vicar. Pagan rituals dating back to the 18th century are being performed on Gideon's property, and two more people connected to him are subsequently murdered without the help of his magic. If Barnaby and Nelson don't hurry, there will be yet another victim.
Guest stars include Joe Absolom (Doc Martin), Fraser Ayres (A.D. The Bible Continues), Amanda Burton (Silent Witness), Deborah Findlay (Cranford), Stephanie Leonidas (Defiance), Andrew Lee Potts (Primeval), and Jack Shepherd (Wycliffe).
"The Ballad of Midsomer County"
In another instance of life imitates art, Lower Crosby Folk Festival organizer Toby Winning is drowned in a bowl of live eels and eggs, murdered along the lines of lyrics in a ballad by the late singer and suicide victim, Johnny Carver. Several locals had motives, including sound engineer Danny Carver and pub owner Frank Wainwright, since Toby's plans to move the event to London would have cost them a lot in lost income. Two more lyrics-inspired murders follow, and as Barnaby and Nelson invetsigate, they discover a twist: one of Johnny's lost recordings.
Guest stars include Dean Andrews (Last Tango in Halifax), Claudie Blakley (Lark Rise to Candleford), Daniel Brocklebank (WPC 56), Sean Gilder (Shameless), Lucie Jones (The X Factor), and Clarke Peters (Treme).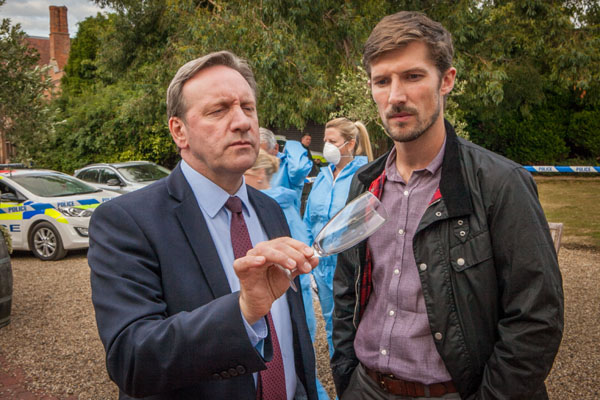 "A Vintage Murder"
The final mystery of Series 17 begins with the murder of wine critic Nadia Simons, who'd given a bad review of Midsomer Vinae Winery's new sparkling wine in front of the wine tasting guests, a number of whom fall ill from being poisoned. If the failing winery's owners, William and Diana Carnarvon, don't have enough problems already, members of the Farmers' Wives Association, notably Elspeth Rice, are trying to force the Carnarvons out of the village, blaming them and Nadia for the years-ago death of a young girl, while local hotelier Lewis Paynton tries to buy the winery from them for a pittance. And things get even worse when Barnaby and Nelson have another dead body and an abducted young woman on their hands.
Guest stars include Sabrina Bartlett (Da Vinci's Demons), Claire Bloom (Doc Martin), Mark Bonnar (Line of Duty), Rosie Cavaliero (Hunderby), Ruth Gemmell (Home Fires), Naoko Mori (Torchwood), and Lloyd Owen (Monarch of the Glen).
Midsomer Murders: Series 17 premieres in the US on Monday, 8 June 2015, exclusively at Acorn TV.
__________________
Add your comments on our Facebook, Google+, and Twitter pages.

Midsomer Murders: Clever Killings Continue When Series 17 Debuts Stateside