As narratives go, survival stories are compelling. And so it is with Banished, the star-studded drama about life in Britain's penal colony in Australia, which just arrived in the US.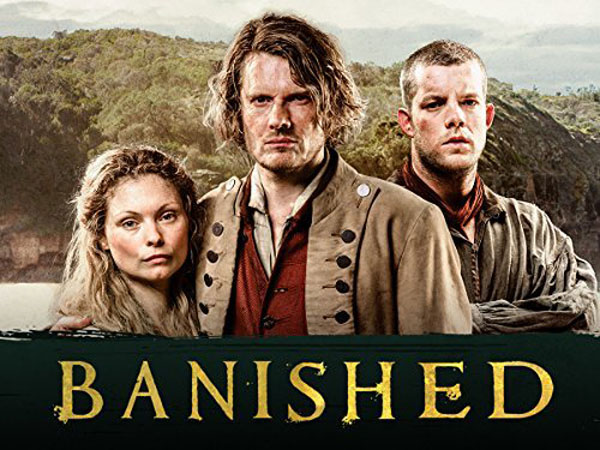 I'll be honest. I had a tough time getting through Banished when it premiered on BBC Two last year. So much of it is disturbing, distressing, and downright painful, and there is hardly any let-up in the intensity of the characters' stories.
Still, it is riveting stuff from Jimmy McGovern (Accused, The Street, Cracker), the series' BAFTA and International Emmy®-winning creator and writer.
Filmed in Sydney, Australia, and Manchester, England, the seven-part drama stars MyAnna Buring (Ripper Street), Russell Tovey (Being Human), and Julian Rhind-Tutt (The Hour) in the lead roles, with Orla Brady (Mistresses), Ewen Bremner (Worricker Trilogy), Ryan Corr (Cleverman), Ned Dennehy (Peaky Blinders), Cal MacAninch (Mr Selfridge), Rory McCann (Game of Thrones), Joseph Millson (The Last Kingdom), and David Wenham (The Code), amongst others, featuring in the large ensemble cast.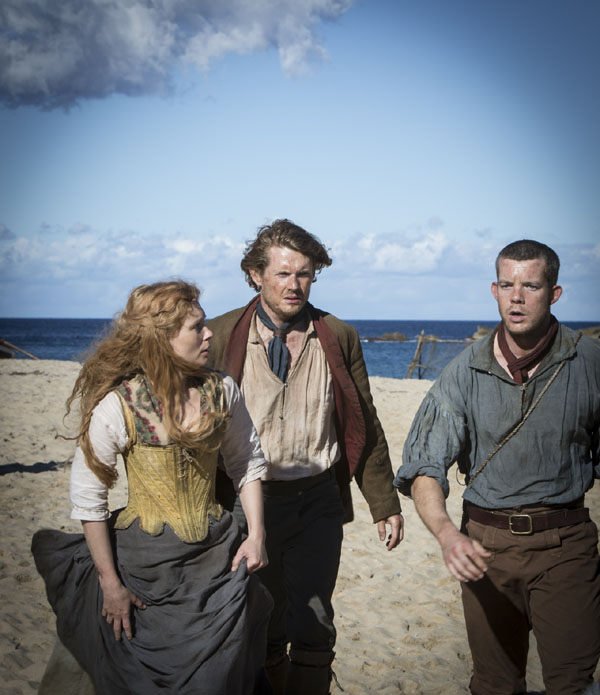 New South Wales, 1788. It is here that Britain has established its first penal colony, where roughly a hundred guards and officers of the Royal Navy's First Fleet oversee ten times their number in prisoners. That men outnumber women five to one complicates an already difficult existence amidst harsh conditions, dwindling food supplies, and an ever-decreasing sense of humanity amongst the colony's inhabitants.
Yet, in the midst of selfishness, cruelty, and abuses of power, love blooms between convicts Elizabeth Quinn (Buring) and Tommy Barrett (Rhind-Tutt). But theirs is a relationship that runs counter to the rules and is fraught with danger. Both are married, although not to each other. As such, Elizabeth, like the other women of the colony, is only supposed to make herself available, sexually and otherwise, to the soldiers. In the face of severe punishment should they be caught, she and Tommy carry on… And caught they are.
Meanwhile, fellow convict James Freeman (Tovey) is slowly but surely starving to death, because of blacksmith Marston (McCann), a brute who consistently wrenches the meager servings of food away from him, and when needs must from others. And although prisoner Kitty McVitie (Vanderham) has a protector in Private MacDonald (Corr), her life becomes untenable after he agrees to share her with the despicable Major Ross (Millson) in exchange for extra food and a promotion to Corporal.
Other strands abound with misery and woe in equal measure: Faith is tested and morals are compromised time and again. Justice is reduced to vengeance. And love does not conquer all when life and death are at stake.
Like I said, it's a tough watch. Depressing, even. But give Banished a go. The acting is superb, and you'll appreciate all the more the relative comforts of your own life.
A co-production of RSJ Films and See-Saw Films, Banished is directed by Australian Directors Guild Best Director winner Jeffrey Walker (Jack Irish) and BAFTA Best New Director winner Daniel Percival (Dirty War).
Banished is now available to stream/download at Amazon Video, Google Play, iTunes, and Vudu.
__________________

Add your comments on our Facebook and Twitter pages.

Share this post/page.

Banished: Intense Historical Drama Featuring All-Star Cast Premieres in the US