It's beginning to look a lot like Christmas, as holiday specials, dramas, a mockumentary and rockumentary, a music-filled movie, and a proper musical, premiere on US channels and streaming services this month.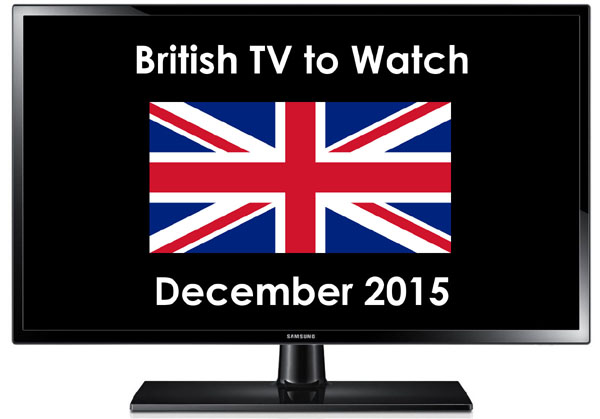 NATIONAL PREMIERES
The Who: Live in Hyde Park (2015)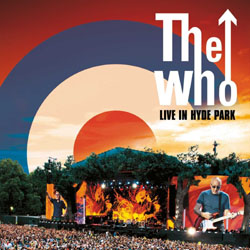 Filmed as part of the band's 50th anniversary tour on 26 June 2015 at London's Hyde Park, this rockumentary features The Who performing "Baba O'Riley," "Bargain," "Love Reign O'er Me," "My Generation," "Pinball Wizard," "Who Are You," and others of their greatest hits in front of the capacity crowd of 65,000 fans.
The film also includes original interviews with Pete Townshend and Roger Daltrey, who reflect on their five decades together, as well as Iggy Pop, Paul Weller (The Jam, The Style Council), and Johnny Marr (The Smiths, The The).
First shown in October 2015 in cinemas around the world, The Who: Live in Hyde Park has its US television premiere on Friday, 4 December, on Showtime, and on Hulu with the premium Showtime add-on.
The Brokenwood Mysteries: Series 2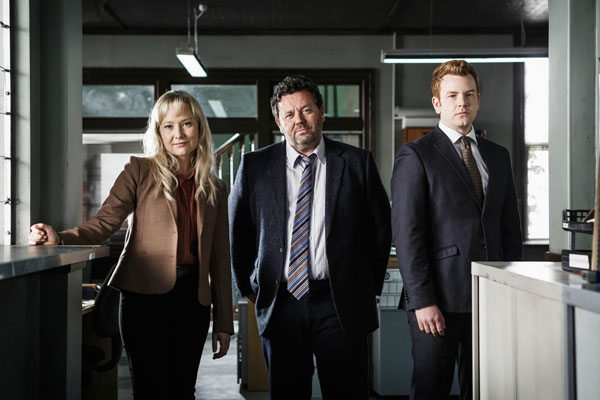 Christmas arrives early, as the second series of The Brokenwood Mysteries premieres stateside mere months after Series 1! In Series 2 DSS Mike Shepherd (Neill Rea), Detective Kristin Sims (Fern Sutherland), and DC Sam Breen (Nic Sampson) have four new cases that take them from the worlds of rugby and amateur theatre, to the coastal waters of New Zealand and the local country music scene.
My review is here: "The Brokenwood Mysteries: Must-See Kiwi TV Returns with Series 2."
The four feature-length episodes of Brokenwood's second Series premiere on successive Mondays, beginning 7 December.
Gadget Man: Series 1-4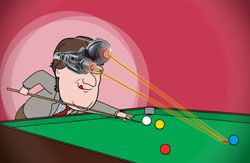 This infotainment series takes a fun look at gadgets with hosts Stephen Fry (QI) in Series 1, Richard Ayoade (The IT Crowd) in Series 2-4, and lots of guests, including Bill Bailey (Black Books), Sanjeev Bhaskar (The Indian Doctor), Richard E. Grant (Jekyll and Hyde), and Jessica Hynes (W1A). In each themed episode the hosts give gadgets a whirl, from ones that entertain us, help us get fit, and keep us safe, to robots that babysit, clean windows, and work as waiters.
Acorn TV premieres a new series of Gadget Man each week, starting Monday, 7 December.
Nigella Lawson Christmas Collection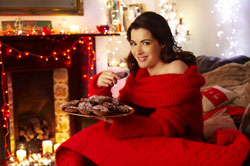 In this charming collection of Christmas specials, bestselling author and popular cooking show host, Nigella Lawson (How to Be a Domestic Goddess, How to Eat, Nigella Express, Nigella Christmas) shares her favorite recipes and traditions, as well as a few tips on lowering the stress of entertaining, to ensure that it's the most wonderful time of the year for hosts and guests alike.
The Nigella Lawson Christmas Collection premieres Monday, 7 December, on Acorn TV.
Childhood's End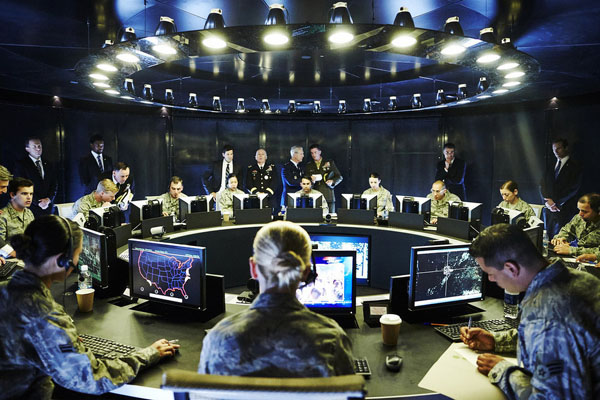 This adaptation of Arthur C. Clarke's sci-fi novel, Childhood's End, about the peaceful invasion of Earth by alien Overlords, isn't a UK production. However, it features several names from across the pond and Down Under in front of and behind the camera, so I'm adding it to the mix. For details read "Childhood's End: Colm Meaney, Charles Dance Lead Cast of New Syfy Sci-Fi Drama."
A three-night event program, Childhood's End premieres Monday-Wednesday, 14-16 December, at 8PM ET, on Syfy.
The Trials of Jimmy Rose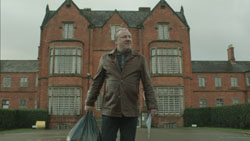 Emmy® Award winner Ray Winstone (Barney Thomson) stars as Jimmy Rose, a career criminal whose long stretches in prison have taken their toll on his wife (Amanda Redman, New Tricks), children (Tom Cullen, Downton Abbey, and Charlotte Randle, Silent Witness), and grandchildren. With his release from a 12-year stint, Jimmy tries to go straight and pick up where he left off with his loved ones. Only they've moved on. Then something happens with a family member, and Jimmy triggers a chain of events that could put him back behind bars and lose him his family forever.
Acorn TV premieres The Trials of Jimmy Rose, a three-part miniseries, on successive Mondays, starting 14 December.
Luther: 2015 Special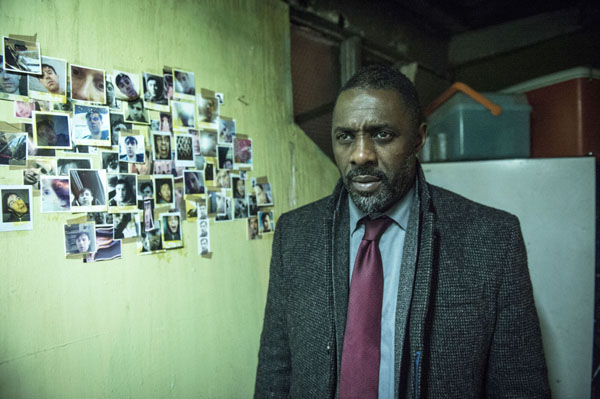 If there's one thing that will bring the tough, self-destructive, genius detective DCI John Luther (Idris Elba) back to London, back to his job, and back from the brink of a breakdown, it's a cannibalistic serial killer on the loose in the capital city. Joining Elba in this special are Darren Boyd (Fortitude) and Rose Leslie (Game of Thrones). For additional details read "Luther: Idris Elba Returns as DCI John Luther in BBC America Special Event Drama."
The one-night Luther event premieres Thursday, 17 December, at 9PM ET, on BBC America.
Hunting Venus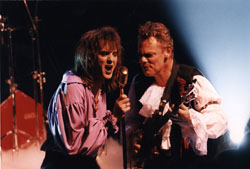 This movie stars Martin Clunes as Simon Delancey, a former pop star turned con man who has the tables turned on him when two fans of his '80s New Romantic band kidnap and blackmail him into reuniting The Venus Hunters for one last gig. Costars include Neil Morrissey (Men Behaving Badly), Jane Horrocks (AbFab), Mark Williams (Father Brown), Ben Miller (Death in Paradise), and Danny Webb (Scott & Bailey).
Actual pop stars Simon Le Bon (Duran Duran), Philip Oakey (The Human League), Tony Hadley (Spandau Ballet), and Gary Numan have cameos. Hunting Venus: A Soundtrack to the '80s includes hits from those bands, plus The Psychedelic Furs, Simple Minds, Soft Cell, and others. It also features Neil Morrissey's rendition of "Stand by Your Man" and The Venus Hunters' biggest hit, "Starburst," written by Jools Holland (Squeeze), who also has a cameo.
Hunting Venus premieres Friday, 18 December, on Acorn TV.
A Place to Call Home: Season 3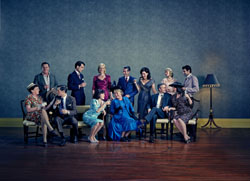 Call this sexy, stylish, and smart period drama Australia's version of Downton, with its addictive stories of social class, relationship, and romance issues. In Series 3 we return to Inverness, where Sarah (Marta Dusseldorp, Jack Irish) is torn by her feelings, the truth of James and Olivia's (David Berry, Home and Away, and Arianwen Parkes-Lockwood, Underbelly) son could be exposed, Elizabeth (Noni Hazlehurst, City Homicide) discovers it's tough being on her own, and romantic notions clash with the realities of life for others.
Acorn TV premieres the ten episodes of A Place to Call Home's third series across several Mondays, beginning 21 December.
Call the Midwife: 2015 Holiday Special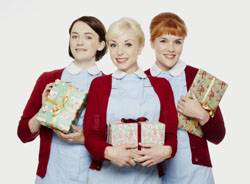 The nurses and nuns of Nonnatus House, Dr. Turner and his family, and the residents of Poplar are back to brighten up our holidays before returning in the spring of 2016 with Series 5.
It's Christmastime 1960. While preparations are underway for the carol concert, a grieving mother receives a surprise that brings the holiday magic home, a trip to view the Regent Street lights results in a full-scale manhunt when a Nonnatus nun goes missing, and a film crew promises to make this a memorable Christmas.
The Call the Midwife 2015 Holiday Special airs Christmas Day, 25 December, at 9PM ET, on PBS. (Check your local listings.)
Doctor Who: Christmas Special 2015: The Husbands of River Song
"Hello, sweetie." Yes! Alex Kingston reprises her beloved role as River Song and joins Peter Capaldi in this year's Doctor Who Christmas special. The thing is, before Mr. and Mrs. Who have another romp of an adventure together, River needs to figure out the Doctor is her hubby.
Greg Davies (The Inbetweeners) and Matt Lucas (Bridesmaids) costar. For details read "Doctor Who Christmas Special 2015: The Husbands of River Song: Alex Kingston Is Back."
Doctor Who: The Husbands of River Song premieres Friday, 25 December, on BBC America. (Time TBA.)
That Day We Sang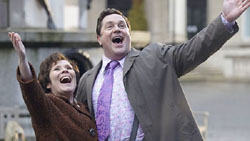 Made-for-TV musicals are rare, and this one, written and directed by BAFTA winner Victoria Wood, is a gem. It follows Enid and Tubby, played by Oscar® nominee Imelda Staunton (Vera Drake) and Olivier Award winner Michael Ball (Hairspray), who grab a second chance at life after reconnecting at a reunion of the Manchester Children's Choir in 1969. In 1939 young choirboy Jimmy (newcomer Harvey Chaisty) has a beautiful voice and love of singing, which help him to transcend a difficult home life with his single, emotionally volatile mum.
Uplifting, heartwarming, and hearkening to the days of musicals past, That Day We Sang premieres Friday, 25 December, on Acorn TV.
Harry & Paul's Story of the Twos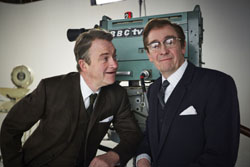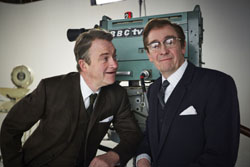 Created by acclaimed comedians Harry Enfield (Bad Education) and Paul Whitehouse (The Fast Show) for BBC Two's 50th anniversary, this hilarious mockumentary skewers execs at the Beeb and BBC Trust; UK politicians and Britons from the North; actors and hosts; and BBC Two shows, from The Apprentice, BlackAdder, and The Forsyte Saga, to The Great British Bake Off, Have I Got News for You, and I, Claudius. Rockers Jeff Beck (The Yardbirds), Chrissie Hynde (The Pretenders), and other musicians appear as themselves.
Harry & Paul's Story of the Twos premieres Monday, 28 December, on Acorn TV.
Prisoners Wives: Series 1 & 2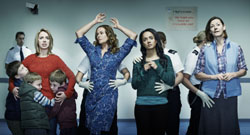 Before OITNB, there was this excellent drama. Each series centers on the interwoven stories of four women struggling to cope while their husbands, boyfriends, fathers, or sons are in prison. It stars Emma Rigby (Once Upon a Time in Wonderland), Natalie Gavin (The Syndicate), Polly Walker (Rome), and Pippa Haywood (Mr. Selfridge) in Series 1, and Walker, Haywood, Sally Carman (Shameless), and Karla Crome (Misfits) in Series 2. Costarring in the ensemble casts are Iain Glen (Game of Thrones), Harry McEntire (The Last Kingdom), David Bradley (Harry Potter), and Jonas Armstrong (Robin Hood).
All ten episodes of Prisoners Wives premiere Monday, 28 December, on Acorn TV.
The Only Way is Essex: Series 16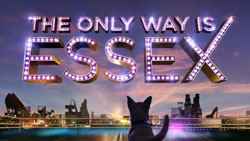 Narrated by Denise Van Outen (Where the Heart Is), this scripted reality soap opera set in Brentwood, England, is Britain's answer to America's The Hills. It isn't my cup o' tea, but roughly a million UK viewers tune in to every episode. TOWIE even earned the BAFTA Audience Award in 2011, thanks to votes by hardcore fans.
Series 16 of The Only Way is Essex recently completed its UK run, and premieres in the US on Wednesday, 30 December, on Hulu.
If additional UK TV shows make their US premieres this month, look for updates about them on this page and/or the "British TV Viewing Guide."
Next up: "British TV to Watch in December 2015: Part 2: Black Mirror & Other Shows Added to Streaming Services"
__________________
Add your comments on our Facebook, Google+, and Twitter pages.
Share this post/page.

British TV to Watch in December 2015: Part 1: Christmas Specials, Brokenwood, Luther & More Premieres