Hello June, the month that practically every US Brit TV fan has been waiting for, given the premieres of several highly-anticipated new series and the return of many viewer favorites.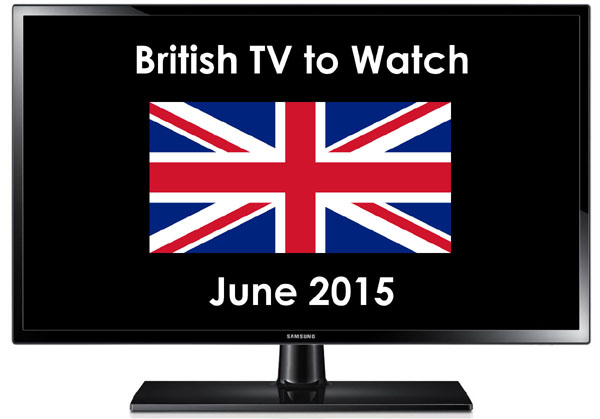 Without any further ado, and in chronological order…
Acorn TV brings a boatload of series from the other side of the pond and the world to North American viewers this month, including its premiere today, 1 June 2015, of the gritty and intense New Zealand crime drama, Harry. (See our review here.)
Also starting today is the US premiere of Vera: Series 5. As always, each feature-length episode is a top-notch mystery filled with Vera's keen insight, instinct, and caustic wit. For details about the episodes and the list of public TV stations screening the series, click here.
The British dramedy Bluestone 42, about a British bomb disposal unit in Afghanistan, returns with its second season to Hulu/Hulu Plus this Thursday (4 June), as does the fourth season of Stella, the Wales-set dramedy about the titular single mum, starring BAFTA nominee Ruth Jones (Gavin & Stacey). Hulu also adds Seasons 7 and 8 of the original UK version of Whose Line Is It Anyway?, the improv comedy show, on the 4th.
Folks who can't get enough of the mystery series set in the deadliest (fictional) county in England will be thrilled when Midsomer Murders: Series 17 premieres on Monday, 8 June, on Acorn TV. The four new episodes are dark, humorous, and as good as any that have come before. Click here for the synopses.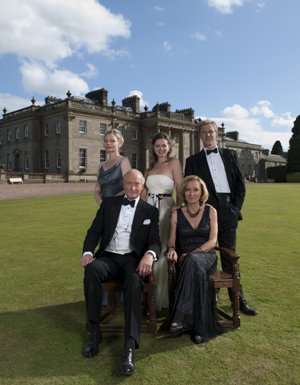 Another debut on 8 June at Acorn TV is Rosamunde Pilcher's Shades of Love. Readers of the romance novels by Rosamunde Pilcher will recognize characters from September in this four-part miniseries, as it is a sequel of sorts.
Set in Perthshire, Scotland, the serial centers on the centuries-old Aird family, including patriarch Edmund (Charles Dance, Game of Thrones), his mum Violet (Eileen Atkins, Doc Martin), and daughter Laura (Rebecca Knight, Starlings), amongst others, whose secrets, scandals, and dramas could bring ruin to the struggling Aird estate and the surviving members of the family.
UPDATE: The Tom Ellis/Joanna Page Britcom Gates also premiered in the US on the 8th on Hulu Plus. Read more about it here.
Then on Saturday, 13 June, at 10 PM ET, BBC America premieres one of the best new shows of the year: Jonathan Strange & Mr Norrell. Adapted from Susanna Clarke's bestselling novel, Jonathan Strange & Mr Norrell is set in the early 19th century, when England is at war with France and practical magic is a thing of the past. That is, until Mr. Norrell (Eddie Marsan, Ray Donovan, Southcliffe), a skilled, cautious, and reclusive practical magician who wants to make magic respectable again in England, wows a group of locals by causing the statues of York Cathedral to speak and move.
In London with his man of business, Childermass (Enzo Cilenti, MI-5, Rome), Norrell becomes the toast of the town, save for military man Sir Walter Pole (Samuel West, Mr. Selfridge), until Norrell conjures up an armada of spooky ships to fend off the French, and raises Pole's wife, Lady Pole (Alice Englert, New Worlds), from the dead, with a bit of help from The Gentleman (Marc Warren, The Musketeers).
Elewhere in England, Jonathan Strange (Bertie Carvel, Babylon, Doctor Foster) weds lady love Arabella (Charlotte Riley, Peaky Blinders) and meets the vagabond magician Vinculus (Paul Kaye, Game of Thrones), who tells him that he is to be one of two great magicians. And magic club members Segundus (Edward Hogg, Indian Summers) and Honeyfoot (Brian Pettifer, Hamish Macbeth) want to open a school of magic.
Meanwhile, The Gentleman draws the Poles' head servant Stephen Black (Ariyon Bakare, Dancing on the Edge) further into the darkness. And after Norrell refuses and Strange accepts the army's request for help on the battlefront, a different sort of clash ensues between the two men, one in which their obsessions and secret dabblings with the dark arts cause more trouble than they could have imagined.
Several titles begin streaming on the 15th of June:
Britain's Bloodiest Dynasty: The Plantagenets is a documentary presented by award-winning journalist and historian Dan Jones, which uses storytelling, reenactments, and historical documents to show how this dynasty lasted more than 300 years. Its rulers — including Kings Henry II, Henry III, Edward II, and Richard II — were driven by greed, envy, love, hatred, revenge, the need for control, and the pursuit of power, and dealt with treachery and betrayals with murder and tyranny. This four-parter is available at Acorn TV.
Also at Acorn TV on the 15th is Thérèse Raquin, a three-part tale of passion, murder, and the horrifying psychological aftermath of unrelenting guilt and obsession, adapted from the novel by French author Emile Zola. Thérèse (Kate Nelligan, Law & Order: SVU) leads a quiet life with sickly husband Camille (Kenneth Cranham, Rome) and his mother, until the withdrawn wife comes alive after meeting and engaging in a torrid affair with Camille's old friend Laurent LeClaire (Brian Cox, The Game). Their passion leads them to murder her hubby… and spiral downward from being haunted by their crime.
And over at Netflix, all ten seasons of the BAFTA-nominated animation series, Danger Mouse, and all three seasons of the youth-oriented sci-fi/fantasy series, Wizards vs. Aliens, also begin streaming on 15 June.
UPDATE: A Britcom I thought I probably wouldn't enjoy but did is Drfiters. It premiered on Hulu Plus on 17 June. Details about it are here.
UPDATE: Catastrophe strikes on Friday, the 19th of June, when the hit UK comedy makes its US premiere on Amazon Prime Instant Video. For details about the series' utterly brilliant first season, click here.
On Sunday, 21 June, PBS kicks off its summer programming schedule with a British triple header, starting with…
Tales from the Royal Wardrobe, which premieres at 8 PM ET. This fascinating documentary, presented by historian and Joint Chief Curator at Historic Royal Palaces, Dr. Lucy Worsley, explores the wardrobes of British royalty over the last 400 years — from the Tudor Queen Elizabeth I to the current Windsor Queen Elizabeth II — and reveals that the monarchs have been just as preoccupied with making a statement through their clothing as the public has been in obsessing over it.
Then at 9 PM ET is the premiere of the program that everyone and their mother (or quite nearly) has been waiting for: Series 1 of the new Poldark, adapted from the first two titles of the bestselling "Poldark Saga" book series by Winston Graham, and starring Aidan Turner (The Hobbit trilogy, Being Human, The Clinic) as the titular Ross Poldark.
After fighting in the American Revolution and returning home to Cornwall in the late 18th century, Ross Poldark discovers that the life he thought he was returning to is anything but. His father is dead, the family's mines are closed, the estate is in ruins, and the woman he loves, Elizabeth (Heida Reed, Jo), is engaged to his cousin Francis (Kyle Soller, Anna Karenina).
As Poldark works tirelessly to build upon what's left of his inheritance, including taking on the abused Demelza (Eleanor Tomlinson, The White Queen) as his kitchen maid, others scheme to force his failure and departure from Cornwall, including his uncle Charles (the late Warren Clarke, Dalziel and Pascoe) and the despicable father-son duo of Cary and George Warleggan (Pip Torrens, Law & Order: UK, and Jack Farthing, Blandings, respectively).
George does everything he can to undermine his rival at every turn, including stirring up tensions between Ross, Elizabeth, and Francis. But Ross has schemes of his own and manages to get his mine up and running, while the couple's marriage begins to deteriorate. In other matters, Ross' cousin Verity falls in love with the disgraced Captain Andrew Blamey (Richard Harrington, Hinterland), and Ross' young worker, Jim Carter (Alexander Arnold, Skins) lands himself in big trouble, despite Ross' help. And the relationship between Ross and Demelza grows intimate and culminates in marriage, which shocks everyone.
As various relationships begin, deepen, and crumble, fleeting happiness turns to horror when tragedy strikes one, then another, of Ross' family and friends, and George Warleggan continues his treachery to destroy Ross, who is not left unscathed in more ways than one.
Regardless of whether you've read the novels and/or watched the first adaptation with Robin Ellis (who also appears in this one), this sweeping and sultry tale of romance, intrigue, and a hero's hero, sets amidst the breathtaking beauty of Cornwall, is a must-watch.
Rounding out the PBS premieres on the 21st, at 10 PM ET, is The Crimson Field, a six-part drama that revolves around the medics and patients at a field hospital in France during World War I. The top-notch ensemble cast includes Oona Chaplin (The Hour), Kevin Doyle (Downton Abbey), Suranne Jones (Scott & Bailey), Hermione Norris (MI-5), and Jeremy Swift (Foyle's War), to name just a few.
Created, written, and executive produced by Sarah Phelps (Great Expectations) and directed by David Evans (Downton Abbey), Richard Clark (Doctor Who), and Thaddeus O'Sullivan (Single-Handed), The Crimson Field tells the stories of the frontline medics during The Great War through following the lives of volunteer nurses Kitty Trevelyan (Chaplin) and Sister Joan Livesey (Jones). The tented field hospital on the coast of France, where they and other medics tend to the war's wounded and dying, becomes a frontier between the battlefield and the home front, and evolves into a social battleground pitting the old rules, hierarchies, and class distinctions against a new way of thinking.
Then on Sunday, 28 June 2015…
PBS premieres Last Tango in Halifax: Season 3 at 8 PM ET. (Yippee!) The more things change, the more they stay the same, at least much of the time, when our favorite septuagenarian lovebirds, Alan (Derek Jacobi) and Celia (Anne Reid), daughters Caroline (Sarah Lancashire) and Gillian (Nicola Walker), and lovers, exes, and other intimates return to our screens.
If you thought Celia had transformed after making things right with Caroline and Kate (Nina Sosanya) at the end of Season 1, think again, because the couple's pending nuptials and birth brings out more of the ugly in her. (And Caroline, too.) The pair aren't the only ones to suffer from others' homophobia, either. Meanwhile, Gillian is still messing about with Robbie (Dean Andrews), whose girlfriend Cheryl is absolutely the wiser and lets Gillian know that she knows… in public. And then there's John (Tony Gardner), who once again turns to both Caroline and Gillian for comfort following a tragedy with Judith (Ronni Ancona).
But some family matters are actually new, certain of which are devastating shocks, while others are more welcomed, at least at first. One is the surprise that Alan gets after Gillian discovers something about his past while on a date with handsome entrepreneur Gary (Rupert Graves, Sherlock), news that Celia is less than thrilled about.
And there are more rows, more secrets, and more apologies, as well as another tragedy, another birth, and another wedding. Thank goodness there's a Season 4 of Last Tango in Halifax in the works!
(For all PBS programs, check your local listings.)
Lastly, AMC premieres Humans, the long-awaited UK/US remake of the hit Swedish sci-fi drama Real Humans, at 9 PM ET on the 28th. Set in a parallel present, the latest must-have gadget is a synth — a highly-developed robotic servant eerily similar to its live counterpart. For one family that could do with more down time and less stress, making a refurbed synth a member of the household has chilling consequences. And they aren't the only ones…
The eight-part series stars William Hurt (Winter's Tale), Gemma Chan (Jack Ryan: Shadow Recruit), Rebecca Front (Inspector Lewis), Colin Morgan (Merlin), Katherine Parkinson (Doc Martin), and Tom Goodman-Hill (Mr. Selfridge), amongst the ensemble cast.
UPDATE: Lastly, the really cool, behind-the-scenes documentary The Queen's Castle, and Season 10 of one of everyone's favorite mystery series, Midsomer Murders, begin airing on public TV stations across the US on the 30th of June. For program details and the station lists, click on the titles links above.
Other Programs That Start Screening 1 June 2015 at Acorn TV

The sexually-charged romantic drama, Lady Chatterley, starring Sean Bean (!) (Legends), Joely Richardson (The Tudors), and James Wilby (Island at War); Series 1 and 2 of the multiple award-winning drama, Queer as Folk, starring Aiden Gillen (Game of Thrones), Craig Kelly (Coronation Street), and Charlie Hunnam (Sons of Anarchy); the Royal Television Society award winner for Best Drama Serial, Top Boy, starring Ashley Walters (Outcasts); and the BAFTA-nominated crime drama, Touching Evil, starring Robson Green (Grantchester), Nicola Walker (Last Tango in Halifax), and Shaun Dingwall (Breathless).
__________________
Add your comments on our Facebook, Google+, and Twitter pages.

British TV to Watch in June 2015: Humans, Jonathan Strange & Mr. Norrell, Midsomer Murders, Poldark, Vera, and Much More [UPDATED]