The third Awesome Con DC ended yesterday, and a fabulous time it was, too. There were cosplayers, gaming sessions, previews, panel events, and guests galore, not the least of whom were two-thirds of the Doctor Who Pond family: Alex Kingston and Arthur Darvill.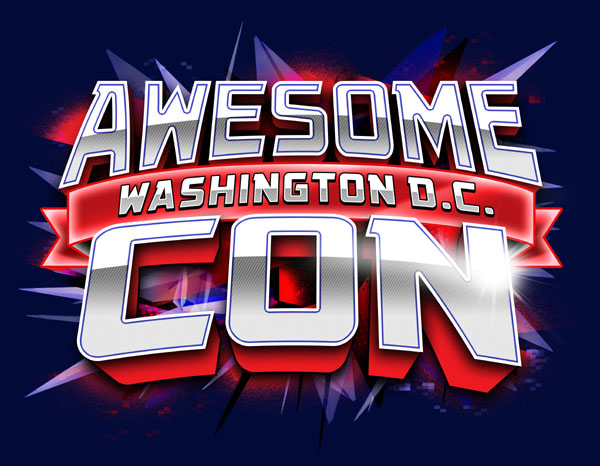 At last year's Awesome Con, attendees were treated to an hour with Billie Piper, who chatted about Doctor Who, Penny Dreadful, Secret Diary of a Call Girl, and more.
This year, there was supposed to be the Pond family reunion, with Karen Gillan, Arthur Darvill, and Alex Kingston, but Gillan ended up not being able to make it due to a conflict with her filming schedule. So maybe next year.
No one complained, because two Ponds, or one River and one Rory, were better than none!
I missed the first half of the Q&A session with Alex Kingston, but I tell you what, she had one heckuva doozy announcement in the second…
Alex Kingston is getting married in July!!! Best wishes to her and her hubby-to-be!!!
How did we come to find this out? Someone in the audience asked about Kingston's hair, which the actor is growing out for her wedding day. (According to Alex, a number of fans have sent her hair products, so if you have gorgeous curly locks as she does, and want to share your must-use hair product with her, send it on. She's tried several.)
Her toughest scene ever: the death of Dr. Mark Greene (Anthony Edwards), the husband of Kingston's character, Elizabeth Corday, in the hit medical drama, ER.
This segued to Alex remarking about British actors working in the US, American actors working in the UK, and both the good and bad accents heard in shows on either side of the pond. She pointed out Gillian Anderson's British accent as being particularly good. And for the record, Kingston's American accent in Arrow is, too.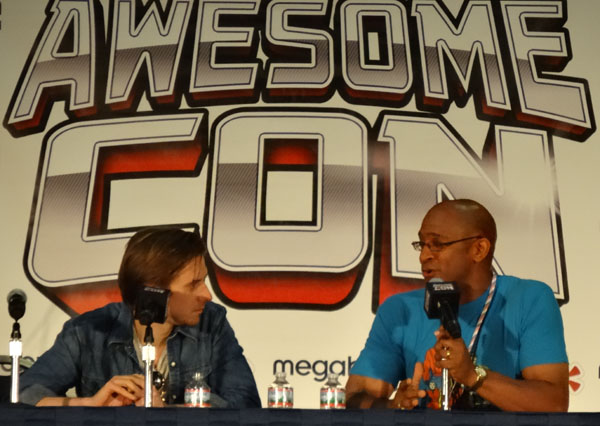 A couple of Q&A sessions later was the one with Arthur Darvill, whom many of you know costars in the hit mystery drama Broadchurch and leads the cast in the upcoming (2016) Legends of Tomorrow, in which he plays the time-traveling rogue Rip Hunter. For folks in the UK, he will also feature in Danny and the Human Zoo, the new BBC biopic about the life of British actor Lenny Henry (Chef!) as a teenager.
Darvill admitted that he hadn't watched very much of Doctor Who while growing up, what with being in a band and all, but if pressed for a favorite Doctor, it would be Sylvester McCoy, since the 7th Doctor was Arthur's first. He also noted that fans often go up to him and quote various of Rory's lines, most of which Arthur no longer recalls (so bear this in mind when you see him on the street).
About Doctor Who, Arthur stated, "It's a privilege to be part of a show that brings forward positive messages." And of Broadchurch, he said, "I'm proud to be part of something that delves into such deep matters in such a deft, powerful, and intelligent way."
What about his characters? His Rev. Paul Coates in Broadchurch is "trying to be a constant in the community," whereas DW's Rory is "so nice" that he, Arthur, would "probably" get on with Rory if the latter were a real person.
And since Arthur loves working in the theatre, he'd be thrilled to do more on stage, following his roles as Mephistopheles in Christopher Marlowe's Doctor Faustus at Shakespeare's Globe and as Guy in Once on Broadway, amongst others. (Note to theatre casting managers: Darvill would like to do more Shakespeare, new plays, and The Crucible.)
Lastly, Arthur has "written an episode [of Doctor Who] where all of the companions are in therapy together." THIS is something that I'm sure most, if not all, Whovians would love to see.
__________________
Add your comments on our Facebook, Google+, and Twitter pages.

Awesome Con DC 2015: Alex Kingston and Arthur Darvill