More murders and mysteries are in the offing this month, when the tenth season of the ever-popular Midsomer Murders makes its US broadcast debut on public TV stations.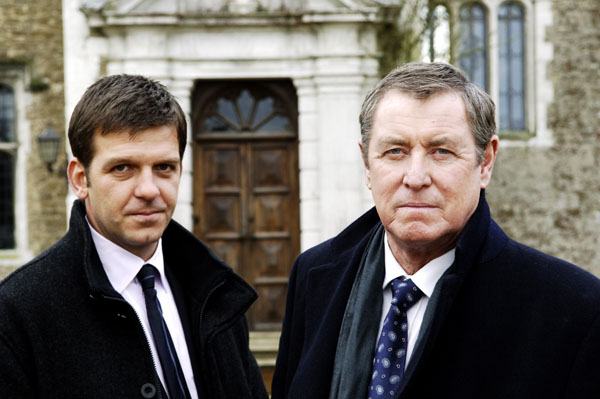 The original DCI Barnaby — as in Tom (John Nettles), hubby of Joyce (Jane Wymark) and dad to daughter Cully (Laura Howard) — along with his sidekick DS Ben Jones (Jason Hughes) and pathologist Dr. Bullard (Barry Jackson), has a dozen and a half murders to solve (amongst the total deaths) in the eight stories that make up Midsomer Murders: Series 10.
(And a quick heads-up: for fans of Outlander who haven't seen Sam Heughan in his pre-Jamie Fraser days, you'll want to look for him in one of the Midsomer episodes!)
"Dance with the Dead"
What do you get when you combine one man, one vintage car, and one missing girlfriend? A situation in which a murder is made to look like suicide, at least in the case of the Simon Bright. So the question for Barnaby and Jones is, whodunit? Perhaps the guy's girlfriend, Laura Sharp, unless she, too, is a victim. Then again, the killer could be an ex-lover of Laura or any one of the several Morton Fendle villagers who wanted Simon dead. The plot thickens and the list of suspects narrows after two more people are murdered.
Guest stars include Ifan Huw Dafydd (The Indian Doctor), Nicola Redman (Silent Witness), Harriet Thorpe (Absolutely Fabulous), and Danny Webb (Scott & Bailey).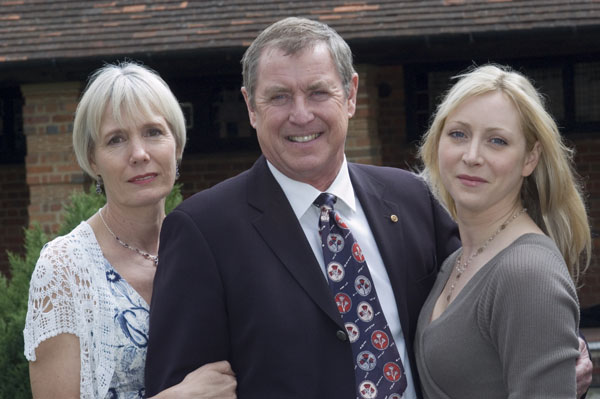 "The Animal Within"
Faith Alexander is alive and well, much to the surprise of everyone in Midsomer Deverell who knew her long-lost uncle, Rex Masters. According to him, she had died in a plane crash. Clearly, she hadn't — but he has, although not in a crash, but as the result of murder. And after Rex's body is pulled from the weir, the frenzy over who inherits his estate begins. Each of four people has a copy of his will that states his fortune is now theirs, but whose is it really? Nearly nothing is as it seems, not even Rex's life, especially when Tom and Ben start putting two and two together following the discovery of the deceased's collection of erotic photographs.
Guest stars include Linda Bassett (Call the Midwife), Lisa Eichhorn (MI-5), David Troughton (The Café), and Samuel West (Mr. Selfridge).
"King's Crystal"
Something is rotten, but in Midsomer Magna instead of Denmark. The overseas death of Alan King, co-owner of the King's Crystal glassware company, is followed by the rather quick remarrying of his widow to his brother (sound familiar?), the shuttering of the business, and a murder closer to home. Through their delving, the detectives learn about the King family discord, funny business with the business' books, and disgruntled employees. And there's another murder. Actually, make that two. Jones investigates links between the murders and the Freemasons, and Barnaby has another of his aha moments, this one from Cully's production of Hamlet.
Guest stars include John Castle (A Dinner of Herbs), Tony Haygarth (Emmerdale), Sam Heughan (Outlander), and Flora Montgomery (The Murdoch Mysteries).
"The Axeman Cometh"
Midsomer County residents, including Tom, are all agog that the band Hired Gun has re-formed for a gig at the Midsomer Rocks Festival, despite lead singer Gary Cooper's misgivings since receiving mysterious warnings about it. Turns out his paranoia was spot on, as reuniting doesn't feel so good when one, then another, of the band members dies. Could the culprit be the original drummer, who'd disappeared three decades ago? That's what the detectives must find out before another one bites the dust.
Guest stars include Fiona Button (Lip Service), James Cosmo (Game of Thrones), Phil Davis (Poldark), David Horovitch (Mr. Turner), and Suzi Quatro (Happy Days), and Sam Hazeldine (Peaky Blinders) begins his recurring role as Simon Dixon.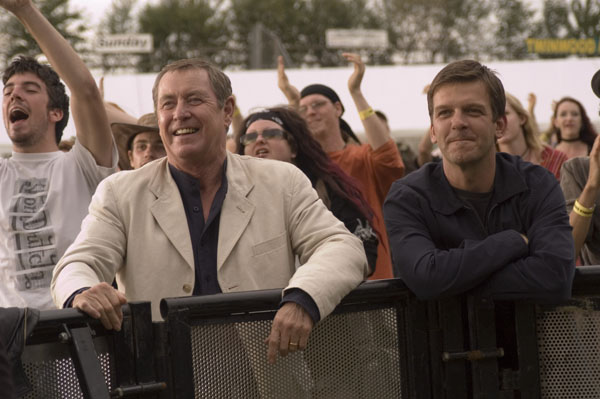 "Death and Dust"
Dr. Alan Delaney is killed in a hit-and-run while driving the vehicle owned by his widowed business partner Dr. James Kirkwood, who had accused the dead man of embezzling a sizable sum from their Midsomer Market practice. As Barnaby/Jones investigate, they realize that Kirkwood was likely the intended victim, since his divorced fiancée's children are wholly against the marriage, and others could be, too. The detectives' trip to Wales and Joyce and Cully's remarks about the Barnaby patio give Tom the key clue as to who the killer is.
Guest stars include Stephanie Cole (Doc Martin), Sharon Morgan (Torchwood), and David Yelland (Agatha Christie's Poirot), and Kirsty Dillon (Spotless) makes her first appearance as WPC Gail Stephens.
"Picture of Innocence"
Barnaby finds himself the prime suspect in an investigation after the body of Lionel Bell, whose compromising photo of Tom with Bell's estranged wife was on exhibit, is discovered in the Luxton Deeping woods. Joyce believes her hubby is being framed, but his replacement on the case, DI Martin Spellman, doesn't, since the evidence is stacked against Tom, he has no alibi, and his pre-Joyce days did include a relationship with the other woman. (No! Yes.) Worse yet, while Barnaby is trying to clear his good name, another person is murdered.
Guest stars include Liza Goddard (Bergerac), Richard Lintern (Silent Witness), Montserrat Lombard (Ashes to Ashes), and Adrian Scarborough (Upstairs Downstairs).
"They Seek Him Here"
There are suspects aplenty in Magna Manor after director Nick Cheyney is found decapitated in the prop guillotine on the set of the film The Scarlet Pimpernel — including a disgruntled actor, a taxi operator, and the mother of the dead man's child, amongst others. Things get deadlier when another victim is found off with his head.
Guest stars include Kieran Bew (WPC 56), Emily Hamilton (The Grand), Nicky Henson (Downtown Abbey), Richard Hope (Poldark), and Matthew Marsh (Arthur & George).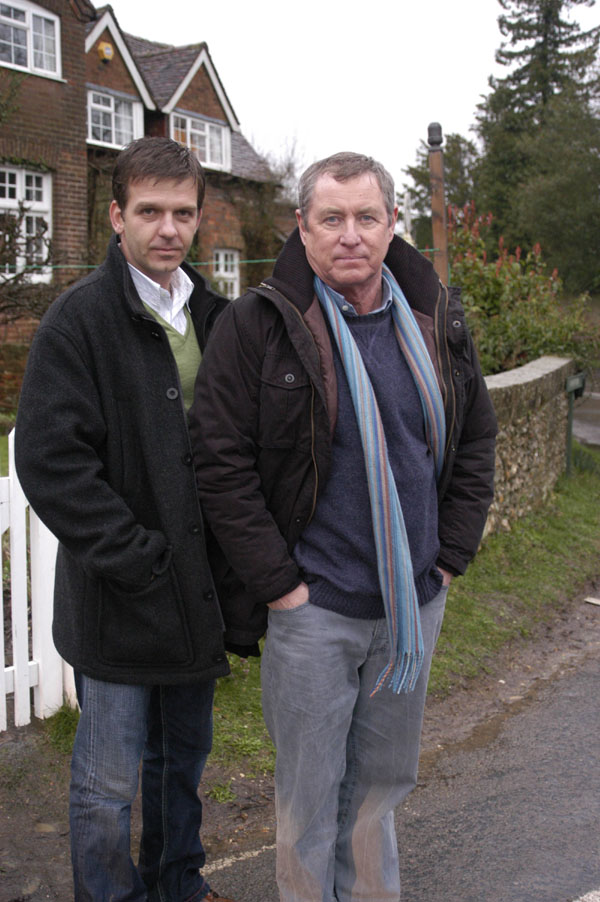 "Death in a Chocolate Box"
At Midsomer Holm, a halfway house for ex-offenders created by the reformed aristocrat Lord Holm, Barnaby runs into former Causton CID colleague and disgraced ex-cop Jack Colby while attending the farewell do for another reformed criminal. Then Colby is murdered, and Barnaby/Jones must delve into the dead man's past and find the killer amongst the  suspects, including one who later goes missing, another disgraced former policeman, and Lord Holm.
Guest stars include Chris Barrie (Red Dwarf), Christopher Fairbank (Jamaica Inn), Clare Higgins (The Syndicate), Edward Petherbridge (The Brief), and Marcia Warren (Vicious).
Midsomer Murders: Series 10 will air on the stations listed below, beginning 30 June 2015. Check your local listings or contact the station that serves your area for broadcast dates and times. For more information about carriage, contact American Public Television.
| STATE | CITY | STATION |
| --- | --- | --- |
| CALIFORNIA | Monterey, Salinas, San Francisco, San Jose, Watsonville | |
| DISTRICT OF COLUMBIA | Washington, DC | |
| FLORIDA | Tampa | |
| IDAHO | Boise, Coeur d'Alene, Moscow, Pocatello, Twin Falls | |
| KANSAS | Topeka | |
| LOUISIANA | Alexandria, Baton Rouge, Lafayette, Lake Charles, Monroe, Shreveport | |
| MASSACHUSETTS | Boston, Springfield | |
| MINNESOTA | Minneapolis, St. Paul | |
| NEW HAMPSHIRE | Durham, Hanover, Keene, Littleton | |
| NEW JERSEY | Camden, Montclair, New Brunswick, Trenton | |
| NEW YORK | Binghamton, Elmira | |
| NEW YORK | Garden City, New York City | |
| NEW YORK | Norwood, Watertown | |
| NORTH CAROLINA | Asheville, Chapel Hill, Charlotte, Concord, Edenton, Greensboro, Greenville, Jacksonville, Linville, Lumberton, Raleigh-Durham, Roanoke Rapids, Wilmington, Winston-Salem | |
| OHIO | Akron, Alliance, Youngstown | |
| OHIO | Oxford | |
| OKLAHOMA | Tulsa | |
| UTAH | Richland, Salt Lake City, St. George | |
| VERMONT | Burlington, Rutland, St. Johnsbury, Windsor | |
| WISCONSIN | Milwaukee | |
__________________
Add your comments on our Facebook, Google+, and Twitter pages.
Share this post/page.

Midsomer Murders: Broadcast Premiere of Series 10 Coming to Public TV Stations