One of the smartest comedies to come out of the UK this year is headed to the US this month, and you'll be able to binge-watch it, too.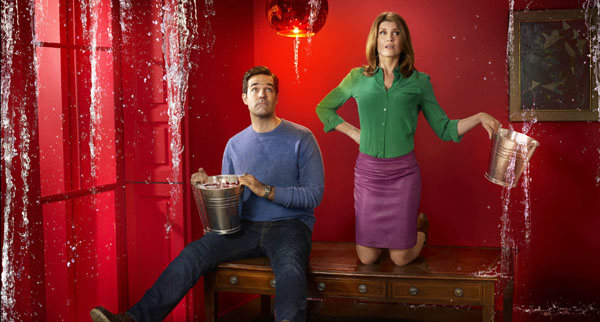 Catastrophe, in a word, is awesome.
Created, written by, and starring Rob Delaney (Key & Peele, Burning Love) and Sharon Horgan (Pulling, Psychobitches) — he, a bestselling author and the first comedian to win the Funniest Person on Twitter Award at Comedy Central's Comedy Awards, and she, a two-time BAFTA TV nominee and British Comedy Awards winner — Catastrophe is an honest, humorous, half-hour comedy for grown-ups.
The R-rated Catastrophe is about an American guy named Rob (Delaney) and an Irish gal named Sharon (Horgan), who struggle to have a proper committed relationship after they meet in a London bar, shag (a lot), and have an unplanned pregnancy.
As Rob adjusts to life in London as a non-Madmen-like ad man, and teacher Sharon alternates between horniness and sadness as her hormones rage, they learn about each other (e.g. their surnames — his is Norris, hers is Morris — seriously) and navigate through the uncharted waters of their new life together while heading toward parenthood.
It's complicated. Add friends and family members and one overly-informative doctor, and things are a right mess.
It's real. From the awkward situations and the rows, to the language and the sex.
And it's fabulous. Rob and Sharon have a chemistry that's palpable through the screen. The acting is spot on. And the dialogue, quotidian for the characters, borders on the exceptional at times. In sum total, everything about Catastrophe is engaging, witty, wonderful.
Costars include Ashley Jensen (Ugly Betty) as Sharon's unbearable homeopathy-practicing friend Fran, Mark Bonnar (Shetland) as Fran's sympathetic (to Rob) husband Chris, Jonathan Forbes (Titanic: Blood and Steel) as Sharon's sociopathic brother Fergal, Daniel Lapaine (Zero Dark Thirty) as Rob's vulgarian friend Dave, and Sarah Niles (Beautiful People) as Sharon's fellow teacher Melissa.
Guest stars include Carrie Fisher (Star Wars) as Rob's mother Mia and Tobias Menzies (Outlander) as Dr. Harries. There are cameos by Sam Spruell (Taken 3) and John Hopkins (Midsomer Murders), too.
A hit with critics and viewers alike in the UK, Catastrophe premieres in the US as an Amazon Original Series, available exclusively to Amazon Prime members, on Friday, 19 June 2015, when all six episodes of the first season (a second has been commissioned) begin streaming. Folks who aren't Prime members already can sign up for the free 30-day trial at Amazon.com/prime.
For viewers across the pond, Amazon Prime UK will screen the series later this year.
__________________
Add your comments on our Facebook, Google+, and Twitter pages.

Catastrophe: Brilliant UK Comedy Set to Premiere in the US