New Zealand goes noir in Harry, the dark, gritty crime serial hailed by Stuff.co.nz as "bloody good television" that will soon be making its US premiere.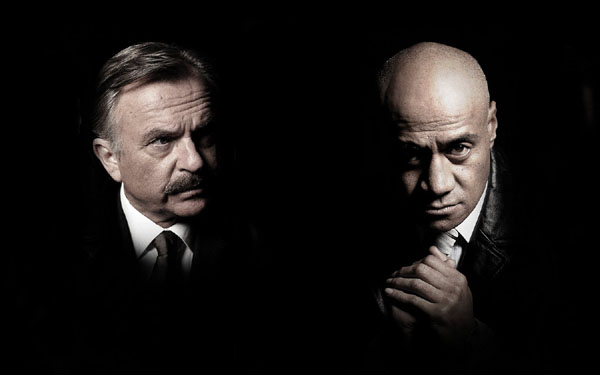 As more television series make their way from Down Under to north of the Equator, viewers in the US and Canada get to join the fandom of programs that Aussies and Kiwis have been enjoying for a while, such as Australia's Miss Fisher's Murder Mysteries and New Zealand's The Brokenwood Mysteries.
Now comes Harry, a dark, gritty, and award-winning six-part crime serial starring series co-writer Oscar Kightley (Samoan Wedding, Bro'Town) as the titular Detective Harry Anglesea and Sam Neill (Peaky Blinders, The Tudors) as his boss, Detective Senior Sergeant Jim "Stocks" Stockton.
Upon Harry's return to work in Auckland after taking just one month of bereavement leave, the recent widower dives into a homicide case, one that resulted from a young Samoan male needlessly shooting and killing a bank teller during a robbery while high on the street drug known as P.
If only this investigation were all that Harry has to deal with…
Harry's being back on the job is provisional. While he's been given the okay to resume his duties by police psychiatrist Dr. Alex Boucher (Theresa Healey, The Blue Rose), he must continue having sessions with her in order to get the all-clear. Her concerns for his well-being are well founded.
In moments of quiet, he replays in his mind the sounds of his daughter Mele's (Hunter Kamuhemu) sobbing following the unexpected death of his wife/her mum Sina (Aruna Po-Ching, Tatau), and takes to self-medicating away the memories before grabbing snatches of shut-eye. And he can't quite grasp the devastation felt by Mele, who has nightmares and begins acting out her grief about her mum and anger toward her dad.
But wait. There's more.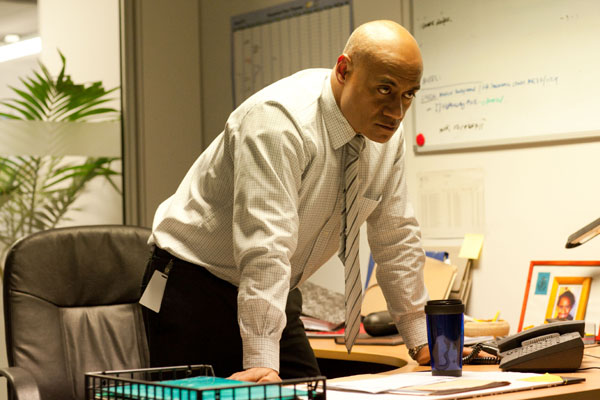 Knowing that the shooter didn't act alone, Harry and DC Mosese Tuitonga (Michael Koloi, Outrageous Fortune) set out to locate the killer's accomplices. However, Harry ends up committing an act of his own that brings him yet more trouble, one that could end his career.
Not only that, Harry and the team's investigation leads to something they didn't anticipate: The thugs responsible for multiple robberies and the killing are connected to another who's one rung up on the criminal ladder — a biker gangster whose dealings with Asian mobsters could mean tens of millions of dollars worth of meth flooding the streets of Auckland.
As the stakes get higher on both sides of the law, the deceased bank teller becomes just one of several victims. And if Harry doesn't get his act together quickly, he could bring himself down and his daughter along with him.
Part police procedural, part psychological drama, Harry is "inspired by true events" and combines the gritty realism of The Wire with the noir of Wallander — all centered on a flawed, brooding, alcohol- and prescription drug-reliant detective haunted by his past and under pressure to deliver results. A man whose compassion for others stops short when it comes to himself and his daughter.
And therein lies the weakness of Harry. With the exception of two scenes that I can readily recall, Harry's stoicism — by way of disassociating from his feelings, ostensibly to move forward from the family tragedy — renders him a flat character. We know he isn't devoid of emotions; we just don't get to see much of them. So Harry ends up a walking, talking flatliner.
On the flip side are Sam Neill's DSS Stockton, and the characters of Chocka Fahey (Erroll Shand, Underbelly: Land of the Long Green Cloud) and Afa Sorrenson (Matthias Luafutu). Stockton is reminiscent of Endeavour's DI Fred Thursday, a boss/mentor/friend to Harry, a consummate copper, and a man given to speaking his mind, albeit with a more street-wise vocabulary. And both Chocka and Afa could only be more real if one were in the actual presence of these violent miscreants. They are simply scary.
Further along the lines of authenticity are scenes that are not suitable for younger viewers, and the inclusion of dialogue in the Samoan language. Despite the latter being non-subtitled, the context of the scenes makes it easy enough to discern the often painful meaning behind the words.
A worthwhile watch, Harry premieres in North America, exclusively at Acorn TV, as follows:
Monday, June 1 2015 — Episode 1 "This is Personal" and Episode 2 "He's Very Important, This Boy"
Monday, 8 June 2015 — Episode 3 "He's the Weak Link"
Monday, 15 June 2015 – Episode 4 "Play with Fire"
Monday, 15 June 2015 – Episode 5 "You Lied to Me"
Monday, 29 June 2015 – Episode 6 "God Bless Brutus"
Acorn Media will release Harry on DVD in August 2015.
__________________
Add your comments on our Facebook, Google+, and Twitter pages.

Harry: New Zealand Noir Crime Serial Starring Oscar Kightley and Sam Neill Premieres in the US