It's time to head to Leeds and meet the Drifters, three twenty-something gal pals whose post-uni lives are an education in vulgarity, indecency, and stupidity. It's rather hilarious.
Created and written by Jessica Knappett (Alan Partridge), Drifters
stars Knappett as Meg, Lydia Rose Bewley (The Royals) as Meg's cousin Bunny, and Lauren O'Rourke (Line of Duty) as their best mate Laura, BFFs who meander their way from one effed-up, foul-mouthed situation to the next.
In the series opener, Meg and Bunny return home to Leeds, broke and unemployed, after spending part of their gap year in India. It was there that Bunny became enamored of using crystals as a means to obtain all she desires from the universe, such as having a luggage trolley show up just when she needs it at the airport. Next up: show biz!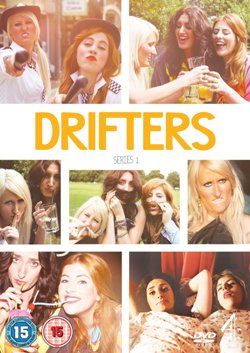 Trolley or no trolley, all Meg wants at the moment is not to be seen by her clueless, still-in-love-with-her ex-boyfriend Mark (Philip McGinley, Game of Thrones), who awaits her at the arrivals gate. Laura is there to greet Meg and Bunny, too, following coitus interruptus with boyfriend Gary (Bobby Hirston, The Inbetweeners Movie) and his finishing up (as it were) with a bit of porn.
Worse yet for Meg is that parents Frank and Jenny (Bob Mortimer, House of Fools, and Arabella Weir, The Fast Show) have converted her room into a walk-in closet, and Mark has moved all of her stuff into a flat he's rented for them.
But after a few drinks at the pub, things start looking up. Laura gets phony-sexy with Gary, Bunny gets hired as a living mannequin (not quite the show biz and modeling gig she'd expected), and Meg gets her old job back with Malcolm (Nick Mohammed, Gates). The bonus: Mark's flat turns out to be rather nice and Meg is no longer homeless. The job as costumed adverts, though, leaves something to be desired for all three gals.
As the series progresses, Meg, Bunny, and Laura get themselves into plenty more awkward and unseemly situations, from gate-crashing what turns out to be a somber private party, to unintentionally coming out as gay.
Drifters is a right laugh, and Series 1 (of 2) is now streaming in the US, exclusively at Hulu Plus (subscription required).
__________________
Add your comments on our Facebook, Google+, and Twitter pages.
Share this post/page.

Drifters: Funny, Raunchy UK Comedy Now Streaming in the US