No, this is not an April Fool's joke. A whopping twenty-one series premiere in or return to the US this month, including some of the most highly-anticipated shows this year.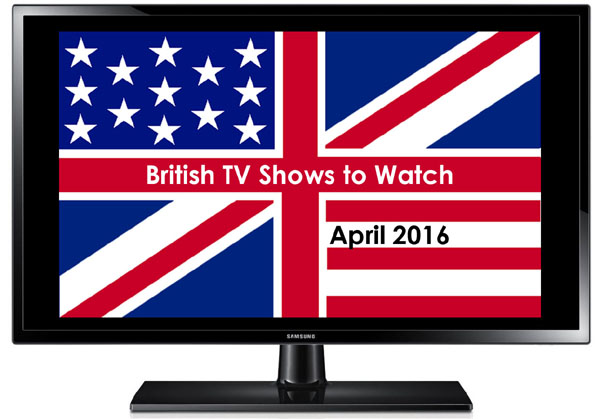 NATIONAL PREMIERES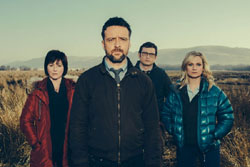 Hinterland: Season 2 (Y Gwyll)

The popular Welsh noir crime drama returns and is as dark and brooding as ever. Starring BAFTA Wales Best Actor Award winner Richard Harrington as DCI Tom Mathias, the new (US) season opens with the 2015 New Year's special, which finds Mathias going back to work after the events in the gripping Series 1 finale to investigate an arson. Reappearing in, and adding more stress to, his life is his estranged wife, Meg (Anamaria Marinca, The Last Enemy), while Internal Affairs investigates Mathias' conduct (during said finale) and he and his team deal with a series of grisly murder cases. Hinterland: Series 2 premieres in the US on Friday, 1 April 2016, on Netflix.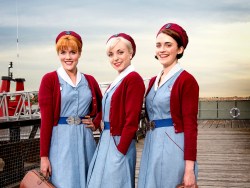 Call the Midwife: Season 5
Life for the residents of Poplar, including the nuns and nurses of Nonnatus House, is starting to change for the better, thanks to improvements in housing, sanitation, and healthcare. It's 1961 now, and the availability of the contraceptive pill is welcomed by some and worrisome to others. Even more troubling are the complex and challenging cases of babies being born with severe deformities. Meanwhile, love looks like it might be blooming amongst certain members of the community, but Nonnatus House suffers an utterly devastating loss. Call the Midwife: Season 5 premieres in the US on Sunday, 3 April 2016, at 8 PM ET, on PBS.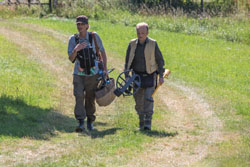 Detectorists: Series 2
Metal detectorists Andy (Mackenzie Crook) and Lance (Toby Jones) are back in the fields of Danebury, and in the second series intrigues abound as they search for buried treasure. Who is the German guy and why does he want to find the wreckage of a warplane? Who is the (much) younger woman Lance has been seeing? What on earth will Andy do if he doesn't find a job, in archaeology or otherwise? And what about Africa, which Becky (Rachael Stirling) has her heart set on? Detectorists: Series 2 premieres nationally in the US on Monday, 4 April 2016, exclusively on Acorn TV. It also debuts locally on these public TV stations, starting on or after the 1st of April.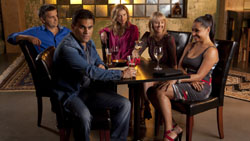 Nothing Trivial: Series 3 (New Zealand)
What do you get when you combine relationship woes, secrets, and indiscretions, with a team of five late 30/early 40-something pub trivia players who call themselves Sex on a Stick? The Kiwi drama series Nothing Trivial, whose third series finds Mac (Shane Cortese), Catherine (Tandi Wright), Michelle (Nicole Whippy), Brian (Blair Strang), and Emma (Debby Newby-Ward) getting into more relationship messes. Series 1 premiered on Acorn TV on 1 February 2016, Series 2 on 29 February, and on Monday, 4 April 2016, Series 3 makes its US debut.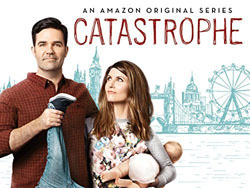 Catastrophe: Season 2
"It's complicated" isn't the half of it for Rob (Rob Delaney) and Sharon (Sharon Horgan). A sex-filled, six-night romp, an unexpected pregnancy, a planned wedding, and a disastrous first night of the honeymoon later, the couple are now parents. And the sizzle in their love life has fizzled. But there's worse to come, what with post-partum depression, indecent proposals, and nutters for friends and relatives. A series that depicts the highs and lows of relationships in as real and as hilarious a way as possible, the must-watch second season of Catastrophe, an Amazon Original Series, premieres in the US on Friday, 8 April 2016, exclusively on Amazon Prime.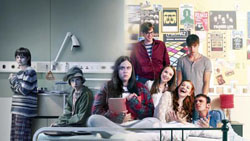 My Mad Fat Diary: Seasons 1-3
Adapted from the diaries and subsequent book by Rae Earl, this International Emmy® and BAFTA TV Awards-nominated dramedy stars BAFTA Scotland Award winner Sharon Rooney (Sherlock) as Rae. A music- and boy-mad overweight teen, Rae has body image and mental health issues, an eccentric mum (Claire Rushbrook, Whitechapel), a cool best friend (Jodie Comer, Doctor Foster, see below), and a lust for a boyfriend of her own. Not just for the teen set, the fabulous the complete series of My Mad Fat Diary premieres in the US on Saturday, 9 April 2016, on Hulu Plus.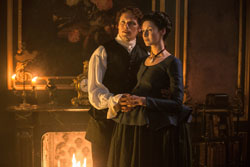 Outlander: Season 2
Outlander, one of the most highly-anticipated returns of the year, is finally arriving. Adapted from Dragonfly in Amber, Book Two of the hugely popular "Outlander" novels by Diana Gabaldon, the second season of the Golden Globes-nominated drama finds Claire (Caitriona Balfe) and Jamie (Sam Heughan) in France, intent on infiltrating the Jacobite rebellion and stopping the battle of Culloden. Trying to alter the course of history begins to weigh on their relationship, but knowing what lies ahead, the couple races to prevent a doomed Highland uprising and the extinction of Scottish life as they know it. Outlander: Season 2 premieres Saturday, 9 April 2016, at 9 PM ET, on Starz.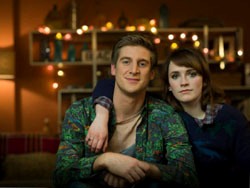 Siblings: Seasons 1 & 2
Hannah (Charlotte Ritchie, Fresh Meat) and her brother Dan (Tom Stourton, Scrotal Recall) share a flat and countless misadventures, owing to her lazy, scheming self and his ever-so-stupid one. It's like a post-uni version of Fresh Meat, but without the drama bits that gave the dramedy a bit more depth. Guest stars in this half-hour comedy include John Dagleish (Lark Rise to Candleford), Killian Scott (Love/Hate), and Matthew Steer (Agatha Christie's Partners in Crime), amongst others. Both seasons of Siblings premiere in the US on Saturday, 9 April 2016, on Hulu Plus.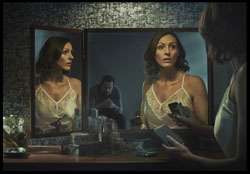 Doctor Foster: A Woman Scorned
The highest-rated new series in the UK in 2015 and the 2016 NTA winner for Best New Drama, this three-part drama centers on Dr. Gemma Foster (Suranne Jones, Scott & Bailey), whose cool, calm demeanor and happy life as a wife, mum, and GP start to unravel after she suspects her husband, Simon (Bertie Carvel, Jonathan Strange & Mr Norrell), of having an affair. Hell hath no fury like a woman scorned? You bet. (More details here.) Doctor Foster: A Woman Scorned premieres in the US on Sunday, 10 April 2016, at 9 PM ET, on Lifetime.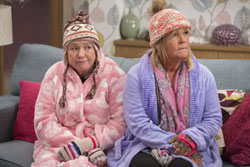 Birds of a Feather: Series 10
Originally aired on BBC One for a nine-season run, this beloved sitcom was rebooted 15 years later, in 2014, on ITV, and gave the channel its first mega-hit comedy in more than a decade. The three stars and original cast members, who reprised their roles for the reboot, are Pauline Quirke (Broadchurch) as Sharon, Linda Robson (Shine on Harvey Moon) as Sharon's sister Tracey, and Lesley Joseph (Night & Day) as Dorien, the sisters friend and neighbor. The UK's answer to The Golden Girls, Birds of a Feather: Series 10 premieres in the US on Monday, 11 April 2016, on Acorn TV.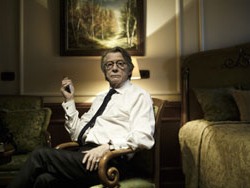 The Last Panthers
Inspired by the real-life, notorious gang of jewel thieves known as the Pink Panthers, shot in three languages across four European countries, and featuring music by the late, great David Bowie, this six-part crime drama opens with a daring diamond heist, marred by the death of a little girl. From there it delves into the interplay between jewel and drug traffickers, public officials and city bankers, and top-ranking to low-life criminals, as an insurance claims specialist and a cop are both on the hunt for the stolen diamonds. Starring Samantha Morton (In America), Tahar Rahim (A Prophet), Goran Bogdan (We Will Be the World Champions), and John Hurt (The Elephant Man), The Last Panthers premieres in the US on Wednesday, 13 April 2016, at 10 PM ET, on SundanceTV.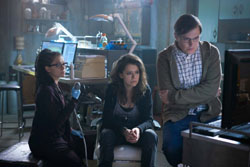 Orphan Black: Season 4 (Canada)
They're baaack. Nope, not poltergeists, but clones. In the fourth season of this incredible sci-fi thriller series, Sarah, Alison, Cosima, Helena, and Rachel (all played by Golden Globes, Emmy, and Screen Actors Guild Awards nominee Tatiana Maslany) have finally settled into some sense of normalcy. However, a potent new enemy in their midst threatens to destroy it. Ultimately, the sisters end up doin' it for themselves — taking matters into their own hands to end the constant threats to their lives once and for all. Orphan Black: Season 4 premieres Thursday, 14 April 2016, at 10 PM ET, on BBC America.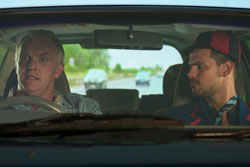 Cuckoo: Season 3
The chaos at the Thompson household continues. Ken (Greg Davies) and Lorna (Helen Baxendale) are preparing for the birth of their unexpected new baby, their son Dylan (Tyger Drew-Honey) is about to leave for university, and daughter Rachel (Esther Smith) is neither on nor off with her jilted former fiancé, Ben (Matt Lacey). Then Dale (Taylor Lautner) returns to Lichfield from China and things get even nuttier. The third season of Cuckoo, a Netflix Original Series, premieres in the US on Friday, 15 April 2016, exclusively on Netflix.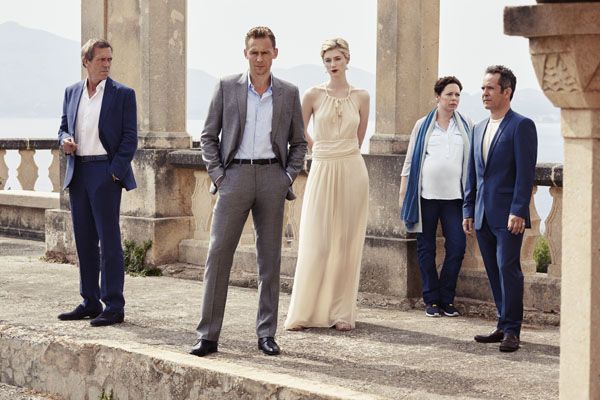 The Night Manager
You'll want to, but you won't be able to (at least not yet), binge-watch the heck out of The Night Manager. It stars Tom Hiddleston (Thor) as a former British soldier recruited by an intelligence operative (Olivia Colman, Broadchurch) to infiltrate the inner circle of an international businessman (Hugh Laurie, House, M.D.). The already-tough assignment is made more difficult by the chief of staff (Tom Hollander, Doctor Thorne) and the biz man's gorgeous girlfriend (Elizabeth Debicki, The Great Gatsby). This gripping, sexy, brilliant modern-day adaptation of John le Carré's espionage novel is telly at its finest. (More details here.) The Night Manager premieres in the US on Tuesday, 19 April 2016, at 10 PM ET, on AMC.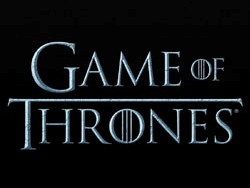 Game of Thrones: Season 6
Winter has been coming for five seasons. Will it arrive in the sixth? Who cares, since every fan of GoT, the most pirated show on the planet, has been asking since the Season 5 finale, "Is Jon Snow really dead?" Kit Harrington is in Season 6, so we'll see Jon Snow; we just don't know how yet. Here are the odds for some possibilities: he's resurrected as himself (1:1); he returns in a flashback or dream (5:1); he returns as a White Walker (15:1); he doesn't return cuz he's dead as a doornail (25:1). As for other major characters, the odds on favorite is Jorah Mormont (Iain Glen) for getting killed off in Season 6. (Odds info via onlinegambling.lv.) Game of Thrones: Season 6 premieres Sunday, 24 April 2016, at 9 PM ET, on HBO.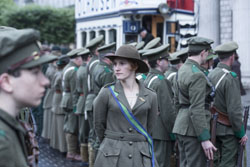 Rebellion (Ireland)
Stories about the Easter Uprising and the birth of modern Ireland are usually told from the male and Nationalist perspectives. Not so with Rebellion, which follows three very different (fictional) women and the vital and conflicting role each one plays in the 1916 uprising. Starring Brian Gleeson (Single-Handed), Charlie Murphy (Love/Hate), Michelle Fairley (Game of Thrones), Ruth Bradley (Humans), and Sarah Greene (Penny Dreadful), Rebellion, a special three-night miniseries event, premieres in the US on Sunday, 24 April 2016, at 9 PM ET, on SundanceTV.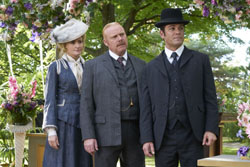 Murdoch Mysteries: Season 9 (Canada)
This delightful and critically-acclaimed period mystery series, inspired by the "Murdoch Mysteries" novels by Maureen Jennings, returned to the Ovation network in the US (under the title The Artful Detective) in January, but since I missed it then, I'm covering it now, as its streaming premiere is this month. Yannick Bisson reprises his role as William Murdoch, a brilliant detective and pioneer of crime-solving technologies in Victorian Toronto, and this season features William Shatner (Star Trek) guest-starring as Mark Twain. Season 9 of Murdoch Mysteries premieres Monday, 25 April 2016, on Acorn TV.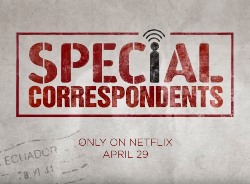 Special Correspondents
In this satirical British/Canadian remake of the French comedy film, Envoyés très spéciaux, Eric Bana (Star Trek) and Ricky Gervais (Derek) star as Frank and Albert, a struggling radio journalist and his technician, respectively, who lose their tickets and passports on the way to the airport. Instead of remedying their situation, the pair pretend to be kidnapping victims during a rebel uprising in South America, while they're actually holed up in a neighborhood restaurant in New York. Their fake coverage of the war becomes a national sensation and the consequences are hilarious. Special Correspondents, a Netflix Original program, premieres Friday, 29 April 2016, on Netflix and in cinemas
across the country.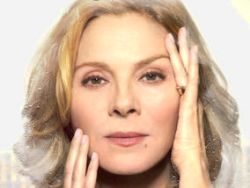 Sensitive Skin: Season 2 (Canada)

In this award-winning Canadian adaptation of the British dark comedy, Kim Cattrall and Don McKellar star as Davina and Al Jackson, married, middle-aged empty-nesters. They look fab for their age, love their jobs, and are keen on having the next phase of their lives be fun. The thing is, transition into it isn't as smooth as they'd imagined. Amongst the issues: their 30-year-old son, Orlando (Nicolas Wright), who's suffering a case of arrested development. Sensitive Skin: Season 2 premieres in the US on Saturday, 30 April 2016, on Netflix.
LOCAL PREMIERES
For all local premieres, check your local listings or contact the station that serves your area for broadcast dates and times.
Detectorists: Series 2 (see National Premieres)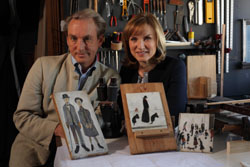 Fake or Fortune? Series 4
Beyond the genteel galleries and upmarket auction houses of the art world lies a darker dimension: a world of incalculable wealth, social ambition, and occasional subterfuge. In the fourth season of this popular series hosted by journalist Fiona Bruce and art dealer and art historian Philip Mould, they and a team of scientists investigate a new batch of potential fine art forgeries, including pieces that might or might not be the works of LS Lowry, Renoir, Munnings, and even Sir Winston Churchill. Fake or Fortune? Series 4 premieres in the US on or after Friday, 1 April 2016, on select public TV stations.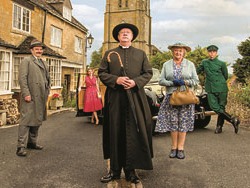 Father Brown: Series 4
Ask and ye shall receive. You've asked, so here it is! The fourth season of the hit Brit mystery series, Father Brown. In ten new episodes, the eponymous cleric played by Mark Williams continues to get under the skin of the local lead copper, only now the latter is Inspector Mallory, played by Jack Deam (DCI Banks). Likewise, Flambeau (John Light) resurfaces to get his his hands on another priceless item. In other matters, Sid (Alex Price) falls for a married heiress, Lady Felicia (Nancy Carroll) and Mrs McCarthy (Sorcha Cusack) land in hospital, and the idyllic village of Kembleford remains a hotbed of devilish murders. Father Brown: Series 4 premieres in the US on or after Friday, 1 April 2016, on public TV stations across the country.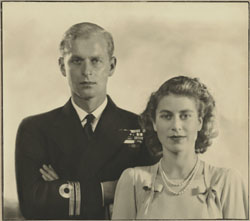 Prince Philip: The Plot to Make a King
Prince Philip has been "an apparently eternal fixture of the British landscape" for so long that few of us think about how he, nephew of Lord Mountbatten, a former member of Greece's Royal family, and a man once considered "an outsider and a threat" by the British royals and political elite, came to be the consort of Queen Elizabeth II. This documentary is fascinating, full of juicy, revelatory bits told through archival photographs, content in unpublished documents shared on television for the first time, and exclusive interviews with Philip's relatives, historians, and authors. (More details here.) Prince Philip: The Plot to Make a King premieres on or after Friday, 1 April 2016, on public TV stations across the US.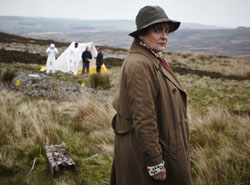 Vera: Series 6
Two-time Oscar® nominee Brenda Blethyn reprises her role as the brilliant, no-nonsense DCI Vera Stanhope for another season of the hit crime drama based on the "Vera Stanhope" novels by bestselling author Ann Cleeves. The four new stories find Vera and her sidekick, DS Aiden Healy (Kenny Doughty), tackling cases that include the body of a woman found on the Northumberland moors, the death of a young man whose corpse is discovered in a cave, a double murder in a remote country manor house, and the body of a missing man pulled from the sea. Vera: Series 6 premieres in select US markets on or after Friday, 1 April 2016, on public TV stations.
NON-PREMIERE PROGRAMS ADDED TO STREAMING SERVICES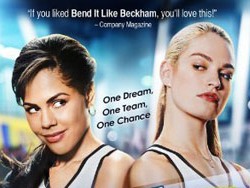 Fast Girls — When Shania (Lenora Crichlow, Being Human) is offered a once-in-a-lifetime chance to join the National Women's Relay Team, she'll need to overcome her pride, set aside her rivalry with rich-girl athlete Lisa (Lily James, Downton Abbey), and learn what it means to be part of a team. It will take more than speed for this group of fiercely competitive women to band together and chase their dream across the finish line at the World Championships. Fast Girls begins streaming Friday, 1 April 2016, on Acorn TV.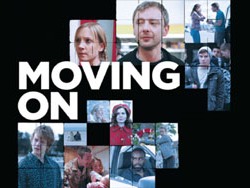 Moving On: Series 3-6
Created and written by BAFTA winner Jimmy McGovern (The Street), this anthology series consists of standalone, contemporary dramas that feature some of Britain's top TV talent. Appearing in Series 3-6 are Rob James-Collier (Downton Abbey), Natasha Little (Case Histories), Lee Ingleby (George Gently), and Hayley Mills (Wild at Heart), amongst many others. Acorn TV begins streaming Moving On: Series 3 on Monday, the 4th of April; Series 4 on the 11th of April; Series 5 on the 18th of April; and Series 6 on the 25th of April 2016.
Turning Green — Donal Gallery (Moone Boy) plays 16-year-old American James Powers, who's forced to live with his three aunts in Ireland after his mother dies. Longing to return home to the US and desperate for cash, James hits pay dirt when he discovers porn magazines in London and starts a successful business selling them in Ireland. Now flush with cash, he must determine where home really is. Set in 1970s Ireland, the film stars Timothy Hutton (American Crime), Alessandro Nivola (American Hustle), and Colm Meaney (Hell on Wheels). Turning Green begins streaming Friday, 8 April 2016, on Acorn TV.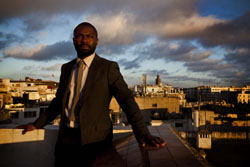 Complicit — David Oyelowo (Selma, Lincoln) has another outing as an MI-5 officer (remember him as Danny?) in this made-for-TV movie about counter-terrorism. He plays Edward Okubo, a national security officer keeping tabs on Waleed Ahmed (Arsher Ali, Arthur & George), a British citizen of Yemeni descent whom Edward believes has been radicalized and is planning a terrorist attack in the UK. Costars in this fast-paced thriller include Stephen Campbell Moore (Our Zoo), Makram Khoury (Homeland), Monica Dolan (W1A), and Paul Ritter (Vera). Complicit begins streaming Friday, 15 April 2016, on Acorn TV.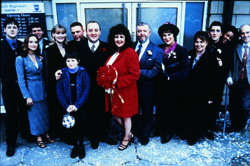 Where the Heart Is: Series 3 — Set in the fictional Yorkshire town of Skelthwaite, this long-running National Television Awards nominee and viewer-favorite drama features warmhearted stories focused on the personal- and work-related trials and tribulations of the Skelthwaite Health Centre's district nurses and their families. Pam Ferris and Sarah Lancashire star as friends, coworkers, and sisters-in-law Peggy Snow and Ruth Goddard, respectively, and Tony Haygarth and Thomas Craig as their husbands, Vic and Simon. The third of ten series of Where the Heart Is begins streaming Monday, 18 April 2016, on Acorn TV.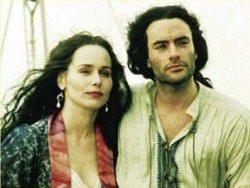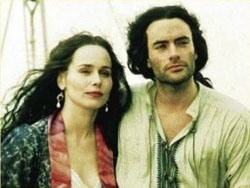 Frenchman's Creek — Adapted from the classic Daphne du Maurier novel, this tale of adventure and romance stars Tara Fitzgerald (Game of Thrones) as Lady Dona St. Columb, a wealthy aristocrat whose boredom with London society and her husband, Sir Harry (James Fleet, Agatha Christie's Partners in Crime), drives her to escape to the family estate in Cornwall. Here she meets the dashing French pirate Jean Aubrey (Anthony Delon, Polisse), and her life is changed forever… until she must choose between duty and desire. Frenchman's Creek begins streaming Friday, 22 April 2106,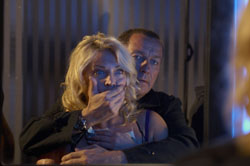 Honest — A remake of the Australian series Outrageous Fortune, this dramedy stars Amanda Redman as Lindsay Carter, a woman trying to get herself and her family on the straight and narrow after their husband and patriarch, the incorrigible criminal Mack (Danny Webb, Humans), is busted and sent to prison. Honesty is the best policy, but likewise an inconvenience. Costarring Matthew McNulty (Black Work), Laura Haddock (Da Vinci's Demons), Eleanor Wyld (Thirteen), Sean Pertwee (Gotham), and Amit Shah (Jekyll & Hyde), Honest returns to Acorn TV on Monday, 25 April 2016.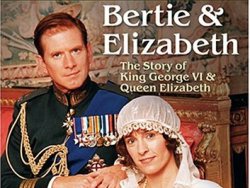 Bertie & Elizabeth — This feature-length biopic tells the love story of King George VI (James Wilby, Churchill's Secret), called Bertie by intimates, and Queen Elizabeth the Queen Mother (Juliet Aubrey, The White Queen). It covers the span of their relationship, from meeting, courtship, and marriage as the Duke of York and Lady Elizabeth Bowes-Lyon, to the birth of daughters Elizabeth and Margaret, his ascension to the throne following the abdication of King Edward VIII, and his early death at the age of 56. Bertie & Elizabeth begins streaming Friday, 29 April 2016, on Acorn TV.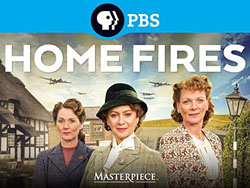 Home Fires: Season 1 — One of my favorite new Brit TV shows in 2015, this absorbing period drama centers on the resourceful women villagers of Great Paxford, who band together to do their part for the war effort as the men head off to battle during World War II. Based on the book by Julie Summers and renewed for a second season, the series' cast is led by Samantha Bond (Downton Abbey) and Francesca Annis (Cranford), who portray formidable rivals within and without the local chapter of the Women's Institute. Home Fires: Season 1 is an Amazon Prime series effective Monday, 18 April 2016.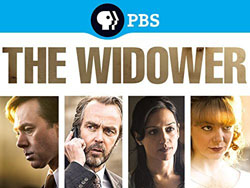 The Widower — This gripping, three-part biopic, a favorite UK TV premiere of 2014, tells the headline-making tale of male nurse Malcolm Webster (Reece Shearsmith, Chasing Shadows). In serious debt, he marries, manipulates, and murders his first wife (Sheridan Smith, Cilla) for the life insurance money. His second wife (Kate Fleetwood, Philomena) survives his attempt to kill her for the same reason, and his third fianceé (Archie Panjabi, The Good Wife) is saved from losing her money and her life by DS Charlie Henry (John Hannah, Rebus). The Widower is an Amazon Prime series effective Monday, 18 April 2016.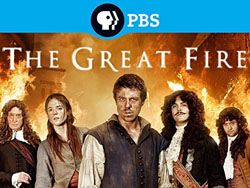 The Great Fire — In this historical drama, which premiered in the US on public TV in 2015, Andrew Buchan (The Fixer) stars as Thomas Farriner, whose bakery was the starting place of the Great Fire of London. (Said Buchan during my interview with him, the filming was quite demanding.) The fire isn't the focus, but serves as the backdrop for the stories of real-life and fictional characters played by Buchan, Charles Dance (Game of Thrones), Jack Huston (Boardwalk Empire), Rose Leslie (Downton Abbey), and Daniel Mays (Line of Fire). The Great Fire, a four-part miniseries, is an Amazon Prime series effective Wednesday, 27 April 2016.
For updates about April 2016 program offerings, see the British TV Viewing Guide.
__________________

Add your comments on our Facebook and Twitter pages.

Share this post/page.

British TV to Watch in April 2016: Doctor Foster, The Night Manager, Outlander & LOTS More [UPDATED]