For comedy gold, look no further than to Detectorists, the BAFTA Award-winning series that returns next month to the States, nationally and locally, with its second series.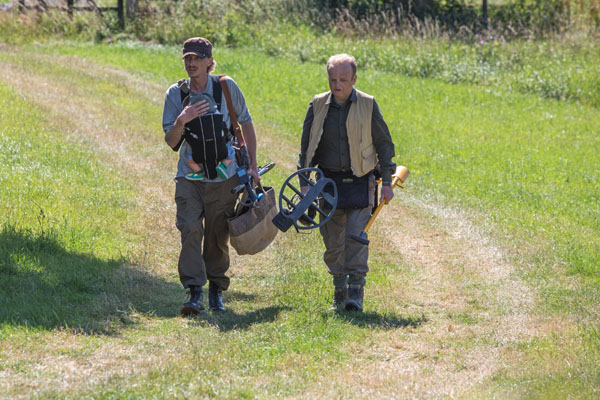 Detectorists, written and directed by Mackenzie Crook (Pirates of the Caribbean, The Office), is brilliant.
The first season charmed viewers and critics alike on both sides of the pond, and proved that outstanding writing, delivered in fine acting, is the key element in making a series about two hapless blokes one of the most engaging shows on telly. The 2015 BAFTA TV Award for Best Situation Comedy is evidence.
Understated in nature, and filled with quirky characters and intelligent humor, the slice-of-life story that follows best mates and metal detectorists Andy (Crook) and Lance (Toby Jones, The Hunger Games, Marvellous) continues in Detectorists: Series 2. And it is every bit as wonderful as Series 1.
Picking up roughly a year after the first season's finale, the second season finds Andy with several additions in his life, namely a wife, a baby boy, and an archaeology degree. He and Becky (Rachael Stirling, The Bletchley Circle) tied the knot after their break-up and reunion, and she gave birth to their son, Stanley, now three months old.
What hasn't changed: Andy still doesn't have a job and, with Lance, is still searching for buried Saxon treasure in and around their home turf of Danebury. And since he's minding Stanley while Becky's back at her teaching job, baby makes three at home and during detecting excursions.
While Andy is busy being a family man, Lance is as lovelorn as ever, now that his ex-wife has moved away and he's forced to pine for her from afar. Interestingly enough, though, after poo-pooing Andy's suggestion to try internet dating, Lance meets Kate (Alexa Davies, Raised by Wolves), who's young enough to be his daughter.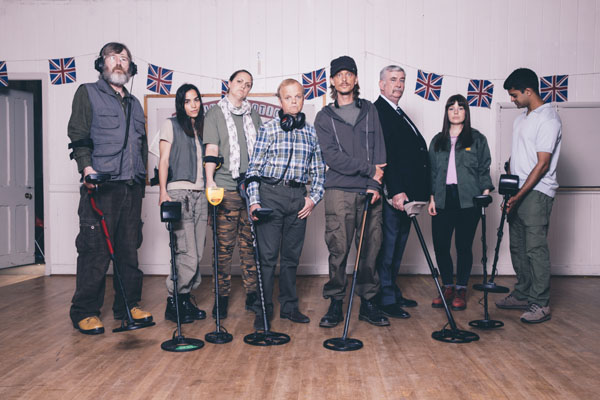 And at the Danebury Metal Detecting Club (DMDC), members Russell (Pearce Quigley, Cutting It) and Hugh (Divian Ladwa, You, Me and the Apocalypse) have gone into business together, putting their detecting skills to work in a lost wedding ring recovery service.
With the DMDC finds table displaying a rather pitiful collection of unearthed buttons, buckles, and musket balls, it's business as usual for the club's members… until a stranger walks through the hall doors into one of their meetings, and Danebury's mayor needs the DMDC to locate his lost chain of office.
Said stranger is Peter (Daniel Donskoy, SS-GB), a young German searching for the wreckage of a plane that went down somewhere in this part of Essex in 1941, as his grandfather was one of the crew members. While enlisting the help of the DMDC to find it, he captures Sophie's (Aimee-Ffion Edwards, Peaky Blinders) interest.
Meanwhile, Becky yearns for something more. Increasingly dissatisfied with her job, she sets her sights on Africa, a place to which she and Andy had talked about moving, except life got in the way.
Each of the main strands revolves around a basic desire — to support one's family, to connect with a special someone, to experience a sense of fulfillment, to find a lost and valuable something — and threads through most or all of the six episodes. By turns relatable, poignant, and hilarious, each also comes with its own surprise of sorts.
The storyline featuring Russell and Hugh is priceless for its comedic value, and actors Quigley and Ladwa play them with such deadpan sincerity that the pair are one of the season's highlights. And the best scene, bar none, is the one that closes Series 2, an event foreshadowed earlier in the season.
A word about the dialogue: It is rich with overt and subtle zingers. Of the latter, "Yeah, nostalgia conventions aren't what they used to be," was one that caught me unawares until my brain registered its cleverness.
Returning regular cast members include Gerard Horan (WPC 56) as DMDC president Terry, Laura Checkley (Cradle to Grave) and Orion Ben (Call the Midwife) as girlfriends and DMDC members Louise and Varde, and Sophie Thompson (EastEnders) as Terry's wife, Sheila.
Stirling's real-life mother, Diana Rigg (Game of Thrones), reprises her recurring role as Becky's mum, Veronica, as do Simon Farnaby (Horrible Histories) and Paul Casar (Grass Roots) as rival detectorists "Simon" and "Garfunkel." And joining the Series 2 cast in a recurring role is Kenneth Collard (Cuckoo) as the Mayor.
Detectorists: Series 2 premieres nationally on Monday, 4 April 2016, exclusively on Acorn TV.
And on or after Friday, 1 April 2016, the following public TV stations begin premiering Series 2. Check your local listings or contact the station that serves your area for broadcast dates and times. For information about other stations possibly airing the program, contact American Public Television.
| STATE | CITY | STATION |
| --- | --- | --- |
| ALASKA | Fairbanks | |
| COLORADO | Colorado Springs, Denver, Durango, Grand Junction, Pueblo, Steamboat Springs | |
| ILLINOIS | Chicago | |
| INDIANA | Indianapolis | |
| LOUISIANA | Alexandria, Baton Rouge, Lafayette, Lake Charles, Monroe, Shreveport | |
| MARYLAND | Annapolis, Baltimore, Frederick, Hagerstown, Oakland, Salisbury | |
| MINNESOTA | Minneapolis, St. Paul | |
| MONTANA | Billings, Bozeman, Great Falls, Kalispell, Missoula | |
| RHODE ISLAND | Providence | |
| SOUTH DAKOTA | Aberdeen, Eagle Butte, Lowry, Martin, Pierre, Rapid City, Sioux Falls, Vermillion | |
| TEXAS | Austin | |
| TEXAS | Dallas | |
| WISCONSIN | Green Bay-Appleton, La Crosse-Eau Claire, Madison, Menomonie, Park Falls, Wausau-Rhinelander | |
__________________

Add your comments on our Facebook and Twitter pages.

Share this post/page.

Detectorists: Series 2: US SVoD, Broadcast Premieres of Hit Comedy in April