Doctor Foster, the highest-rated new drama in the UK in 2015, is headed to Lifetime in the US next month under the title Doctor Foster: A Woman Scorned.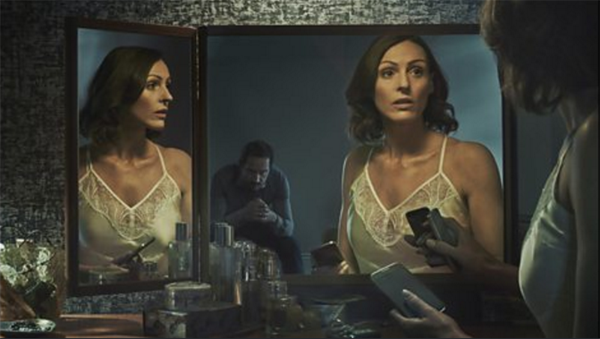 Mark your calendars for three evenings in April, because you do not want to miss the US premiere of Doctor Foster: A Woman Scorned.
Called simply Doctor Foster in the UK, the five-part drama won for Best New Drama at the 2016 National Television Awards, ranked as one of my top 10 favorite new UK series of 2015, and delivered a consolidated 10.1 million viewers and 37.4 share for BBC One — making it the highest-rated new series and second-highest rated drama (behind Call the Midwife) in the UK last year.
With numbers like those, it's no wonder the BBC commissioned a second series.
(If BBC One had aired the Series 1 episodes back to back, I and a good portion of those millions of viewers would've binge-watched them in one sitting. Yes, it is that good.)
And Suranne Jones (Scott & Bailey, The Crimson Field, Five Days) is brilliant as Dr Gemma Foster, a role for which she won the NTA's Best Serial Drama Performance Award.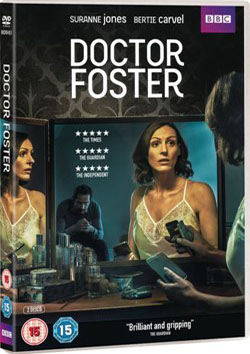 As the adage goes, "Hell hath no fury like a woman scorned." Well, hell ain't seen nothin' yet.
Gemma, a trusted GP, is happily married to Simon (Bertie Carvel, Jonathan Strange & Mr Norrell, Babylon, Hidden), a property developer. They are parents to young Tom (Tom Taylor, The Last Kingdom), and the trio are a picture-perfect family.
Until Gemma finds what might or might not be evidence of Simon's infidelity.
Is he having an affair or isn't he?
Now keenly on the lookout for telltale signs of his cheating, Gemma suspects not only Simon as an adulterer but every woman with blond hair in their circle of friends, colleagues, and acquaintances as his mistress. When she confronts him about having an affair, he denies it.
Then… THEN she learns the truth and is shattered.
But wait. This is the love of her life. Her husband. The father of her son. Things will sort themselves out and they'll get their marriage back on track, right?
Um, no.
Upon discovering the secrets, lies, and deceits in her midst, Gemma begins plotting. And we follow her unraveling, her downward spiral into acts she'd never imagined herself doing before. Things get ugly, indeed. Not just at home, but at work, too. And for the lives of the people around her.
Happily ever after, this isn't.
Intriguing? Yes. Compelling? You bet. A must-watch? Abso-freaking-lutely.
A production of Drama Republic (An Inspector Calls, The Honourable Woman), Doctor Foster is written by Laurence Olivier Award-winning playwright Mike Bartlett. The series costars Clare-Hope Ashitey (Suspects), Navin Chowdhry (Teachers), Jodie Comer (My Mad Fat Diary), Victoria Hamilton (Lark Rise to Candleford), Martha Howe-Douglas (Doctors), Adam James (Silent Witness), Thusitha Jayasundera (Above Suspicion), Robert Pugh (Game of Thrones), Sara Stewart (Rebus), and Neil Stuke (Silk).
Doctor Foster: A Woman Scorned premieres in the US in three parts — at 9 PM ET on the 10th, 17th, and 24th of April 2016 — on Lifetime.
UPDATE: Check out my interview with Frans Bak, the Danish composer who scored the music for Doctor Foster!
__________________

Add your comments on our Facebook and Twitter pages.

Share this post/page.

Doctor Foster: A Woman Scorned: Hit Suranne Jones Drama to Screen on Lifetime