With November comes the start of holiday programming, but there's still a fair number of British program premieres this month, including some must-see Brit TV titles.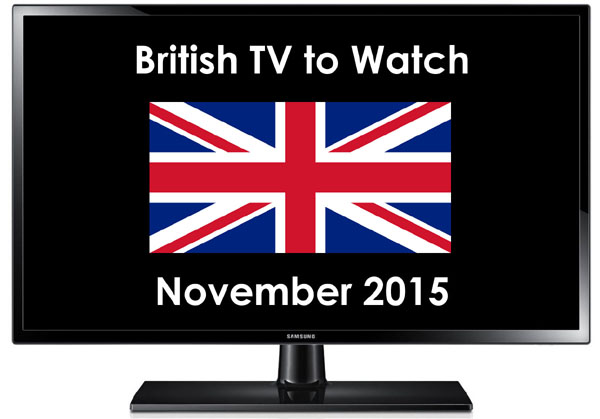 NATIONAL PREMIERES
Dreamland: Series 2 (aka Utopia)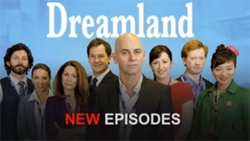 Called Utopia in Australia and Dreamland in the US and UK, this political satire follows a team of government staffers at the newly-created Nation Building Authority, where they are tasked with supporting large-scale building projects. Trouble is, big ideas collide with bureaucracy. (Reminiscent of the Hugh Bonneville comedies Twenty Twelve and W1A, yes.) The first series of Dreamland premiered on Netflix in August, the second today.
Still Game: Series 1-3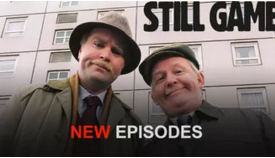 After premiering Series 4 and 5 of the multiple BAFTA Scotland award-winning comedy Still Game in September, the first three series are on Netflix as of today. (All that's left now is Series 6.) It's about the various goings-on and mishaps in the lives of two lifelong friends, now pensioners and next-door neighbors. If you're a fan of old-school Britcoms such as Open All Hours, then definitely check out this show, if you haven't already. It's hilarious.
Black Work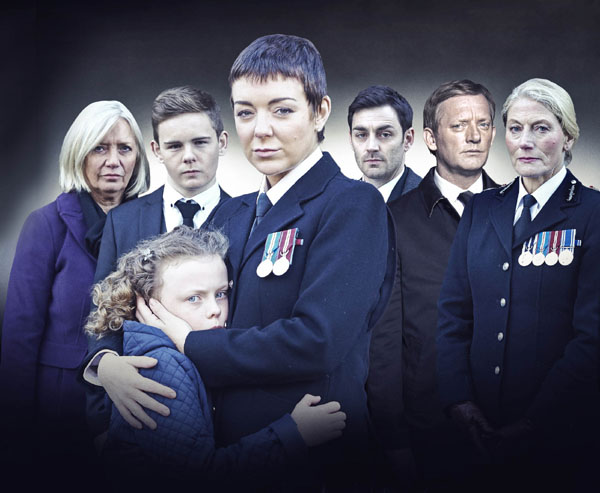 Sheridan Smith leads the cast of Black Work, a mystery/crime drama in which she stars as Police Constable Jo Gillespie, whose policeman husband is killed in the line of duty. Adding to her grief is the troublesome news that he was working undercover and had another identity, neither of which she knew about. As the murder investigation raises more questions than answers, she conducts one of her own and discovers secrets her late husband had kept from her, leading to the realization that neither he nor their marriage were what she had thought. (Additional details about the miniseries are in this post.)
A gripping mystery with a top-notch cast and plenty of red herrings to keep you guessing, Black Work premieres exclusively on Acorn TV beginning Monday, the 2nd of November.
Umbre
The dark and riveting Romanian crime drama Umbre (Shadows) also premieres exclusively on Acorn TV this month. Look for my review at The Euro TV Place in the next day or so. UPDATE: It's here: "Umbre: Intense Romanian Crime Drama Set for US Premiere on Acorn TV."
Spotless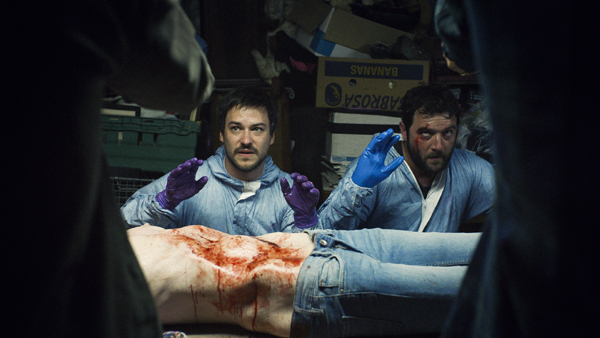 A UK/France co-production, this dramedy centers on two estranged French brothers — one a crime scene cleaner and family man, the other a criminal with a penchant for wine, women, and drugs — who reconnect when the latter shows up out of the blue at the former's house in London. Their reunion is followed by a murder, the cleaner being forced to use his skills to save their bacon, and entanglement in a mob boss' world of organized crime. More information about the series, including cast members, is here. Spotless premieres Saturday, the 14th of November, at 10 PM ET, on the Esquire Network.
River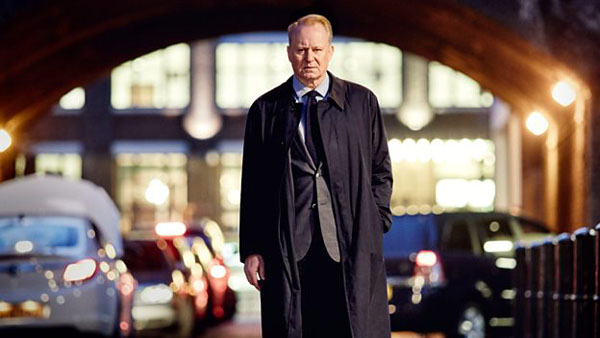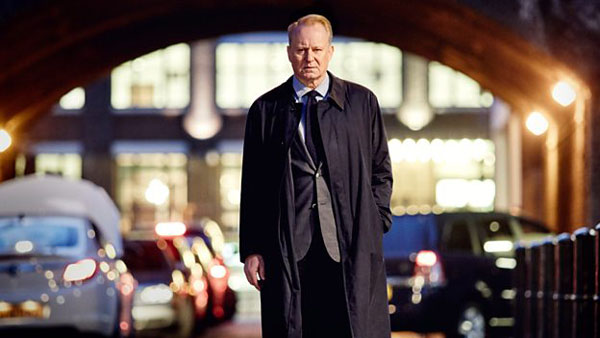 In this utterly brilliant psychological crime drama by Abi Morgan, Swedish film star Stellan Skarsgård gives a commanding performance as veteran detective DI John River. He is grieving and unofficially investigating the recent murder of his partner and only friend, when he inadvertently causes the death of someone he deems a suspect in the homicide case. After being partnered with a junior detective, River follows up on cases he's actually assigned to, and gets help from his new sidekick to find his former partner's killer.
All the while, though, River has conversations with the "manifests" of dead people that only he can see, causing others to think he's a nutter. (Nope, this isn't a supernatural drama.) Further details about River, including its star-studded cast, are in this post.
One of the best new dramas to make its way to this side of the pond this year, River is a riveting, compelling, binge-watchable, and must-watch series that premieres Wednesday, the 18th of November, exclusively at Netflix.
The Man in the High Castle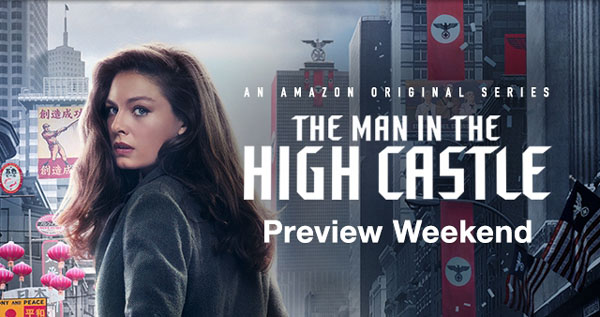 This alternate history drama, adapted from the Philip K. Dick novel of the same name, finds the US under the rule of both Germany and Japan in 1962, after America and the Allies lost World War II to the Axis powers. Military police and spies are seemingly everywhere to snuff out the Resistance, whose members are surreptitiously circulating underground newsreels that show the Allies as the victors in the war — films purportedly made by the mysterious Man in the High Castle. (Additional details are here.)
The Man in the High Castle premieres Friday, the 20th of November, as a Prime Instant Video exclusive. For viewers who aren't Prime members, the first episode will continue to stream for free at Amazon Instant Video.
Saints & Strangers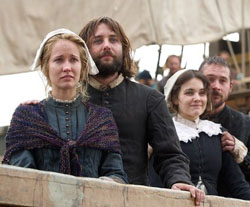 This historical drama follows the stories of the Pilgrims, the men and women who voyaged from England to the New World on the Mayflower and settled at Plymouth Colony in 1620. Not all of the ship's passengers were English Separatists seeking religious freedom. Some made the journey for the sake of money and adventure. All, though, had to deal with the realities of their new lives in a new land, including interacting with the Native Americans. (Cast members in the two-night event series can be found here.)
Saints & Strangers premieres Sunday, the 22nd of November, at 9 PM ET, on National Geographic Channel. Here's a trailer:
LOCAL PREMIERES
Unless otherwise noted, the following shows begin premiering today, the 1st of November, on select public TV stations across the US. Check your local listings or contact the station that serves your area for information about program carriage (unless the station list is shown or linked to) and air dates and times.
Elizabeth I: War on Terror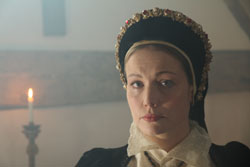 Dramatized scenes and interviews with historians in this documentary reveal how Sir Francis Walsingham, security chief and spymaster to Queen Elizabeth I of England, engineered a sophisticated network of double agents, informants, and secret codes to thwart the group of extremists who were conspiring to assassinate the Protestant Elizabeth and install her Catholic cousin, Mary, Queen of Scots, on the throne.
Elizabeth I: War on Terror airs on these stations:
| STATE | CITY | STATION |
| --- | --- | --- |
| ARIZONA | Tucson | |
| CALIFORNIA | Monterey, Salinas, San Francisco, San Jose, Watsonville | |
| CALIFORNIA | San Bernardino | |
| FLORIDA | Miami-Ft. Lauderdale-West Palm Beach | |
| GEORGIA | Albany, Athens, Augusta, Chatsworth, Cochran, Columbus, Dawson, Macon, Pelham, Savannah, Waycross, Wrens | |
| IDAHO | Boise, Coeur d'Alene, Moscow, Pocatello, Twin Falls | |
| ILLINOIS | Chicago | |
| KENTUCKY | Bowling Green, Nashville | |
| NEVADA | Las Vegas | |
| NEW YORK | Buffalo | |
| OHIO | Columbus | |
| OKLAHOMA | Tulsa | |
| SOUTH DAKOTA | Aberdeen, Eagle Butte, Lowry, Martin, Pierre, Rapid City, Sioux Falls, Vermillion | |
| TEXAS | Austin | |
| UTAH | Provo | |
| WASHINGTON | Seattle, Yakima | |
| WISCONSIN | Milwaukee | |
The Great Fire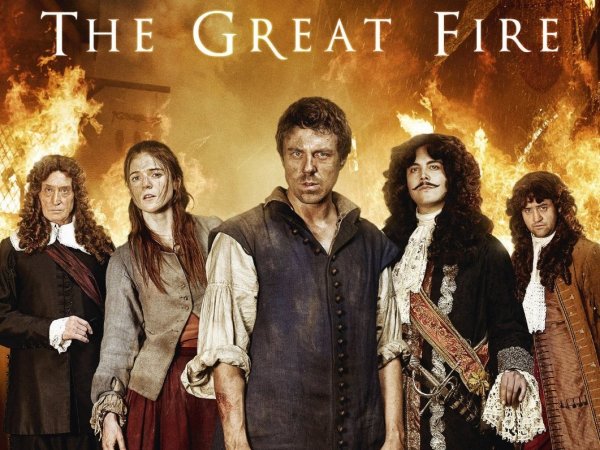 With the Great Fire of London in 1666 as its backdrop, this fictionalized historical drama centers on the interconnected stories of real and invented characters, including Thomas Farriner, in whose bakery the fire started; his sister-in-law, who became a reluctant spy for the king's spymaster; the extravagant King Charles II; and Samuel Pepys, the naval administrator and diarist who chronicled many of the events during the four days that the fire raged across London. For details about the miniseries' (out on DVD this week) threads and cast members, click here.
Martin Clunes: Man & Beast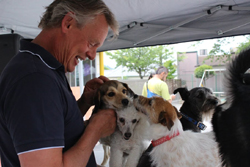 In this nature documentary, animal lover and Doc Martin star Martin Clunes travels to Nepal, Thailand, and Japan, as well as England, to explore the ways in which relationships between humans and animals shift from culture to culture. From the cattle he raises for slaughter on his own farm in England, to monkeys picking coconuts in Southeast Asia, to cormorants working as "fishermen" in Japan, Clunes observes man and beast working together in partnerships that have existed and evolved over millions of years.
Doc Martin: Seven Grumpy Seasons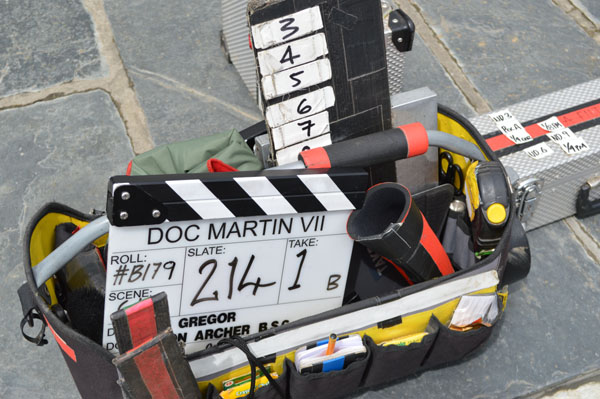 With just three episodes to go until Doc Martin: Series 7 comes to a close in the US, stateside viewers can look forward to a treat come Thanksgiving: the behind-the-scenes special, Doc Martin: Seven Grumpy Seasons. Filled with interviews with cast and crew, footage from on and off the Doc Martin sets, and more, this pledge special is something Brit TV fans on this side of the pond can be thankful for, as it is not being shown in the UK. (To read our exclusive interview with the executive producers and see pics from the special, click here.)
Doc Martin: Seven Grumpy Seasons premieres on these public TV stations during the Thanksgiving 2015 holiday weekend, beginning Thursday, the 26th of November. (Check your local listings.)
The Rolling Stones: From the Vault: 1979 Live from The Marquee
Filmed for American television on 26 March 1971, in advance of the Sticky Fingers album release, the Rolling Stones performed at the legendary Marquee Club in London. Four tracks from the album — "Bitch," "Brown Sugar," "Dead Flowers," and "I Got the Blues" — as well as "(I Can't Get No) Satisfaction," "Let It Rock," "Live with Me," and "Midnight Rambler," were included in the set. Footage of this show has been restored and the audio remastered. The Rolling Stones: From the Vault: 1979 Live from The Marquee begins premiering on public TV stations Friday, the 27th of November. Contact the station that serves your area or American Public Television regarding carriage of the show.
ADDED TO STREAMING SERVICES

Several series makes their Acorn TV debuts this month, including the crime drama Line of Duty: Series 2 and the archaeology documentary series Time Team: Series 13 (Set 9) on the 2nd of November, and Martin Clunes: Man & Beast (see above) on the 16th.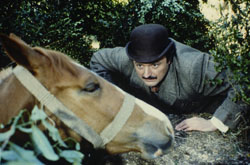 The comedy-drama series The Irish RM premiered in the US on Masterpiece Theatre in 1984, and it will stream exclusively on Acorn TV starting the 16th of November. Based on the books by Edith Oenone Somerville and Martin Ross, set at the close of the 19th century, and shot on location in County Kildare, it stars Peter Bowles (Rumpole of the Bailey, To the Manor Born) as Major Sinclair Yeates, a British Army officer who becomes a Resident Magistrate in West Ireland (before the Republic of Ireland was established). It's a classic, filled with eccentric characters, witty dialogue, and comic misadventures.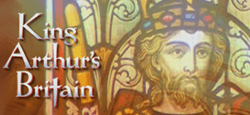 Starting the 23rd of November is King Arthur's Britain, a three-part documentary hosted by British archaeologist and bestselling author Francis Pryor. By examining the mysterious figure of King Arthur and visiting key archaeological sites, Pryor reveals that, contrary to popular belief, culture in early Britain didn't just survive after the Romans left in the early 5th century, it thrived under foreign influences and was vibrant.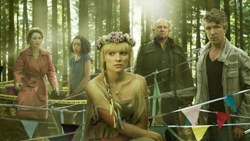 Also streaming starting the 23rd is Mayday, a five-part, miniseries that features Peter Firth (MI-5), Aidan Gillen (Game of Thrones), Lesley Manville (Black Work), and Sophie Okonedo (The Escape Artist). The story centers on the effects of a crime on local townspeople, following the disappearance of the 14-year-old girl who was about to be the Mayday parade and pageant queen. Suspicions that one of them abducted the girl end up pitting neighbor against neighbor, friend against friend, even husband against wife.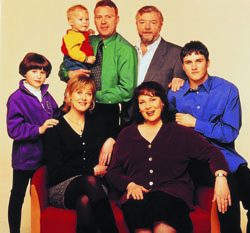 And on the 30th, Series 1 and 2 of the popular drama Where the Heart Is begin streaming. It follows the lives of the residents of Skelthwaite, a (fictional) town in Yorkshire, including sisters-in-law Peggy Snow (Pam Ferris, Call the Midwife) and Ruth Goddard (Sarah Lancashire, Happy Valley), both of whom work as district nurses at the Skelthwaite Health Centre, and their husbands, Vic Snow (Tony Haygarth, Bleak House) and Simon Goddard (Thomas Craig, Murdoch Mysteries). (For viewers who've seen Frankie, Where the Heart Is is a bit like it, but lasting ten seasons instead of one.)
Lastly, there are only two Friday Feature films this month, but both are exclusive to Acorn TV. The first is The Good Soldier, which begins streaming on the 20th. Based on the Ford Madox Ford novel, it stars Jeremy Brett (Sherlock Holmes) and Robin Ellis (Poldark), and revolves around the friendships and treacheries between two couples — one English, the other American — in pre-World War II Europe. The second is A Village Affair, which is adapted from Joanna Trollope's bestselling novel and begins streaming on the 27th. The story centers on the intimate relationship between a young woman and the wife of the man who's interested in her, and stars Sophie Ward (Land Girls), Kerry Fox (The Crimson Field), Nathaniel Parker (Inspector Lynley), and Jeremy Northam (The Tudors).

Amazon has already begun implementing its expanded Prime Instant Video exclusivity agreement with PBS, and this month sees two more "Masterpiece" titles being made available as no-charge selections for Prime members. They are the fabulous historical drama Wolf Hall (10th of November), adapted from the novels by Hilary Mantel and starring Mark Rylance and Damian Lewis as Thomas Cromwell and King Henry VIII, respectively, and Season 3 of the hit costume drama Mr. Selfridge (18th of November), starring Jeremy Piven as department store maverick Harry Selfridge.
Strike Back: Season 4 is coming to Amazon Instant Video, but the date is TBA as of today, so check the British TV Viewing Guide for updates about this and other Brit TV series.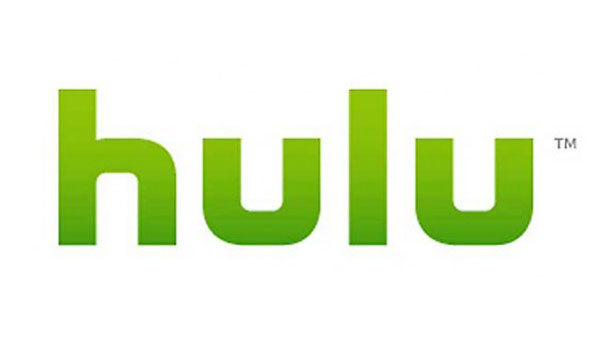 Of the TV shows and films that Hulu announced for November, zero of them are British TV programs. But if you feel like getting your 007 on, these "James Bond" films are streaming as of today: From Russia with Love, Goldfinger, Thunderball, On Her Majesty's Secret Service, Diamonds Are Forever, Live and Let Die, The Man with the Golden Gun, The Spy Who Loved Me, Moonraker, For Your Eyes Only, Octopussy, Never Say Never Again, A View to a Kill, The Living Daylights, and License to Kill.
Any Brit TV series that are added to Hulu or Hulu Plus after today will be posted on the British TV Viewing Guide page.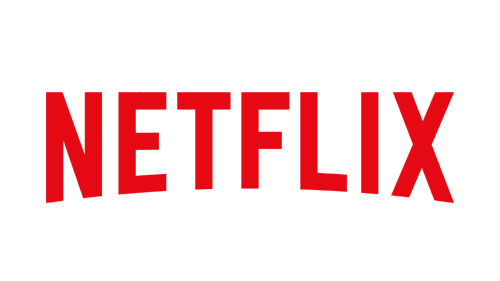 As of this writing, there is only one Brit TV show on the Netflix list of off-network offerings for November, and that is Last Tango in Halifax: Season 3, which begins streaming tomorrow, the 2nd of November. Not much new in the way of Brit films either, save for the 2012 version of Anna Karenina, starring Keira Knightley, streaming starting on the 12th. See the British TV Viewing Guide for any UK TV updates to Netflix's offerings this month.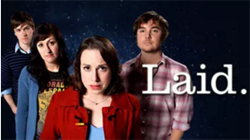 UPDATE: Right, then. My bad. There are more Brit TV shows newly arrived on Netflix today, including the BAFTA-winning comedy Black Books (all three seasons), Season 1 of David Attenborough's Rise of the Animals, both seasons of the Australian Film Institute Best TV Comedy Series award winner Laid, long-time favorite Midsomer Murders: Series 16, and both seasons of crime drama Top Boy.
That said, here's a treat for fans of David Tennant (Broadchurch, Doctor Who): the exclusive Netflix premiere on the 20th of comic book superhero drama Marvel's Jessica Jones. Yes, it's a US show, but still. From the looks of the trailer, it might just be awesome.
__________________
Add your comments on our Facebook, Google+, and Twitter pages.
Share this post/page.

British TV to Watch in November 2015: Black Work, River, Spotless, and More [UPDATED]