Every once in a while, a television show comes along that just clicks. Such is the case with Frankie, the latest British drama to come to local PBS stations.
Created by Lucy Gannon (The Best of Men, Soldier Soldier), Frankie
brings us into the demanding world of district nursing, where home visits to patients can range from the routine to the challenging.
The same can be said of the characters and their lives, both nurses and patients alike, because they are like us or people we might know: obliging, difficult; married, dating, divorced, unattached; with money issues, with child; optimistic, scared; injured, sick, dying. And it is in their relationships, with others and themselves at work and at home, that makes Frankie so engaging and enjoyable.
Heading the cast is Eve Myles (Torchwood, Little Dorrit) as Frankie Maddox, the energetic and occasionally exasperating team leader of a group of district nurses in Bristol (which, by the way, is a lovely place to visit). Of her role, Myles said, "Frankie is an infectious character, she's electric, quirky, wonderful at her job…"
That she is. She breaks into dance, sings in the car, and has one-sided chats with Radio 2 DJ Ken Bruce. She's upbeat. strong, and vulnerable. And she is devoted to her patients, some would say too much so, especially her policeman boyfriend PC Ian Hargrave, played by Dean Lennox Kelly (Shameless, Married Single Other). Others would say inappropriately so, such as her boss Dr. Zoe Evans, played by Jemma Redgrave (Unforgiven, Bramwell).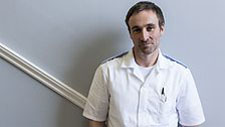 Through the good and bad, there is Andy Peat, a former Army medic who is Frankie's colleague and steadfast friend. Played by Derek Riddell (Five Days, Garrow's Law), Andy is loyal, witty, and disciplined. He keeps things organized at the office and keeps Frankie grounded when she gets out of control. (And his Glaswegian accent just slays me.)
Rounding out the cast of district nurses are Julia Ford (New Tricks, Shameless) as harried nurse and mother Mary, Leila Mimmack (Inside Men, Mayday) as the naive yet cunning Paula, and Carla Henry (New Street Law, Mysterious Creatures) as the feisty and financially-strapped Karen.
As Riddell said of the series, it is "fun, character-driven drama with a great heart." That it is, and with a great soundtrack to boot.
Check it out on the following local PBS stations, which are confirmed for airing Frankie.
If the station that serves your area isn't listed, visit the websites of the stations below, which might stream the series online.
| State | City | Station |
| --- | --- | --- |
| CONNECTICUT | Bridgeport, Hartford, New Haven, Norwich | |
| DISTRICT OF COLUMBIA | Washington, DC | |
| FLORIDA | Pensacola | |
| GEORGIA | Atlanta | |
| IDAHO | Boise, Coeur d'Alene, Moscow, Pocatello, Twin Falls | |
| ILLINOIS | Chicago | |
| INDIANA | Indianapolis | |
| KENTUCKY | Ashland, Bowling Green, Concinnati/Covington, Elizabethtown, Hazard, Lexington, Louisville, Madisonville, Morehead, Murray, Owensboro, Owenton, Paducah, Pikeville, Somerset | |
| MICHIGAN | Grand Rapids | |
| NEW YORK | Rochester | |
| OHIO | Cincinnati | |
| OREGON | Bend, Corvallis, Eugene, La Grande, Portland | |
| TEXAS | Dallas | |
| WEST VIRGINIA | Grandview/Bluefield-Beckley, Huntington, Morgantown | |
| WISCONSIN | Milwaukee | |
| WISCONSIN | Green Bay, La Crosse, Madison, Menomonie/Eau Claire, Park Falls, Wausau | |
—————————
Eve Myles Drama Frankie Coming to Local PBS Stations