In advance of the Doc Martin: Series 7 US premiere, here's a spoiler-free look (with photos!) at a bit of what we can expect in the new season and the upcoming behind-the-scenes special, Doc Martin: Seven Grumpy Seasons.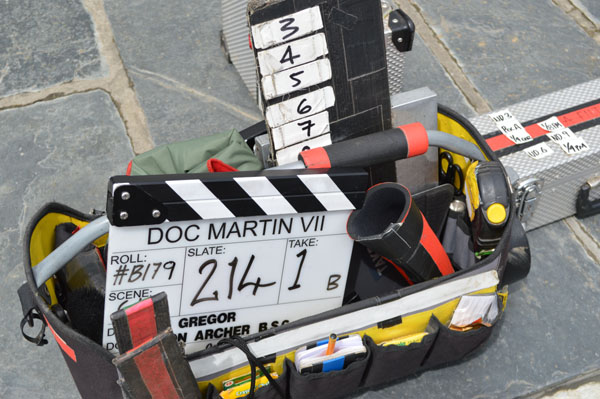 As one of the most popular, if not the most popular, British TV programs on Acorn TV and public TV stations throughout the US, the dramedy Doc Martin has kept us in stitches and raised our endorphin levels, not to mention adrenaline during some of its more tense moments, for six seasons.
And stateside Clunatics are waiting with bated breath for the premiere of the show's seventh series, as well as the new behind-the-scenes pledge special, Doc Martin: Seven Grumpy Seasons — the third co-production between American Public Television (APT) and Acorn Productions, and the fourth Doc Martin special (joining Doc Martin: Revealed, Doc Martin: Behind the Scenes, and Doc Martin's Portwenn).
I had the opportunity to chat with three of the special's four executive producers — APT's Eric Luskin, Vice President, Premium Service and Syndication, and David Rubinsohn, Director of Syndication and Pledge Programming, and Acorn Brands Consultant Dan Hamby (the fourth is Acorn's Mark Stevens) — about Doc Martin: Seven Grumpy Seasons, what it takes for their team to make a Doc Martin special, and for the cast and crew to produce the Doc Martin series.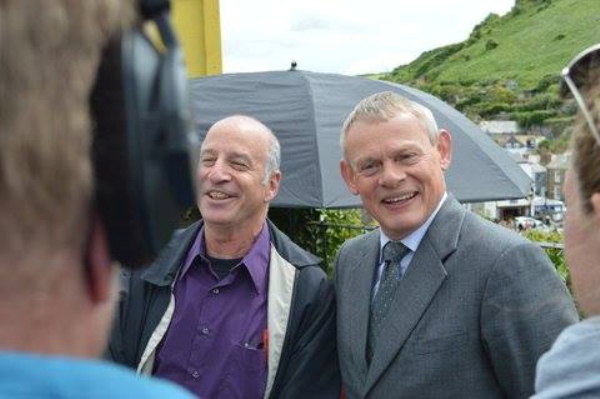 For this new special (which, by the way, will only be shown in the US), the APT/Acorn production team spent five days in Port Isaac, the seaside town in Cornwall that serves as the series' Portwenn setting, and captured a lot of extras for our viewing enjoyment, including "more locations and additional aspects of the show" — all while the show's cast and crew were filming Series 7. This required planning and going with the flow on the part of the special's production team.
"We have a relatively clear idea of what they're scheduled to be shooting during the period of time that we're going to be there," explained Eric Luskin. "And they will adjust on the day according to weather and other circumstances. So they may re-juggle some things that they were planning on shooting, but we had a reasonably good idea of what we were going to be experiencing.
"What was different this time around is that they were shooting scenes with two film cameras as opposed to just a single camera. Therefore, [cameraman] Tom Harding, who we had worked with in the past, needed to be on the second camera unit. So we were able to hire in a crew from London that had worked with [writer, producer, director] Dennis [Allen] and the Acorn team before, and [cameraman Peter Lloyd-Williams] was able to bring a kind of different perspective to what we were doing, because he was seeing it all with essentially fresh eyes. Pete was really captivated in a fresh way, which I think is going to give the program a different look than we've had in the past."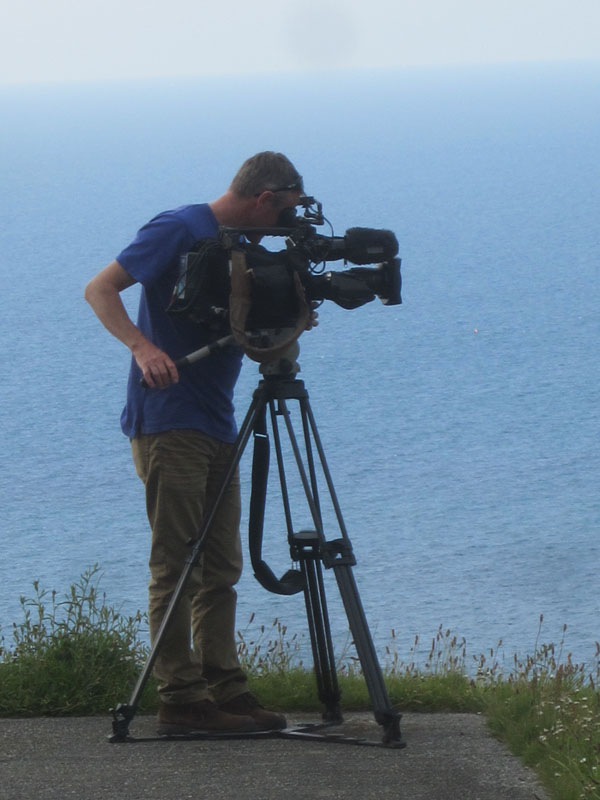 Luskin continued, "I find it incredibly intense […] to stay on top of the opportunities that are there. Oftentimes David and I would split up, and we would be doing different things in preparation for the next part that we were going to. So there really isn't any down time at all, from the moment you start at seven o'clock in the morning until the time you get back in the evening, often seven o'clock or later.
"[The cast and crew] literally work twelve-hour days, five days a week, and sometimes go into overtime, which did happen when we were there. So they're really long days, and they're doing many different locations. There was one day where we were shooting interior scenes out at the farm where those are located. [Then] we were back in Port Isaac shooting on some back streets with Dame Eileen [Atkins] and Ian McNeice, and then drove out to Tintagel, which is probably about 30 minutes away, to the Tintagel Castle Hotel, where they were shooting some interior scenes with [characters] Martin and Louisa at a restaurant.
"So there's just no time to do anything other than to be focused on what you're trying to capture and to be available for those opportunities when the cast members can be available to come off set and talk. You have general parameters on when that might happen, but according to the way the day is unfolding, you just have to be ready for what happens when it happens."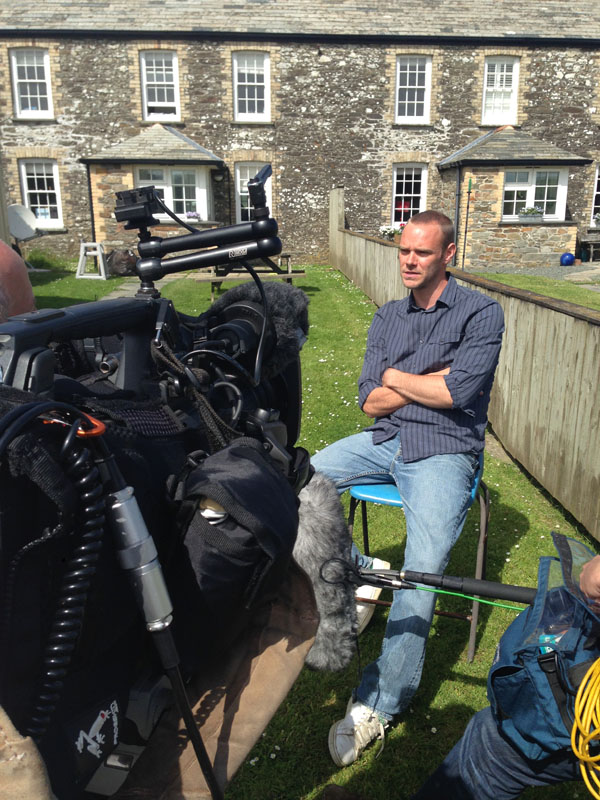 David Rubinsohn shared, "One of the amazing things… well, there's a lot of amazing things… is the cast and crew could not be more welcoming. They're just so terrific, and it just makes it such fun. We are exhausted at the end of the day, but it's a really good exhaustion."
The heart of Doc Martin is, of course, the show's cast and crew, many of whom are in the special. They include series star Martin Clunes; fellow actors Caroline Catz, Ian McNeice, Joe Absolom, John Marquez, Dame Eileen Atkins, and Jessica Ransom; Producer Philippa Braithwaite (Martin Clunes' wife); Executive Producer Mark Crowdy; Director Ben Gregor; and Location Manager Johnny Bamford.
Joining the Doc Martin family in Series 7 is Robyn Addison (Casualty, Survivors), who plays Janice, the new nanny to baby James Henry Ellingham.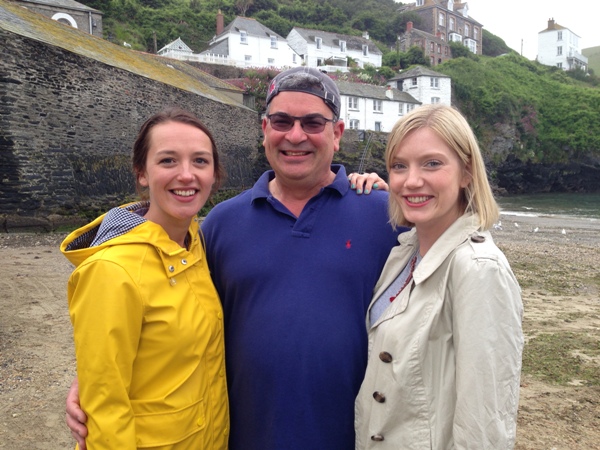 And returning to Doc Martin is a blast from the past: Cornwall native Tristan Sturrock.
Yes! Danny Steel is returning to Portwenn, although the Doc might not be all that keen on seeing again his once-rival for Louisa's affections. And what does Louisa think about Danny's being back in town? You have to watch Series 7 to find out.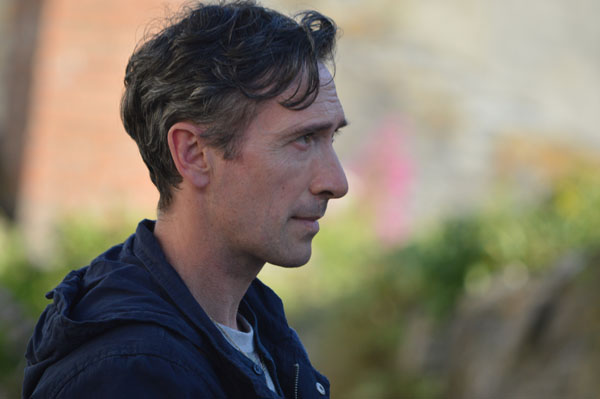 David stated, "One of the things that really impresses me, in terms of the cast, is how they'll do the same scene multiple times, with multiple camera angles, and they're focused. I don't recall any actor ever blowing a line. The director will just want multiple takes, or a seagull will do something seagull-ish, but they keep it going, and they have the ability to totally drop character, talk to us, and then go right back."
This naturally includes Martin Clunes, about whom Rubinsohn said, "Everybody talks about Martin Clunes, who really does joke around on the set. He really is the leader on the set, and just sets a very, very positive attitude. As soon as they say action, that smile goes away and he scowls and he barks, and it's an amazing transformation to watch. That never, ever gets old. That's really cool and it's just a ball."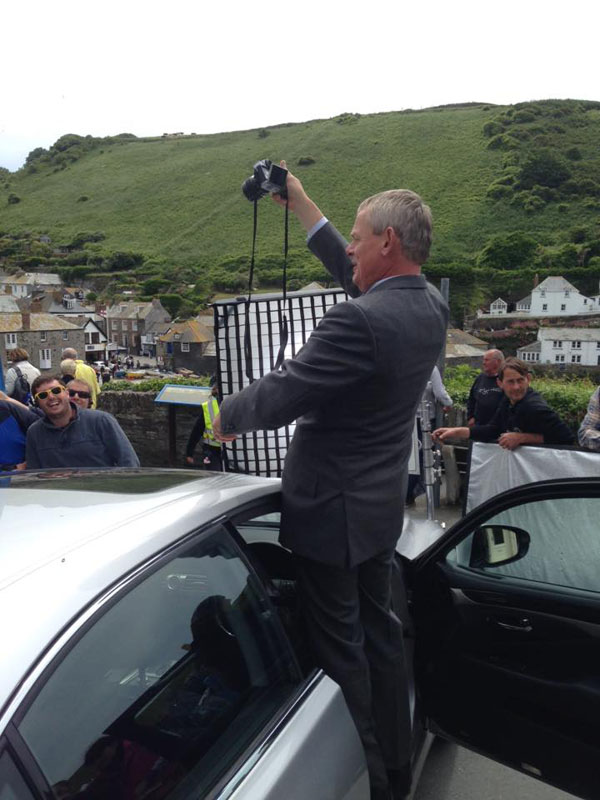 It's great for the spectators, too.
"The crowds are just immense," according to David. "And how these actors are able to concentrate on a scene when there are hundreds of people staring at them… they just totally have to block that out. They talk about that in the special. And it's just amazing. But then when the cameras stop, they'll go over and pose for pictures and things like that."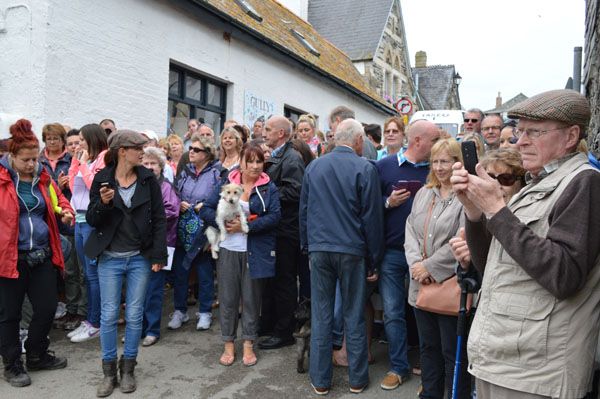 That's proof positive that the cast (and the crew) are as down to earth (if not as quirky) as their characters. And not just in terms of being generous with giving autographs and having their pictures taken, but in other ways, too.
When I asked about the pledge aspects of the special, including the pledge requests that cast members make on behalf of public TV stations for the latter's fundraising efforts, Eric replied, "Some of the cast members are familiar with American Public Television and the need to raise money by going on air, and those folks are doing pledge pitches off the cuff, from the heart." One of them is Ian McNeice.
"We caught Ian on a day off," said David. "Ian happened to be wandering by when we asked him, 'Is this a good time to do a little interview?' He thought for a moment and he went, 'Yeah, sure, why not.'"
David then shared something that viewers may or may not know about Ian. "One of the things that Ian does is local fundraising. When he walks around town, which he does a lot, even when he's not shooting, he gets recognized and people want to take a picture. He always has a bucket with him, and it's a fundraising bucket. [Eric: 'It's like a child's beach pail.'] Basically it's like, 'Can we get a picture with you,' and he goes, 'Yeah, but would you mind throwing a pound into my bucket? I'm raising money.' And people always do. So it's a wonderful thing that he does, and he was able to parlay that concept into pledge breaks, totally off the cuff."
Eric added, "I think this year he was raising money for the local children's charity in Port Isaac, and at the end of the shooting season Ian will make a donation of all that he's collected to the local charity."
And while you might not be able to tell by the photo below, David offered this awesome tidbit: "Ian has lost 80 pounds… He looks great and he feels great." Fabulous, right?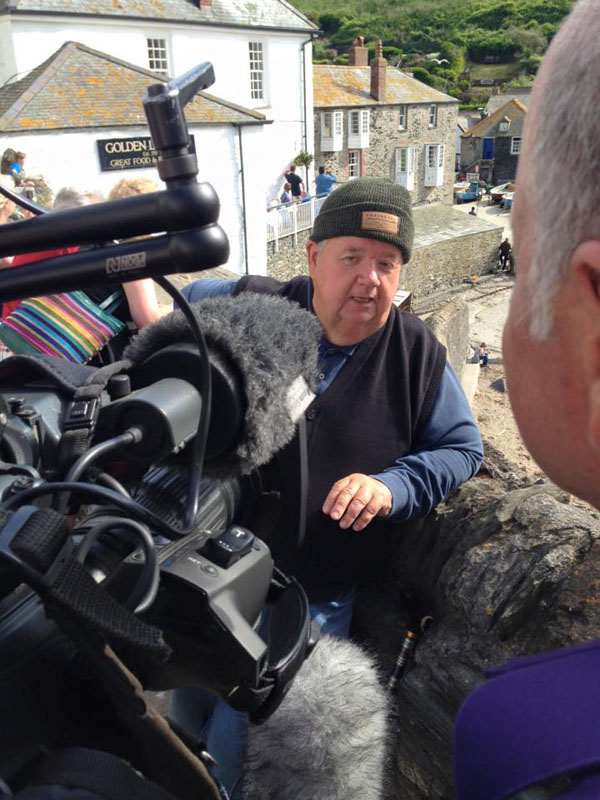 The pledge breaks during Doc Martin: Seven Grumpy Seasons are an integral part of what will be a 90-minute special, and the public TV stations airing it are relying on our generosity to support them in purchasing brilliant shows such as Doc Martin and this special.
Because viewers' financial support of public TV stations is so important, even Dodger the dog, better known as Buddy in the series, participated in the special by giving a woof, I mean a rare interview, and making a pledge appeal to viewers like you and me.
"It would be unprofessional for me to explain the trickery that was involved with that," laughed Eric. "But I can say that no bribery was required. There were no dog biscuits, no treats, no bacon exchange. This dog was doing it from the heart."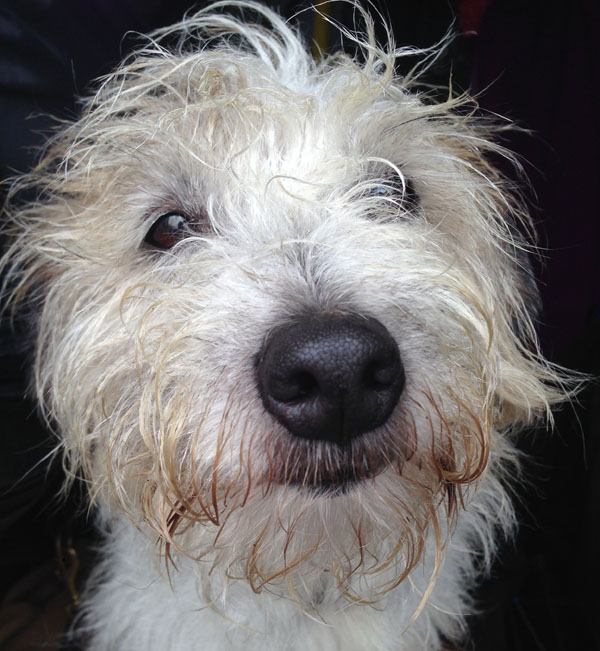 Dodger also does a special something with Martin Clunes in the special, but here again, you'll have to watch it to see what it is.
And if you're ever in Port Isaac while Doc Martin is filming, here is something you should know, courtesy of David Rubinsohn: "If you ever want to get Martin's attention, just bring your dog with you when you go watch a scene being done, cuz he cannot resist any dog."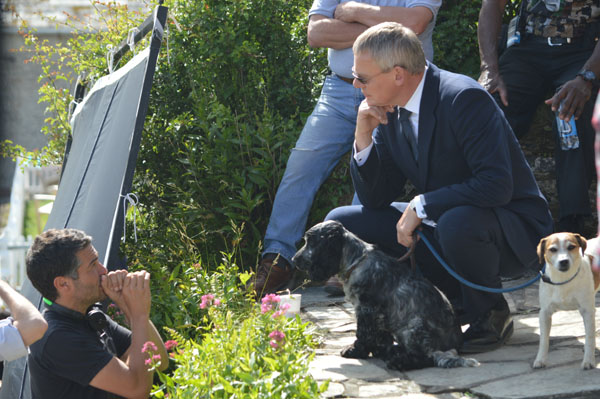 As for more of what we can expect to see in Doc Martin: Series 7, David stopped short of going into spoiler territory. "The main thing is between Martin and Louisa, and all the other characters have new adventures, new opportunities, new challenges to various degrees of pathos and silliness, depending on the character."
With regard to Doc Martin: Seven Grumpy Seasons, Rubinsohn said, "There will be lots of visual tours of everything, because the scenery was just so beautiful. […] The sound, the images, and the footage are just spectacular."
Eric added, "What was different this time around is that three of the locations we physically had never been to before, and we had never actually been able to shoot while they were shooting on the interior sets before. In all of our past trips, we were there when none of that was taking place. So this time we do have footage of Martin and Caroline on set and all of the things that they're doing preparing for a scene in the kitchen of the Doc's surgery."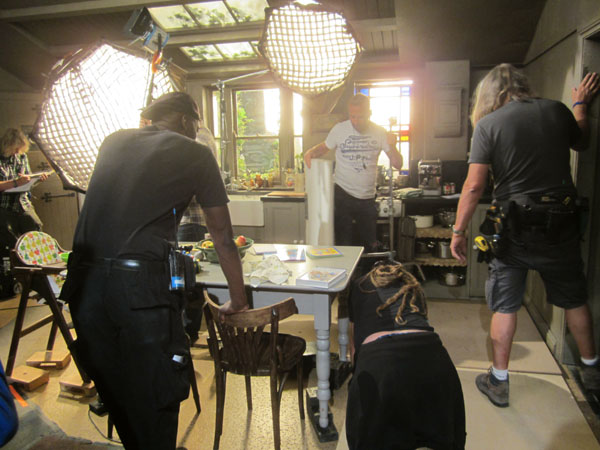 Also different are some of the pledge special's thank-you gifts for viewers who make a financial contribution to their local public TV stations (beyond the basic membership level). Acorn's Dan Hamby shared that there are several Doc Martin gifts, including the Series 7 DVD, a Doc Martin DVD collection, and the brand-new character mug.
So here's a shout-out to all the stations that air Doc Martin and those that will be showing Doc Martin: Seven Grumpy Seasons. And "Cheers!" to the series' cast and crew for being a part of the special, and to Doc Martin's production company for its backing of the special.
"I can't say enough about the small team that makes up Buffalo Pictures," said Dan. "Because without their cooperation and their support of what APT and Acorn have been trying to do these past couple years with these efforts, with the behind the scenes on Doc Martin, it would never be possible. […] They're incredibly empathetic and supportive of what APT and Acorn are doing here in the US to support the Doc Martin franchise."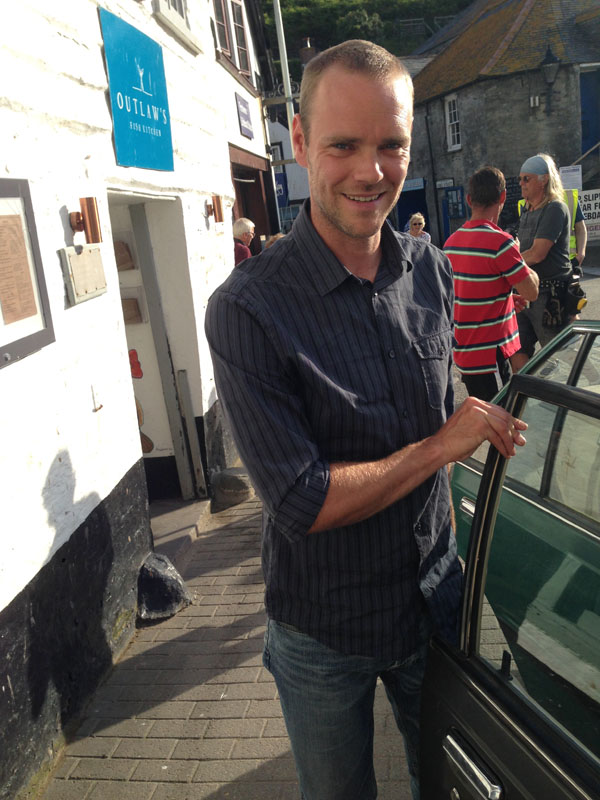 Last but not least, many thanks to Acorn TV and APT for bringing Doc Martin to the US and to public TV stations. Stateside viewers wouldn't have had the pleasure of the previous six seasons or be anxiously awaiting the soon-to-premiere seventh season and new behind-the-scenes special if it weren't for them.
Doc Martin: Seven Grumpy Seasons begins airing the weekend of Thanksgiving 2015 on public TV stations across the US. Check back here soon for the complete list of stations. You can find the complete list of public TV stations here.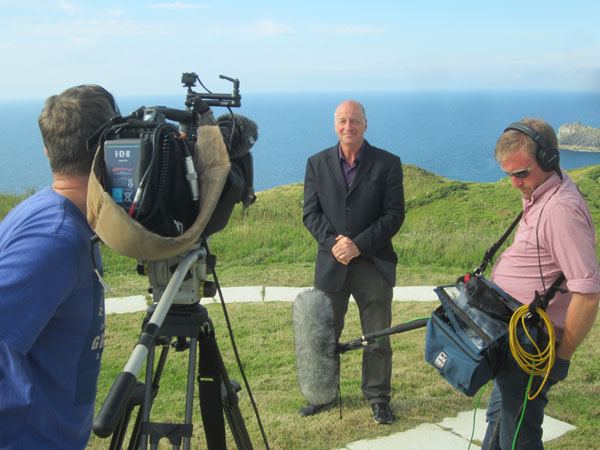 Doc Martin: Series 7 premieres nationally in the US on Monday, 5 October 2015, on Acorn TV, and makes its broadcast debut beginning January 2016 via APT's syndication service on local public TV stations.
__________________
Add your comments on our Facebook, Google+, and Twitter pages.
Share this post/page.

Doc Martin: Seven Grumpy Seasons – Exclusive Inside Scoop on Behind-the-Scenes Special