Woo hoo! Both the award-winning writer Sally Wainwright and the producers of Endeavour and the upcoming Poldark have new dramas in the works. Plus, some of our favorite Brit TV actors are going to feature in other new and returning series.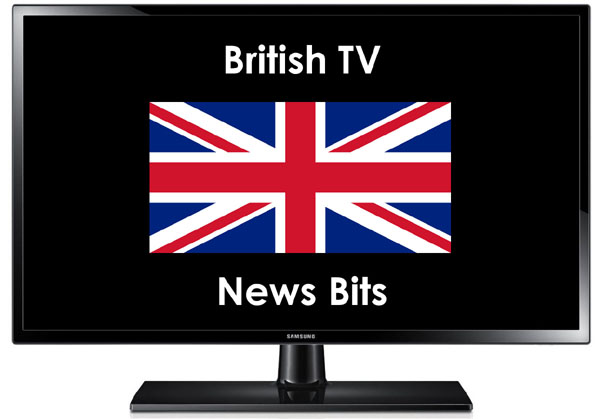 NEW DRAMA COMMISSIONS
To Walk Invisible: The Bronte Sisters
BAFTA winner Sally Wainwright (Happy Valley, Last Tango In Halifax, Scott & Bailey) is writing and directing the new two-hour TV movie, To Walk Invisible: The Bronte Sisters, a BBC Wales production.
This "original perspective" drama revolves around the increasingly difficult relationship between sisters Anne, Charlotte, and Emily, and their brother Branwell, who sank into alcoholism, drug addiction, and appalling behavior in the last three years of his life following a tragically misguided love affair. The Bronte home wasn't comfortable at this time, yet it was from this environment that the sisters created their remarkable literary works.
To Walk Invisible: The Bronte Sisters explores the siblings' relationship with each another and with their father, a clever and unusual man who grew up in an impoverished home in rural Ireland, educated himself, and was happy to encourage his children, regardless of their sex, to become passionate about literature and its possibilities.
Said Wainwright about her new drama, "I am thrilled beyond measure that I've been asked by the BBC to bring to life these three fascinating, talented, ingenious Yorkshire women."
Charlotte Moore, Controller of BBC One, who commissioned the drama with Ben Stephenson, Outgoing Controller of BBC Drama Commissioning, added, "The Bronte sisters have always been enigmatic, but Sally Wainwright's brilliantly authentic new BBC One drama brings the women behind some of our greatest literary masterpieces to life. It's an extraordinary tale of family tragedy and their passion and determination, against the odds, to have their genius recognized in a male 19th-century world."
To Walk Invisible: The Bronte Sisters will film in and around Yorkshire, and the casting will be announced in due course.
Victoria
From Mammoth Screen, producers of the hit mystery series Endeavour and the highly-anticipated Poldark, comes this eight-hour drama that focuses on the life of Queen Victoria.
Acclaimed novelist Daisy Goodwin, in her screenwriting debut, tells the story of the early life of Queen Victoria, who ascended the throne at the age of 18 and became Great Britain's longest reigning monarch.
Said Goodwin, "I've been fascinated by Victoria since I started reading her diaries at university. She's a woman whose personality leaps off the page — a tiny 4 foot 11 teenager who overnight became the most powerful woman in the world, and her candor and spirit makes for an irresistible heroine. Victoria was the first woman to have it all; she had a passionate marriage, nine children and was grandmother to most of Europe's royalty, but she also had a job, being Queen of the most important nation in the world. It wasn't easy; her reign was beset by scandal and sleaze and it was only by sheer force of personality that she prevailed. Her diaries, all sixty two million words of them, give an astonishingly vivid picture of her transformation from rebellious teenager into, to my mind, our greatest Queen."
Goodwin will also serve as executive producer on Victoria alongside Dan McCulloch (Endeavour, Indian Summers) and Mammoth Screen's Joint Managing Director Damien Timmer (Parade's End, Poldark).
Added Timmer, "Queen Victoria's court is the perfect setting for an epic drama — a seething hotbed of scandal, corruption and romantic intrigue, involving everyone from the humblest dresser to the Mistress of the Robes, the lowliest bootboy to the Lord Chamberlain. When we join Victoria in 1837, England is unrecognizable from the country it will become by the end of her reign. As she takes her fledgling steps as monarch we slowly see modern Britain emerge."
Casting is underway, and filming begins in locations around the UK this September.
CAST ANNOUNCEMENTS
The Musketeers
Rupert Everett (Parade's End, Another Country) and Matthew McNulty (Jamaica Inn, The Paradise) are joining the cast of the third series of The Musketeers.
Everett will play Philippe Achille, Marquis de Feron — the corrupt Governor of Paris, Head of the Red Guard, and illegitimate brother to Louis XIII. McNulty will portray Lucien Grimaud, a money lender and vicious criminal who clawed his way out of poverty and neglect. Both men go up against the Musketeers and bring chaos and sedition to the monarchy and Paris.
Everett and McNulty join returning cast members Luke Pasqualino as d'Artagnan, Tom Burke as Athos, Howard Charles as Porthos, Santiago Cabrera as Aramis, Hugo Speer as Captain Treville, Ryan Gage as King Louis, Alexandra Dowling as Queen Anne, and Tamla Kari as Constance.
Prey
Several actors are joining Philip Glenister and Rosie Cavaliero in the gripping second series of Prey, including Myanna Buring (Banished, Ripper Street), Nathan Stewart-Jarrett (World War One: The People's Story, Misfits), Ralph Ineson (Game Of Thrones, The Office), and Sammy Winward (Emmerdale). Also joining the cast are Kieran O'Brien (Silk) and Lisa Millet (Cucumber).
Written by Prey creator Chris Lunt, the new three-part story finds the life of Prison Officer David Murdoch (Glenister) getting ever more complicated after things spiral out of control following a routine visit to a Manchester hospital with female prisoner Jules Hope (Buring) and a phone call that changes his life forever. Now on the wrong side of the law, and the life of his heavily pregnant daughter, Emma (Winward), threatened, David has no choice but to go on the lam as the prey.
Unaware of the danger to Emma, the no-nonsense, hard-working DS Susan Reinhardt (Cavaliero), who now reports to DCI Mike Ward (Ineson), tries to unravel why David is suddenly behaving totally out of character and making every effort to dodge the Police. Reinhardt and her new colleague, DC Richard Iddon (Stewart-Jarrett) go in pursuit as the desperate David handcuffs himself to Jules — his only bargaining tool as he sets out to move heaven and earth to find his beloved daughter.
Prey is executive produced by Nicola Shindler (Ordinary Lies, Happy Valley), produced by Tom Sherry (Prey, Scott & Bailey), and directed by Lewis Arnold (Misfits, Humans).
Filming has started in Manchester, Salford and Blackpool.
__________________
Add your comments on our Facebook, Google+, and Twitter pages.

New Brit TV Drama Commissions and Cast Announcements