Whether you're a fan of British TV in general or history documentaries in particular, check out what is truly must-see TV: World War One: The People's Story.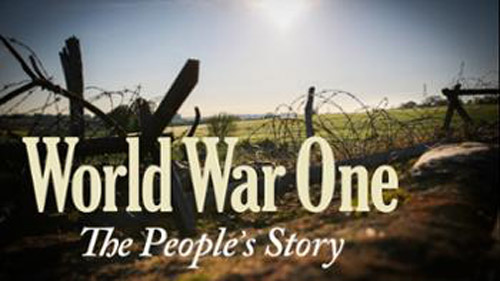 Seldom do I make such a point of recommending a documentary, and a war-themed one at that, but in the case of World War One: The People's Story,
I feel compelled, because it is utterly brilliant from start to finish.
First aired last year on ITV in the UK under the title The Great War: The People's Story, to commemorate the centennial of the First World War — an event characterized by British soldier Pvt. DJ Sweeney as "murder, not war" — this BAFTA-nominated, four-part documentary features first-hand accounts from everyday men and women who fought and lived amidst the chaos and destruction of WWI, although not in interview footage.
Rather, World War One: The People's Story consists of their personal wartime stories — written in letters, diaries, and memoirs uncovered from attics, basements, archives, and libraries across Britain — which are brought to life in reenactments by fine British actors.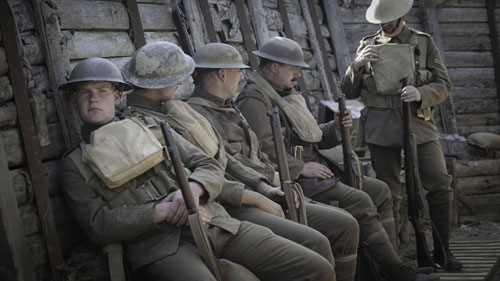 In 1914 Winston Churchill (Adrian Scarborough, Upstairs Downstairs), First Lord of the Admiralty, bears "witness to history" as regards the expiration of Britain's ultimatum that Germany drop its planned invasion of Belgium and France.
Following the resultant declaration of war against Germany, volunteers across Britain line up in droves to enlist for the war that was supposed to be over by Christmas 2015. One is factory worker Reg Evans (Daniel Mays, Mrs. Biggs). In letters to his mum every few days, Pvt. Evans recounts the sounds of war at Ypres, his dangerous mission to "No Man's Land" and Distinguished Conduct Medal for bravery, and his months in hospital following the horrific injury for which one pioneering surgery was insufficient.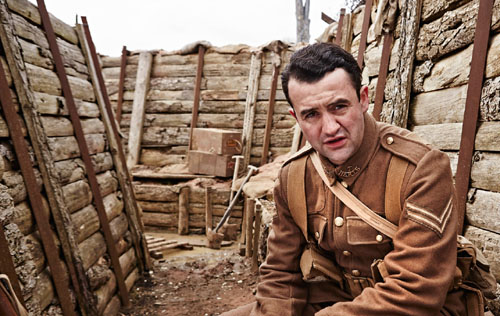 Well-to-do Lt. Alan Lloyd's (Matthew McNulty, The Paradise) letters assure his "small wife" "Dods" (Lily Loveless, Skins) that "hubbins" is faring well in the trenches, that she needn't worry, and that the Battle of the Somme should bring victory for the British and him home to her and their son, David. Except it doesn't.
Struggling Kate Parry Frye (Romola Garai, The Hour) takes to her diary to detail her job managing fellow suffragettes who make uniforms, and to document her engagement and subsequent marriage to territorial army volunteer John Collins. On the other end of the society spectrum, wealthy barrister's wife Helen Bentwich (Claire Foy, Wolf Hall) notes in letters her frustrations at "existing as a useless female at present," her first job at the Woolwich Arsenal, and her growing anger at working conditions in the factory and the horrendous living conditions of the working class.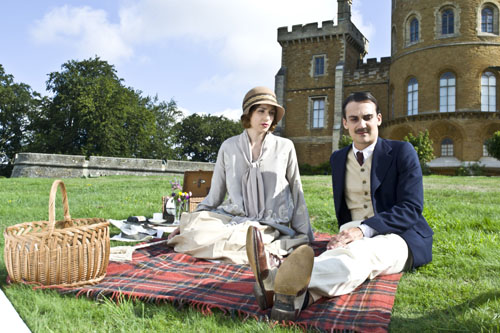 And Rev. Andrew Clark (Brian Cox, The Game) begins and chronicles in his war diary, "above all, a village diary," the efforts of the Great Leeds citizenry in looking out for spies, the zeppelin bombing raids, and the introduction of conscription in Britain — diary entries that were later condensed and published in his memoir, Echoes of the Great War.
Others whose stories are featured in World War One: The People's Story include Lt. James Buntin (Adam Byron, Doctors); Lt. Alfred "Duff" Cooper (Henry Lloyd-Hughes, Indian Summers) and his upper-crust fiancée Diana Manners (Tuppence Middleton, The Lady Vanishes); wanna-be war correspondent Dorothy Lawrence (MyAnna Buring, Ripper Street); young loves and "dears" Pvt. Will Martin (James Norton, Grantchester) and housemaid Emily Chitticks (Amy Morgan, Mr. Selfridge); vegetarian restauranteur Hallie Miles (Alison Steadman, Gavin & Stacey); Pvt. Ted Poole (Gerard Kearns, Shameless); and black Glaswegian Arthur Roberts (Nathan Stewart-Jarrett, Misfits) of the Royal Scots Fusiliers.
In somber tone, narrator Olivia Colman (Broadchurch) details both the war and the backstory of each individual, from their life before fighting broke out until after the armistice in 1918… if they survived. Her voiceovers, and those of actors on-screen and off, from texts written by soldiers in letters and diaries, punctuate and breathe life into the archival footage of soldiers at the front in Belgium, France, the Middle East, and Africa, and civilians in cities, towns, and villages across Britain.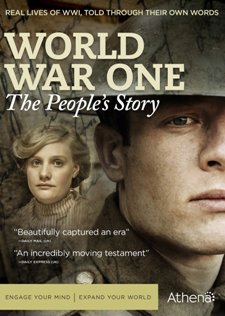 Acorn TV debuted World War One: The People's Story to audiences in North America in February 2015, and yesterday Acorn Media released the 2-disc DVD set
that includes the four episodes plus bonus features of a 12-page viewer's guide with a map of the Western Front, an overview of WWI, and articles on trench warfare, the suffragist movement, and the WWI poets.
For viewers without a subscription to Acorn TV, options for watching World War One: The People's Story include signing up for the SVoD service's free 30-day trial, or streaming the series where Acorn's parent company, RLJ Entertainment, has made it available: Amazon Instant Video
and Google Play.
At times cheerful and hopeful, at others tragic and heartbreaking, World War One: The People's Story is a triumph in documentary storytelling. It is a must-watch for everyone.
__________________
Add your comments on our Facebook, Google+, and Twitter pages.
World War One: The People's Story: A Must-Watch Documentary Series