Now this is what I call a fabulous way to start the week: news from ITV that the third series of the hit mystery drama, Endeavour, is in production.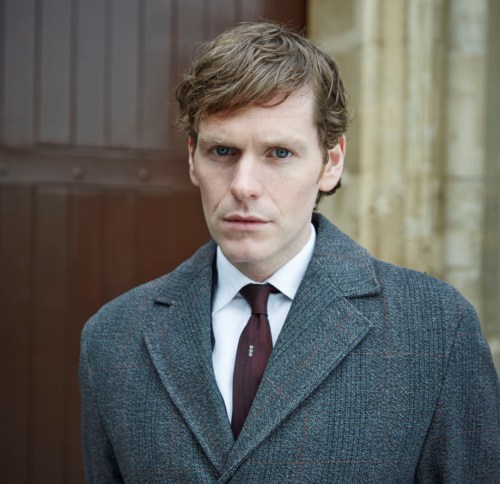 Someone's doing a happy dance. Make that millions of someones, because fans of Endeavour, the hugely-popular prequel to Inspector Morse, can look forward to seeing Shaun Evans once again as one of Oxford's finest.
The third series will consists of four feature-length films written once again by Russell Lewis, who created Endeavour and wrote for the Morse series. Colin Dexter,
author of the "Inspector Morse" crime novels, continues as a consultant to Endeavour producers Mammoth Screen (Poldark).
Said Lewis, "1967 is for Endeavour 'perhaps the end of the beginning.' Change is abroad in the world and not even the city of dreaming spires can escape its influence. [There is] Change for Endeavour, and those most dear to him – personally and professionally. Departures and arrivals. Entrances and exits. Our next quartet of mysteries will take the audience on a psychedelic Summer of Love fairground ride, filled with twists and turns, shrieks and scares. In particular, one encounter at a certain stately home will echo down the years, and have consequences that not even Endeavour Morse could have foreseen. The only constant is death… And Green Shield Stamps."
(Spoilers follow if you haven't seen the killer cliffhanger finale in Endeavour: Series 2.)
When we last saw DC Endeavour Morse (Evans), he had unearthed evidence of corruption in the top ranks of the Oxford Police, was falsely accused and framed for the murder of Chief Constable Rupert Standish, and dragged off to prison. Will he be released? Assuming yes, will his life look anything like what it had before, since…
DI Fred Thursday (Roger Allam), caught in the melee between the good coppers and bad, was shot in the chest and his life was hanging in the balance. Will he survive???
Set in 1967, the first of the four new stories follows the murder of bus conductress Jeannie Hearne on the night she visited the local fairground. With the backdrop of the fun fair, the investigation begins…
ITV has only stated that, in addition to Evans, returning cast members include Jack Laskey as DS Peter Jakes, Sean Rigby as PC Jim Strange, Anton Lesser as Chief Superintendent Reginald Bright, James Bradshaw as Dr Max DeBryn, and Abigail Thaw as journalist Dorothea Frazil.
Is it possible that Roger Allam isn't returning to Endeavour? (Say it ain't so!)
Stay tuned…
__________________
Add your comments on our Facebook, Google+, and Twitter pages.
Endeavour: Series 3 Is in the Works!