Ripper Street fans, rejoice! The BAFTA-nominated and IFTA-winning crime drama is returning for not just one but two more series. Woo hoo!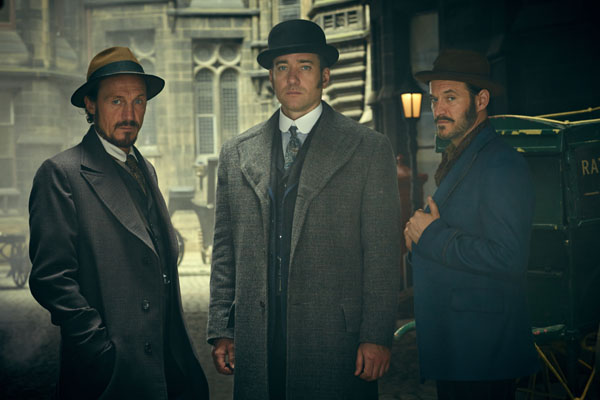 For viewers who've been wondering if Ripper Street would return after that intense Series 3 finale,
Amazon announced today that it will. And for two more series to boot!
"When it comes to great British drama it really doesn't get better than Ripper Street, which has already been a huge hit with customers and critics alike," said Jay Marine, Vice President Amazon Instant Video EU. "We're excited to add to our premium original TV line-up with the production of a further two series of this hit show exclusively for our UK Prime customers. […] We want to cement our position as the home for the best TV in the business."
And the news gets better for Ripper Street's huge global fan base (including yours truly): filming will begin immediately.
Tiger Aspect's Head of Drama Will Gould enthused, "We love making this show. The cast, the crew, the writers – it's an absolute honour to get to work with these people. To get to work with them some more – this is a very good day. Thanks to all our partners who have got us this far – to Amazon, the BBC, BBC America and BBC Worldwide. Back to the bloody streets of Whitechapel we go."
Ripper Street writer and creator Richard Warlow said, "It is a great privilege to be asked to continue this journey through Victorian Whitechapel. I had always hoped that Ripper Street would live to follow the world of 'H' Division right through to the end of the Victorian age itself; so with many great thanks to Amazon, and all those viewers who have taken Ripper Street to their hearts, it's a delight to have now been given that very opportunity."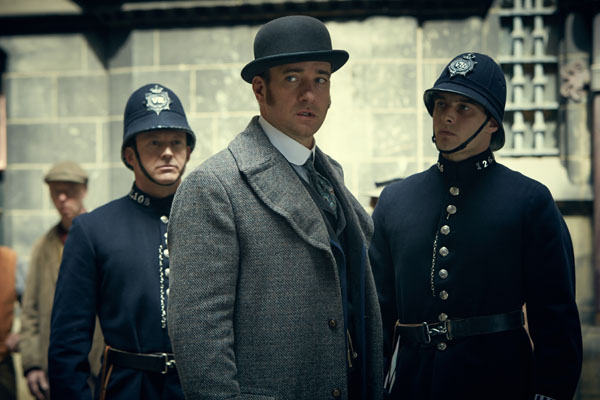 Added Ripper Street's Detective Inspector Edmund Reid, Matthew Macfadyen, "I'm delighted to be embarking on another dose of Ripper Street – blood and guts, pocket watches and Victorian head-gear, wonderfully dark, moving and mysterious story lines from Mr Richard Warlow. Thanks Amazon."
And Saul Venit, Chief Operating Officer of Lookout Point and Executive Producer of Ripper Street said, "Keeping this series going for 37 episodes over five series is a hugely exciting achievement and is testament to the extraordinary creative results, as well as to the visionary teams at BBC Worldwide and Amazon as our core commercial partners."
As you might recall, BBC One axed Ripper Street after its second series (one of my favorite shows of both 2013 and 2014), which provoked an uproar amongst the legions of fans who wanted to see more of Detective Inspector Edmund Reid (Macfadyen), the now-promoted Detective Inspector Bennet Drake (Jerome Flynn), Captain Homer Jackson (Adam Rothenberg), and Long Susan (MyAnna Buring).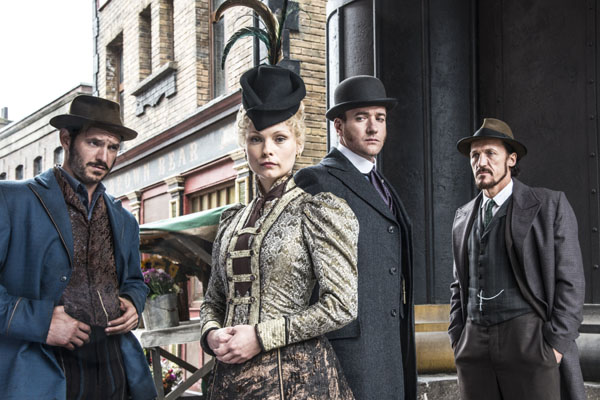 Soon thereafter, Amazon stepped in to save the show. The Series 3 episodes, launched in November 2014 as an unlimited streaming offering for Amazon Prime Instant Video customers in the UK, are an exclusive Amazon cut
and contain exclusive scenes that are not shown elsewhere.
According to Amazon, Ripper Street: Series 3 was streamed more than any other TV show, attracting larger viewing audiences than even The Walking Dead and the Amazon exclusive hit show Vikings. It was also the most watched first show of new customers joining the service. Overall, it's been a huge success, with 98% of Amazon customers giving the series a 5-star rating, with more than 600 reviews for Series 3 alone, including these:
"A brilliant series with several outstanding episodes. The script crackled in authenticity throughout and there are few words to describe the superb acting of the cast but Matthew Macfadyen in particular was sensational – worthy of many an award. Thank you Richard Warlow and Amazon for resurrecting this fantastic piece of television." — Lisa Warriner
"This is the kind of intense drama that is lacking on mainstream television – 11 out of 10 to Amazon for bringing it back from oblivion." — Mervyn Head
"Amazon clearly saw the potential in continuing with this stellar series. Having just watched the first two episodes I can only say, 'IT IS ABSOLUTELY BLOODY BRILLIANT!' Amazon have taken this gem of a period drama and turned it into a pure diamond! The writing, acting and production values are superb." — Sandra Kenny
The critics agree.
"If programmes that air on Amazon's streaming service are eligible for BAFTAs, Matthew Macfadyen would surely be in contention for Best Actor. In fact everyone involved with the third series of Ripper Street should be extremely proud of the superb drama they have produced. Virtually a masterpiece." — The Times
"This series will delight audiences even more than the last." — Daily Telegraph critic Anna Leszkiewicz
"With its unexpected revival, Ripper Street has grown broader shoulders and a more confident gait, while retaining the stillness that made it so impressive in the first place." — Julia Raeside, The Guardian
Amazon customers in the UK can watch the whole of Ripper Street: Series 1, 2 and 3
exclusively on Amazon Prime Instant Video, available on more than 400 devices and online at www.amazon.co.uk/PIV.
Customers who are not already Prime members can sign up for a free trial at www.amazon.co.uk/prime.
Since its Amazon UK launch, Ripper Street: Series 3 has aired on BBC One, and it premiered in the US on BBC America three weeks ago today. Viewers without access to BBC America can watch the Season 3 episodes the day after broadcast at Amazon Instant Video.
Further details on the launch dates for Ripper Street: Series 4 and 5 will be announced later this year, so stay tuned.
__________________
Add your comments on our Facebook, Google+, and Twitter pages.
Ripper Street: Two More Series Commissioned by Amazon (Huzzah!)