Put the resolutions aside and get comfy in front of the telly, when Brit TV favorites return and new ones debut during the PBS 2015 Winter/Spring season and into the summer.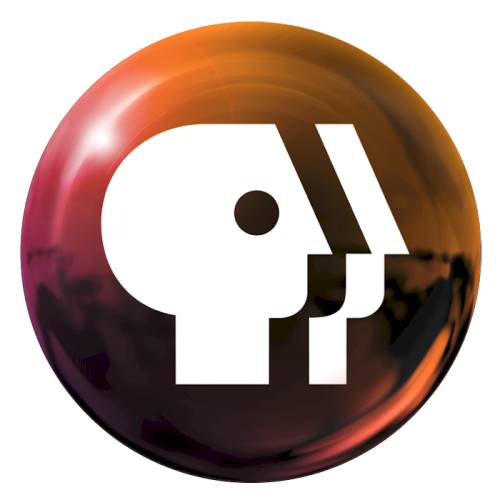 Ring in the new year Brit TV-style with PBS, as the public TV network brings us a new season of Downton Abbey, plus more Call the Midwife and Mr. Selfridge, as well as new mystery, period, and historical dramas and documentaries.
Downton Abbey: Season 5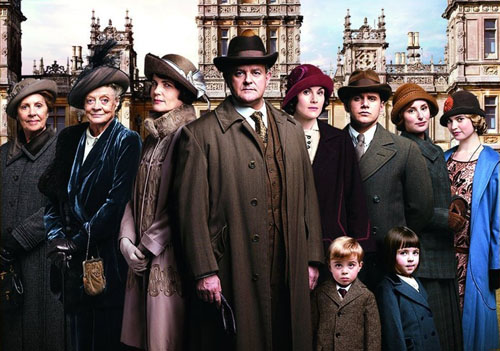 Curious minds want to know: What will the Crawleys, Bransons, and downstairs staff get up to in Season 5 of Downton Abbey? Here's a wee bit of what to expect, spoiler-free:
It's 1924. A Labour government is elected, and Robert (Hugh Bonneville) is not happy about where things are headed. He even begrudges the new "wireless," a.k.a. radio. Edith (Laura Carmichael) isn't happy either, what with having to stay hush-hush about her baby daughter. Both Lord Gillingham (Tom Cullen) and Charles Blake (Julian Ovenden) still want to marry Mary (Michelle Dockery), but which one does want? Tom (Allen Leech) is busy managing the estate, yet his working-class roots are still top of mind. And as for Cora (Elizabeth McGovern), Violet (Maggie Smith), Isobel (Penelope Wilton), and Rose (Lily James), there are (ahem) interesting developments.
Below stairs, Mr. Carson (Jim Carter) feels as his lordship does about change, while Mrs. Hughes (Phyllis Logan), Mrs. Patmore (Lesley Nicol), Anna and Bates (Joanne Froggatt and Brendan Coyle), Molesley (Kevin Doyle), Baxter (Raquel Cassidy), and Jimmy (Ed Speleers) wonder how the social changes will affect them. Personal ones are already taking hold for Daisy (Sophie McShera), but Thomas (Rob James-Collier) is still his smarmy self and continues to plot and scheme. (Yay!)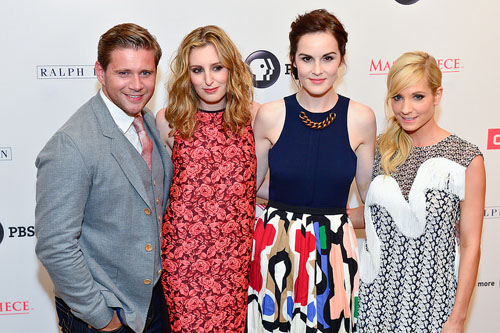 Recurring cast members include Samantha Bond as Lady Rosamund, David Robb as Dr. Clarkson, Andrew Scarborough as Mr. Drewe, Emma Lowndes as Mrs. Drewe, Daisy Lewis as Sarah Bunting, Douglas Reith as Lord Merton, Peter Egan as Shrimpie Flintshire, Phoebe Nicholls as Susan Flintshire, Harriet Walter as Lady Shackleton, Paul Copley as Mr. Mason, and Jeremy Swift as Spratt.
Guest stars include Anna Chancellor as Lady Anstruther, Richard E. Grant as Simon Bricker, Sue Johnston as Miss Denker, Rade Serbedzija as Prince Kuragin, Catherine Steadman as Mabel Lane Fox, Matt Barber as Atticus Aldridge, Pennie Downey as Lady Sinderby, and James Faulkner as Lord Sinderby.
Downton Abbey: Season 5
premieres Sunday, 4 January 2015 at 9 PM ET on PBS Masterpiece.
The Manners of Downton Abbey
For a behind-the-scenes look at the world of Edwardian manners, PBS Masterpiece offers The Manners of Downton Abbey. Hosted byAlastair Bruce, historian and advisor to Downton Abbey, the documentary guides viewers through the etiquette of how to eat, marry, behave, dress, and make money in the 1920s.
The Manners of Downton Abbey
debuts at 10:15 PM ET, directly after the Downton Season 5 premiere on PBS Masterpiece.
Grantchester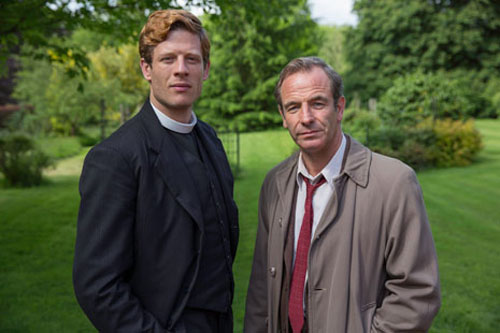 Grantchester, based on the acclaimed mystery novels by James Runcie,
brings a new crime-solving clergyman to Brit TV. He is the young and charismatic Sidney Chambers (styled after Runcie's late father, the Archbishop of Canterbury in the 1980s), played by James Norton (Happy Valley, Death Comes to Pemberley).
The single, jazz-loving, and whisky-drinking Sidney teams up with the married-with-kids,  light-musical-listening, average-Joe detective, Geordie Keating, played by Robson Green (Wire in the Blood, Touching Evil), to play chess and solve mysteries involving murders and other crimes in and around the beautiful hamlet of Grantchester in 1953.
The six-episode series costars Morven Christie (Twenty Twelve) as Sidney's close friend, Amanda Kendall; Tessa Peake-Jones (Only fools and Horses) as Mrs. Maguire, the vicarage housekeeper; and Al Weaver (Secret State) as vicar-in-training Leonard Finch.
Grantchester premieres Sunday, 18 January 2015, at 10 PM ET on PBS Masterpiece.
Update: ITV has commissioned a second series of Grantchester. Details here.
Shakespeare Uncovered: Season 2 [UPDATED]
"The play's the thing," and more of The Bard's greatest works are explored when another season of the fabulous documentary series, Shakespeare Uncovered,
comes to the small screen. Guest hosts in the new season include:
Morgan Freeman takes an in-depth look at the controversial comedy, The Taming of the Shrew. Also features Tracey Ullman, Brian Cox, Sinead Cusack, and Fiona Shaw.
Kim Cattrall explores the tragedy, Antony and Cleopatra, and the challenges of playing its two powerful lovers. Also features Vanessa Redgrave, Sir Patrick Stewart, and Dame Janet Suzman.
Joseph Fiennes, who played The Bard in Shakespeare in Love, examines the enduring relevance of the tragic love story, Romeo and Juliet. Also features Orlando Bloom.
Hugh Bonneville explores the magic, mayhem, and mischief of A Midsummer Night's Dream. Also features interviews with Ralph Fiennes and David Walliams.
David Harewood explores how Iago's cruel plot makes Othello such a powerful tragedy. Also features Adrian Lester, Sir Ian McKellen, and Sir Patrick Stewart.
Christopher Plummer is joined by Sir Ian McKellen, Simon Russel Beale, and Jonathan Miller to explore King Lear, one of the toughest roles an actor can play.
Shakespeare Uncovered: Season 2 premieres Friday, 30 January 2015, at 9 PM on PBS Great Performances.
The Hollow Crown: The Wars of the Roses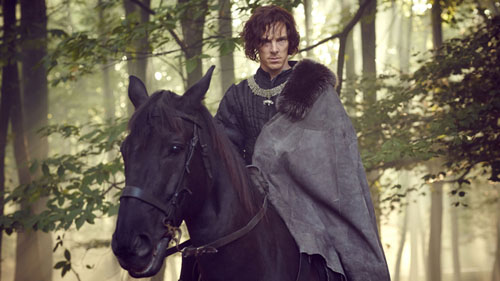 Speaking of Shakespeare and Great Performances, count on brilliant performances when The Hollow Crown: The Wars of the Roses, the highly-anticipated follow-up to the critically-acclaimed The Hollow Crown,
comes to PBS' performance series.
The three films that encompass the four plays that constitute the Bard's first tetralogy — King Henry VI Parts I, II, III and Richard III — include many of the UK's top stage and screen actors, including Hugh Bonneville, Benedict Cumberbatch, Judi Dench, Michael Gambon, Keeley Hawes, Anton Lesser, Sophie Okonedo, and Samuel West.
If the schedule for The Hollow Crown: The Wars of the Roses is similar to that for The Hollow Crown, then it should debut on Great Performances in September 2015. Stay tuned for exact dates.
More at "The Hollow Crown: The Wars of the Roses: Cast List"
Call the Midwife: Season 4
Following the holiday special, the nuns and midwives of Nonnatus House return to telly when the fourth series of the hit period drama, Call the Midwife,
arrives in spring 2015.
Inspired by the memoirs of Jennifer Worth,
the new season finds midwives Cynthia (Bryony Hannah), Trixie (Helen George), and Chummy (Miranda Hart), along with nurse Patsy (Emerald Fennell) and Sisters Julienne (Jenny Agutter), Evangelina (Pam Ferris), Monica Joan Judy Parfitt, and Winifred (Victoria Yeates), tending to more childbirths and other pains in London's Poplar district. Vanessa Redgrave also returns as series narrator.
Call the Midwife: Season 4 premieres Sunday, 29 March 2015, at 8 PM ET on PBS.
Mr. Selfridge: Season 3
Emmy® Award winner Jeremy Piven reprises his role as Harry Selfridge, the flamboyant American entrepreneur, when Mr. Selfridge
returns to PBS Masterpiece with its third season. The ten-episode series is set in 1919, just after the end of World War I, and kicks off with the wedding of Harry's eldest daughter, Rosalie (Kara Tointon, EastEnders) to Serge (Leon Ockenden, Waterloo Road), the son of trouble-making Russian Princess, Marie de Bolotoff (Zoë Wanamaker, My Family, Agatha Christie's Poirot).
New cast members include Hannah Tointon (The Hour) as Harry's younger daughter, Violette; Sacha Parkinson (Coronation Street) as Kitty Hawkins' ambitious younger sister; and Kelly Adams (Bluestone 42) as Harry's new love interest, Nancy Webb.
Mr. Selfridge: Season 3 debuts Sunday, 29 March 2015 at 9 PM ET on PBS Masterpiece.
Wolf Hall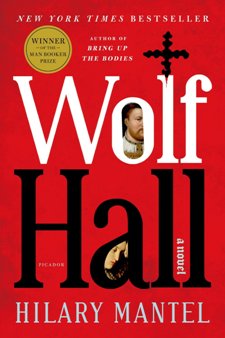 Three-time Tony® Award-winning actor Mark Rylance (Twelfth Night) and Emmy Award winner Damian Lewis (Homeland) star as Thomas Cromwell and Henry VIII, respectively, in Wolf Hall, the highly-anticipated adaptation of Hilary Mantel's
Booker Prize-winning novels, Wolf Hall and Bring Up the Bodies. The six-part series charts the shrewd and brilliant rise of Cromwell in the Tudor court — from a blacksmith's son to Henry VIII's closest advisor.
The who's who list of costars include Claire Foy (Little Dorrit) as Anne Boleyn; Jonathan Pryce (Cranford) as Cardinal Thomas Wolsey; Joanne Whalley (The Borgias) as Katherine of Aragon; Mark Gatiss (Sherlock) as Stephen Gardiner, Secretary to the King; Anton Lesser (Endeavour) as Thomas More; Mathieu Amalric (The Grand Budapest Hotel) as Ambassador of Spain Chapuys; Charity Wakefield (Sense & Sensibility) as Mary Boleyn; Jessica Raine (Call The Midwife) as Jane Rochford; Bernard Hill (Five Days) as the Duke of Norfolk; Richard Dillane (The Dark Knight) as the Duke of Suffolk; Thomas Brodie-Sangster (Game Of Thrones) as Rafe Sadler; Natasha Little (Case Histories) as Liz Cromwell; and Saskia Reeves (The Johnny Worricker Trilogy) as Liz's sister, Johane.
Wolf Hall premieres Sunday, 5 April 2015, at 10 PM ET on PBS Masterpiece.
Additional British TV series that are set to premiere on PBS in 2015 include these titles:
Poldark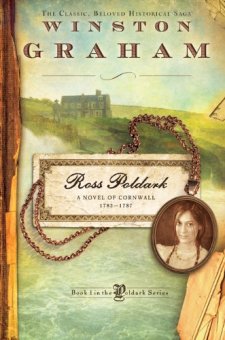 A new adaptation of the beloved Poldark series is coming to PBS Masterpiece. Based on the novels by Winston Graham,
this sweeping saga of love, rivalry, and class struggles stars Aidan Turner (The Hobbit trilogy, Being Human) as Ross Poldark.
Upon his return to Britain in 1783 after fighting in America's Revolutionary War, our hero Poldark finds his country in chaos, his Cornwall home and business in ruins, and his life falling apart.
Costars include Heida Reed (Silent Witness, DCI Banks) as Poldark's beloved Elizabeth, Kyle Soller (Anna Karenina, Bad Education) as his cousin Francis, and Eleanor Tomlinson (Death Comes to Pemberley, The White Queen) as the loyal heroine Demelza.
More about Poldark at "Confirmed: New Poldark Adaptation to Air in the US on PBS"
Indian Summers
Another epic drama, the ten-part Indian Summers, is set to debut on PBS Masterpiece in 2015. Set against the sweeping grandeur of the Himalayas and tea plantations of Northern India, Indian Summers tells the rich and explosive story of the decline of the British Empire and the birth of modern India. At the heart of the story lie the implications and ramifications of the tangled web of passions, rivalries, and clashes that define the lives of those brought together during a summer that changes everything.
As Indian Summers begins, stories of promises, secrets, politics, power, sex, and love play out as the British Raj begins to falter and the nation of India opens its eyes to the possibilities of Independence in the summer of 1932. And it is in the "little England" called Simla, located in the foothills of the Himalayas, that the British power brokers of this nation are posted to govern during the summer months.
At the heart of Simla's society is Cynthia (Julie Walters, Harry Potter, The Hollow Crown), widowed doyenne of the Royal Club. A force to be reckoned with, Cynthia's influence spreads throughout the community.
Cast members include Henry Lloyd-Hughes (The Inbetweeners), Jemima West (The Borgias), Nikesh Patel (Bedlam), Roshan Seth (A Passage to India), Lillete Dubey (The Best Exotic Marigold Hotel), Alexander Cobb (Mr. Selfridge), Craig Parkinson (Line of Duty), Fiona Glascott (Episodes), Amber Rose Revah (What Remains), Aysha Kala (Shameless), Olivia Grant (Endeavour), and Edward Hogg (The Borgias).
Vicious
The loving, bickering, and hilarious couple who's been together for a half century — Freddie (Ian McKellen) and Stuart (Derek Jacobi) — return to PBS following the holiday special to give us more side-splitting laughs.
Also reprising their roles as the pair's friends are Iwan Rheon (Game of Thrones) as upstairs neighbor Ash and Frances de la Tour (Harry Potter and the Deathly Hallows) as the man-crazy Violet, along with Marcia Warren (The Café) as Penelope and Philip Voss (Fish) as Mason. Look for Vicious: Season 2 in summer 2015.
Stay tuned for details, including premiere dates, about these and even more of the British TV programs that PBS is screening in 2015.
__________________
Add your comments on our Facebook, Google+, and Twitter pages.
Brit TV on PBS in 2015: New Programs and New Seasons of Viewer Favorites [UPDATED]