Stateside viewers, get ready for another fabulous mystery story when the hit series Unforgotten returns to this side of the pond with its third season.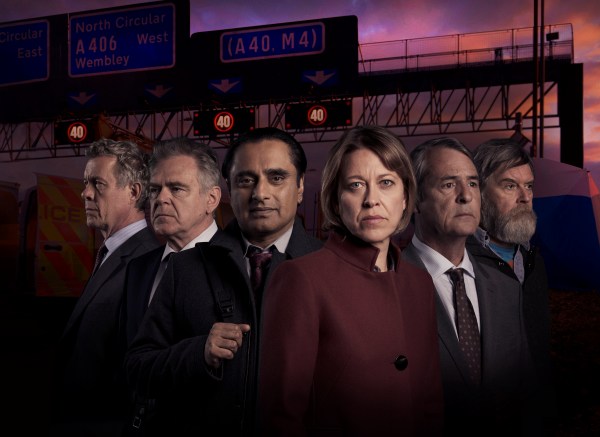 As in the UK back in 2015, viewers in the US became fast fans of Unforgotten when PBS launched the series last year — by airing Seasons 1 and 2 back to back, no less. The mystery drama follows a team of detectives in London, led by DCI Cassie Stewart (Nicola Walker, The Split, Last Tango in Halifax, River) and DI Sunny Khan (Sanjeev Bhaskar, The Indian Doctor, The Kumars at No. 42, Goodness Gracious Me), who investigate a years-old cold case in each season.
Now Season 3, which features another complex, emotional, and gripping story, is set to premiere in the States.
It opens with the discovery of skeletal remains by road workers laying draining channels under the central reservation of the M1 motorway in London. The medical examiner later confirms they are of a female, likely strangled, but not of a young adult; rather, the bones were of a girl who was in her teens when she died. With the only clue being a titanium surgical plate, Cassie and her team begin the challenging work of determining the victim's identity.
In Hamhurst, West Sussex, Dr. Tim Finch (Alex Jennings, Victoria, A Very English Scandal) is humiliated in public due to allegations of professional misconduct, while camper van dweller and artist Chris Lowe (James Fleet, The Vicar of Dibley, Outlander) is planning a special something for his lady friend in Bristol. Up in Norfolk, desperate times call for desperate measures for struggling salesman Pete "find the need, sell the want" Carr (Neil Morrissey, Striking Out, The Good Karma Hospital). And in London, journalist and TV quiz show host James Hollis (Kevin McNally, TURN: Washington's Spies, The ABC Murders) goes looking for his son, who has once again gone missing.
These four men are longtime friends.
As a result of conducting one of the most difficult and emotionally-challenging series of inquiries, the detectives learn the victim was Hayley Reid, a 16-year-old girl who disappeared on New Year's Day in 2000. The missing person case is reopened, and offering assistance to Cassie and co. is the now-retired DCI John Bentley (Alistair Mackenzie, Monarch of the Glen), who was a member of the team that investigated Hayley's disappearance nearly two decades ago.
Elsewhere across England, Pete is on a very slippery slope at work and at home, Chris is unable to cope after an unfortunate incident, and Tim is trying to save his career and medical practice. As for James, he will only speak with Cassie and Sunny with his lawyer present.
Lies follow.
Then the truth is discovered.
Once again, series creator and writer Chris Lang (Dark Heart) delivers a wholly-absorbing story that reveals the compassion and callousness that people are capable of, as well as a critique of the use of social media and the actions — unintended and otherwise — it can spark. It's also a cracking good whodunit.
Lewis Reeves (Crazyhead) reprises his role as DC Jake Collier in Season 3, as do Jordan Long (Prime Suspect: Tennison) as DC Murray Boulting, Carolina Main (Blood) as DC Fran Lingley, and Peter Egan (Hold the Sunset) as Martin Hughes, Cassie's dad.
Featuring in the new season are Tori Allen-Martin (London Kills), Sasha Behar (Da Vinci's Demons), Brid Brennan (Brooklyn), Emma Fielding (Les Misérables), Indra Ové (Death in Paradise), Tom Rhys Harries (Jekyll & Hyde), Amanda Root (The Forsyte Saga), Sara Stewart (Doctor Foster), and Bronagh Waugh (The Fall).
Unforgotten: Season 3 premieres in the US tomorrow, Sunday, April 7, at 10 PM ET, on PBS. (Check your local listings.)
__________________

Add your comments on our Facebook and Twitter pages.
Share this post/page.

Unforgotten: Season 3 of Excellent Mystery Series Premieres on PBS