London Kills, the first straight-to-series commission by Acorn Media Enterprises, has launched in the US with all five episodes of its first season.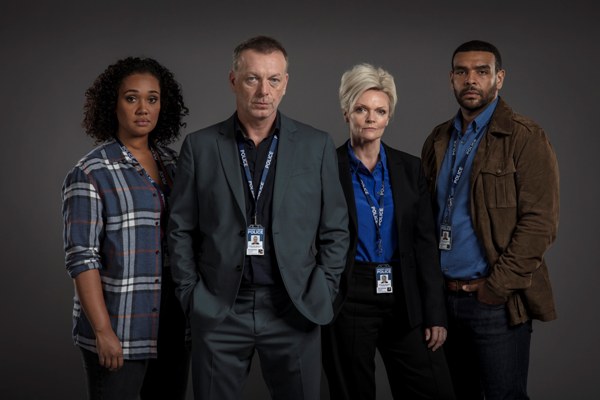 Created and co-written by Paul Marquess (Suspects, Footballers' Wives), London Kills follows a team of four detectives on the Murder Investigation Team in London.
The series opens with a young woman discovering the dead body of a young man — bloodied from multiple stab wounds and strung up in a tree near a jogging path. Responding to the call of the gruesome scene are DC Rob Brady (Bailey Patrick, Bodyguard) and Trainee DC Billie Fitzgerald (Tori Allen-Martin, Unforgotten), the latter recently transferred to MIT from CID.
While they update Acting DI / DS Vivienne Cole (Sharon Small, Inspector Lynley Mysteries, Mistresses) on what they've found so far, the team's actual Detective Inspector, DI David Bradford (Hugo Speer, The Musketeers, Father Brown), shows up. And Cole is both shocked by and bothered about it. Aside from losing the (temporary) bump up in rank, she believes Bradford is still too preoccupied with a personal tragedy — the mysterious disappearance of his wife — to be able to do his job properly. Clearly Bradford disagrees.
Bradford is a soft-spoken man of compassion and few words who relies on facts and police protocols and procedures to do his job, and he expects his team to do the same. But if Cole is to be believed, there is more to him than meets the eye, especially where the man's missing wife is concerned. (Then again, the same might be said for his wife, too, given the discovery that cliff-hangs the first episode.)
Unlike Bradford, the more instinctive, impulsive, calls-it-like-she-sees-it Cole isn't all that concerned with doing things by the book, working in a linear fashion, or even requiring evidence before taking action or declaring Bradford wrong. Fitzgerald is young and impressionable and follows Cole's lead, while Brady, who appears to be a religious man (from a blink-and-you-might-miss-it bit in one scene), looks to be cast from the same mold as Bradford. At first blush, it seems there could be an us against them, male-versus-female cops thing brewing; we shall see as the season progresses.
Subsequent episodes in Series 1 revolve around the murders of a groom at his bachelor party, a man on his houseboat,  and a woman found by the river, as well as a brutal attack on one of the detectives.
Series 1 guest stars Jennie Jacques (Vikings), Dean Andrews (Last Tango in Halifax), Glynis Barber (Dempsey and Makepeace), Ross Boatman (Mum), and Zoe Telford (Unforgotten).
London Kills: Series 1 premieres in the US today, February 25, exclusively on Acorn TV.
Series 2 will debut later this year.
__________________

Add your comments on our Facebook and Twitter pages.
Share this post/page.

London Kills: New Acorn TV Crime Drama Premieres in the US