Olivia Vinall, one of the stars of the new Acorn TV Original Queens of Mystery, chatted with me about her new series and the layers of mysteries within it. (Ooh!)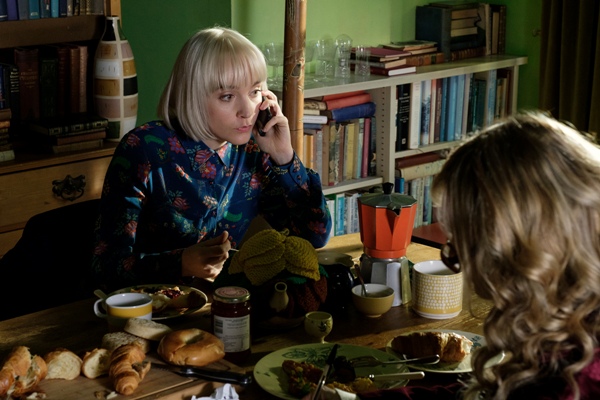 Queens of Mystery is a delightful new mystery series, one full of whimsy and colorful characters and intriguing stories of murder. And it premieres today in the US on Acorn TV.
The equally delightful Olivia Vinall (The Woman in White, Apple Tree Yard) plays Matilda Stone, a newly-promoted Detective Sergeant who begins this stage of her career in her quaint hometown of Wildemarsh. Here live Matilda's three aunts — Cat Stone, played by Julie Graham (Shetland, The Bletchley Circle); Jane Stone, played by Siobhan Redmond (Unforgotten, Taggart); and Beth Stone, played by Sarah Woodward (The Politician's Husband, Endeavour) — crime fiction authors who help Matilda on her investigations and also set her up on blind dates.
With all of the lead characters being intelligent, accomplished, and loving women, I asked Olivia how it feels to be part of a series that is anchored by four females.
"That's exactly it. When I first read the script, I have to say that I haven't read anything which is so female-centric and in terms of the different ages and stages and the family dynamic of the characters. That was so refreshing. I felt uplifted, and I was immediately drawn to the project. I think that what's so great about it is that it's managed to create a really familial relationship where you believe in the dynamic between the aunts and Matilda. It just feels real — that way that you can say things to your aunts that you can't say to your parents, but then they're meddling and they frustrate you. Yeah, it feels really real in that way. We're not creating a show which is commenting on them being a particular age or stage; they're just wonderful, incredible, intelligent women in their own right, and it's a celebration of that."
With her three aunts being quite different from each other, what is Matilda's relationship with each of them?
"I think that, with Aunt Cat, Matilda's had maybe the least amount of time with her growing up, cos much of the time Cat was away doing her own thing. She had her own child, she lived in L.A. where she was a stunt double. She's been around the least, and though Matilda still calls her Aunt Cat, she always says, 'Don't call me that. Call me Cat. Aunt makes me feel old.' So I think Cat's the one she would go to for maybe having a drink or a smoke growing up or being a bit more rebellious.

"I would say with Aunt Jane, her breadth of knowledge to do with crime fiction is the greatest. She runs and owns the bookshop, and Matilda spent most of her time there because she loved reading. [Matilda]'s learned so much from her, cos [Jane]'s also quite scientific and forensic in her approach.

"Aunt Beth is the much more nurturing aunt. In her backstory, I think she used to be a nurse, she worked with people a lot, and she always cooks Matilda pasta bakes and makes sure she's eating. So [Matilda] gets something from each of them, which is wonderful. I think what a way to grown up; it must be fantastic to have them nearby and surrounding you."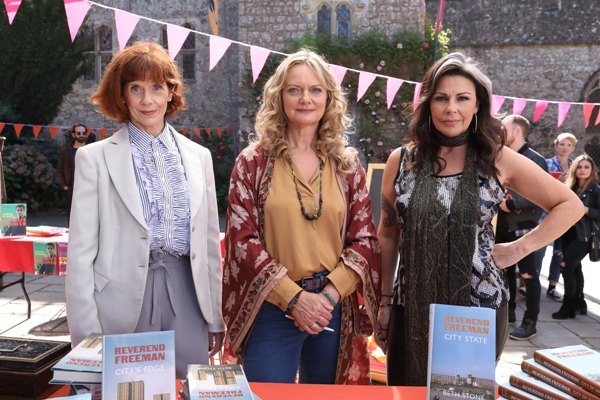 As viewers quickly learn in the series opener, not only does Matilda investigate mysteries, she has one of her own: the disappearance of her mother, who seemed to vanish into thin air when Matilda was only three years old. Her aunts discuss their sister amongst themselves, but Matilda doesn't speak of her mum. Would Olivia say more about this?
"In the first episode we learn that her mother went missing when she was three years old and that there's a sense within Matilda that there's something more to her mother's disappearance. To me that's her ultimate motive and why she's become a detective and why she's pursued this career — ultimately she wants to discover what happened to her mother and whether she is alive or dead. I think it was in one scene where there were goosebumps on the back of Matilda's neck that there's something else or there's a feeling around her that something is still to be discovered.

"I, myself, as the actor, have asked Julian [Unthank, the series creator and writer] not to tell me what has happened to [Matilda's mother]. I know that Siobhan, Julie, and Sarah know what happened, but I don't want to know because that's something that will come out as the series progresses. It's interesting working in that way, where you don't have the answers and you're solving it as the character does. I think that's much more interesting to me."
There's a bit of a fairy tale look and feel about Queens of Mystery, and one thing I became obsessed with in the first story is the crow (or is it a raven?). Curious minds want to know if it represents Matilda's mum.
"That's a very good question, and I don't know what the crow represents yet. I know there are a lot of, as Julian would describe them, and Ian the director, as Easter eggs within the series, where there are clues throughout that will be able to be cracked and explored and uncovered, but I don't know what the crow means yet. I know it's very symbolic but I'm not sure what it represents. It's interesting to see how that unfolds."
Indeed. It also seems like there's more to the story of Matilda's return home that just starting her new job, being with her aunts, and learning more about her mother's disappearance. Could Olivia share a tidbit or two?
"Julian, the writer, has definitely mentioned that there are other things, but I don't know what they are yet. So it's really intriguing for me, but it's all very much unknown. But I know he has this cog of a machine of a story where there are lots of things that have a place and reasons why and everything's been done for a specific reason and is a clue to something else. Like with lots of great mystery novels and stories, there are layers upon layers, so I'm looking forward to discovering them, too."
As for Juliet Stevenson, who narrates the series, I asked Olivia if Juliet is the creator who is narrating her own story or if she is narrating as an observer who is simply providing information to the viewer.
"Oh, I see what you mean. I think that is so interesting, and [the writers] won't tell me at the moment who that is, who the narrator is. I don't think it's one of the characters within it, but they haven't told me so I'm not quite sure, but I feel the same way. When I watched the first episode, I was going, 'Who is the narrator? What is their perspective? Why are they letting us in? Are they the storyteller? Are they a character?' I don't know yet, but hopefully we'll find out! [The writers] are keeping me very much in the dark. They've got all the answers, but you've got me with none of the answers, so I apologize."
The series opens with the first of three two-part stories, "Murder in the Dark." Soon after Matilda arrives back in Wildemarsh and gets settled at the police station, she is called to the manor on whose grounds the 15th Wildemarsh Crime Writing Festival has been taking place. Oscar Prescott, one of the nominees for the event's Golden Pick Axe Award, has been murdered — found with said trophy embedded in his skull. And one of the suspects is none other than Aunt Beth, herself a nominee for the prize. What Matilda doesn't understand is why Beth won't say anything to defend herself. Could she really be a murderer?
"Murder in the Dark" guest stars David Bamber (Trust), Selina Cadell (Doc Martin), Nancy Carroll (Father Brown), Gregg Chillin (A Discovery of Witches), Omid Djalili (Stan Lee's Lucky Man), Joseph Millson (Banished), Chu Omambala (Liar), and Georgina Rich (River).
Series regulars include newcomer Michael Elcock as PC Terry Foster, Andrew Leung (Flack) as pathologist Daniel Lynch, and Martin Trenaman (Babylon) as Inspector Thorne.
In the second story, "Death by Vinyl," members of Volcanic Youth, the all-girl new wave band for which Cat was the bass player back in the '80s, reunite to record a reunion album at a retreat not far from Wildermarsh. Things do not go well, starting with the murder of one of the band members, found strangled with a microphone cord. Hers isn't the only one, either. Through her investigation, Matilda becomes aware of motives for murder buried in the band's past, while her Aunt Cat must confront the tragedies of her own past and face the emotions she'd buried decades ago.
Guest stars in "Death by Vinyl" include Frances Barber (Silk), Colin Michael Carmichael (Detectorists), Michelle Collins (Coronation Street), Julian Michael Deuster (X Company), Chelsea Edge (The Missing), Bob Goody (Vanity Fair), Con O'Neill (Ordinary Lies), Josette Simon (Broadchurch), and Sydney White (Uncle).
And in "Smoke and Mirrors," the final two-part mystery in Series 1, an adaptation of one of Aunt Jane's books is being mounted at a local theatre. Hopes are high that it will be a success, particularly as celebrated thespian Sir Lawrence Shaw (George Irving, Holby City) has persuaded his twice ex-wife, Dame Blanche Chastain (Carmen Du Sautoy, The Man with the Golden Gun), out of retirement to take a small role. But when a large sandbag falls and crushes one of the cast, Matilda's investigations lead her to conclude this was no accident. As Matilda works her way through the suspects, that is, the play's cast and crew, Cat and Beth do some investigating of their own and uncover bribes and secret obsessions behind the scenes. The plot thickens when a second body is found, and one of the remaining cast absconds. There will be more bodies on the stage floor unless Matilda acts fast.
"Death by Vinyl" premieres Monday, April 15, on Acorn TV and the Acorn TV channel on Amazon, with "Smoke and Mirrors" debuting on April 22.
__________________

Add your comments on our Facebook and Twitter pages.
Share this post/page.

Interview: Olivia Vinall Chats About Her New Series 'Queens of Mystery'