A new comedy and returning drama, dramedy, and mystery series are all headed to telly on both sides of the pond. Check out the details!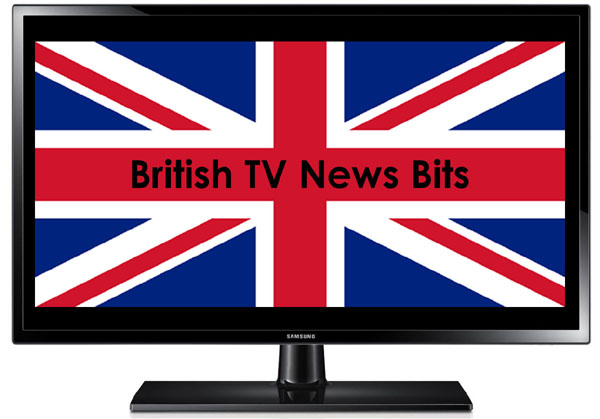 Doc Martin
Filming is starting in picturesque Port Isaac and the surrounding areas of the north coast of Cornwall on Series 9 of Doc Martin, with Martin Clunes starring as Dr. Martin Ellingham, the perennially brusque and grumpy GP with a phobia of blood.
The new eight-episode season finds the Doc's career hanging in the balance — his future as a GP is under scrutiny from the General Medical Council following complaints about his irascible approach to patients.
All regular members of the cast reprise their roles, including Caroline Catz as Martin's wife, Louisa Ellingham, who has resigned from her job as headmistress at the local school to pursue a new career in child counseling; Dame Eileen Atkins as Martin's formidable Aunt Ruth; Ian McNeice as Bert Large; Joe Absolom as Bert's son Al; John Marquez as PC Joe Penhale; Jessica Ransom as surgery receptionist Morwenna Newcross; and Selina Cadell as pharmacist Mrs Tishell.
Here's the trailer for Series 8 of Doc Martin, which is currently available for streaming in the US on Acorn TV, the Acorn TV channel on Amazon, and Amazon Video, and in the UK on Amazon Video and Now TV.
Doc Martin: Series 9 will debut in the UK on ITV, and in all likelihood on Acorn TV in the US. Stay tuned for updates.
Mae and George (working title)
Mae and George is a new semi-autobiographical comedy series that follows award-winning Canadian comedian, writer, and recovering addict Mae Martin as she tries to control the addictive behaviors and intense romanticism that permeate every facet of her life, which is further complicated by a new and all-consuming relationship with her new girlfriend George.
A deeply personal, darkly hilarious, and poignant story about the unique pressures of navigating the modern-day fluid landscape of gender and sexuality, the six-episode half-hour series will air in the UK exclusively on E4, as well as globally, excluding the UK, on Netflix.
Stay tuned for updates.
Marcella
Filming has started in Belfast, Northern Ireland, on Series 3 of Marcella, the critically-acclaimed mystery-crime drama series created by Hans Rosenfeldt (The Bridge) and Nicola Larder (The Tunnel). Emmy® award winner Anna Friel (Butterfly, Broken, The Heavy Water War/The Saboteurs) returns as the eponymous, mentally unstable detective.
The new eight-part season sees Marcella in Belfast as an undercover detective — under her new identity as Keira — who has infiltrated the infamous Maguire crime family. As she inhabits the character of Keira and investigates the Maguires' activities, Marcella's quest for the truth puts her and others in danger, while questions arise as to how much she's embraced the Keira personality and left Marcella behind.
Hugo Speer (London Kills, Britannia, The Musketeers) reprises his role as Frank Young, Marcella's undercover handler, in the new season, as does Ray Panthaki (DCI Banks, EastEnders) as DI Rav Sangha.
Joining the Series 3 cast are Amanda Burton (The Commander, Waterloo Road, Silent Witness), who plays Katherine, the matriarch of the Maguire family; Aaron McCusker (Fortitude, Shameless) as Katherine's son Finn; Kelly Gough (The Fall, Raw) as her daughter Stacey; Martin McCann (Death & Nightingales, Titanic: Blood and Steel) as Stacey's husband; Eugene O'Hare (Dublin Murders, The Fall) as local police officer Eddie; Michael Colgan (X Company, My Mother and Other Strangers) as Rory Maguire; Paul Kennedy (The Frankenstein Chronicles, The Fall) as Lawrence, Marcella's initial contact within the crime family; and Glen Wallace (River City, The Secret) as Matt, a past acquaintance.
Here's the trailer for Series 2 of Marcella, which is currently available for streaming on Netflix in the US and on Amazon Video and Now TV in the UK.
Marcella: Series 3 will premiere on ITV in the UK. There's no word yet on if Netflix will pick it up for the US. Stay tuned for updates.
The Split
Production has started in London on Season 2 of The Split, the most recent scripted drama series created and written by Primetime Emmy® and BAFTA Awards winner Abi Morgan (River, The Hour Birdsong).
Reprising their roles are Nicola Walker (River, Last Tango In Halifax) as divorce lawyer Hannah Stern; Stephen Mangan (Hang Ups, Episodes) as Nathan Stern, Hannah's barrister husband; Deborah Findlay (Leaving, Cranford) as her mother Ruth Defoe; Fiona Button (Lip Service, Grantchester) as Hannah's sister Rose Defoe; Annabel Scholey (Medici, Britannia) as her other sister Nina Defoe, a fellow divorce lawyer for the family's law practice; Rudi Dharmalingam (Strike Back, Our Girl) as James, Rose's husband; Barry Atsma (Bad Banks, Black Widow) as Christie Carmichael, Hannah's former boyfriend and current coworker; Chukwudi Iwuji (Doctor Who, John Wick: Chapter 2) as Alex 'Zander' Hale, director of the Noble & Hale law firm where Hannah works; and Ellora Torchia (Beowulf: Return to the Shieldlands, Indian Summers) as Hannah's junior attorney Maggie Lavelle.
Joining the cast are Donna Air (Hotel Babylon) and Ben Bailey Smith (Law & Order: UK).
For folks who haven't watched the first season, spoiler details follow.
After the happy, tragic, and tense events in the Season 1 finale, Season 2 finds former law firm rivals now on the same side of the table, and Hannah's latest case set to put the newly-merged Noble Hale Defoe law firm firmly on the map. It concerns the very public and very messy divorce of Fi (Donna Air) and Richie Hansen (Ben Bailey Smith), one of the UK's most powerful celebrity couples.
Meanwhile, Rose and James are back from their honeymoon, looking to start their own family, and Nina is teetering on the edge, as the consequences of her erratic behavior are finally catching up with her. And Ruth, no longer the head of the family firm, must search for a new purpose in life.
As for Hannah, she fights one of the most public cases of her professional career while conducting a passionate affair with Christie, struggling to forgive Nathan for his infidelity, and feeling guilt-ridden about her own.
Here's the trailer for Season 1 of The Split, which is currently available for streaming in the US on Sundance Now, the Sundance Now channel on Amazon, and Amazon Video, and in the UK on Amazon Video.
The Split: Season 2 will launch in the UK on BBC One and in the US on Sundance TV. Stay tuned for updates.
__________________
Add your comments on our Facebook and Twitter pages.
Share this post/page.

British TV News Bits: Doc Martin, Mae and George, Marcella, The Split