Coming in May for US Brit TV fans: 13 new shows and seasons, 40+ titles added to streaming services, plus programs related to and live coverage of the Royal Wedding.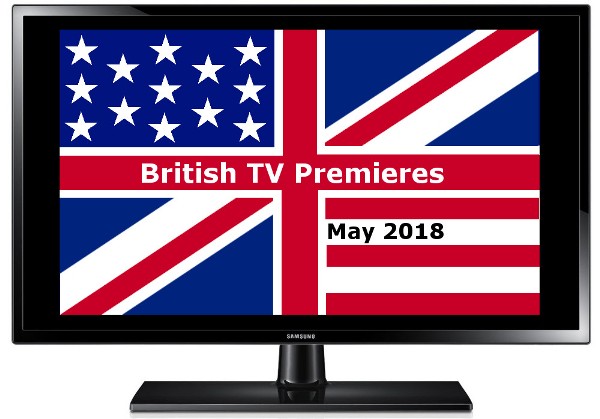 For updates about shows from the UK, Canada, and Ireland added to US channels and streaming services throughout the month, see the British TV Viewing Guide.
THE ROYAL WEDDING & RELATED PROGRAMS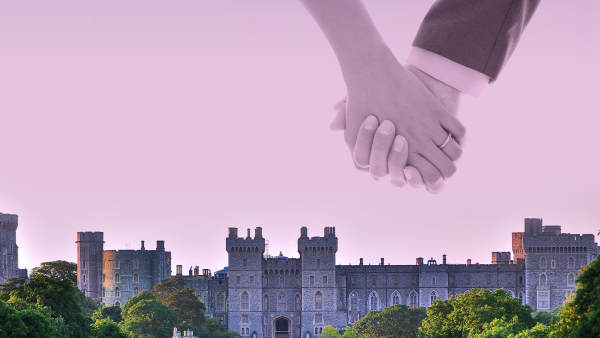 Meghan & Harry: A Revolutionary Romance (UK)
This one-hour BritBox Original program, produced by BBC Studios and narrated by Penelope Wilton (Downton Abbey), sets the scene for the second wedding of the decade — exploring the couple's wildly different backgrounds, the struggles they have both overcome to assert their identities, and the sheer luck that brought them together. The special features a cast of royal experts and those close to the Prince and Princess-to-be and draws on rich and rarely-seen archival material. Meghan & Harry: A Revolutionary Romance premieres globally between May 10 and May 19 (specific date TBA), exclusively on BritBox.
The BritBox Wedding Watchers Guide (UK)
Another BritBox Original program is this 6-part, short-form series of 5-minute "WED Talks" by leading authority, author, and former BBC Royal Correspondent Jennie Bond (Reporting Royalty: Behind the Scenes with the BBC's Royal Correspondent), who gives viewers a special look behind the curtain of the event and explains the "regal-ese" that makes a royal wedding one of the most extraordinary ceremonies in history. The BritBox Wedding Watchers Guide premieres in the US with its first episode on Saturday, May 12, exclusively on BritBox. A new episode will debut each day afterward as we count down to the big day on May 19.
Royal Wedding Watch (US/UK)

In the lead-up to Harry and Meghan's wedding, PBS' special five-night series takes viewers behind the headlines for the history, ceremony, and traditions shaping the couple's wedding. Presented by Emmy® winner Meredith Vieira and UK host Matt Baker (The One Show), with Anita Rani (Countryfile) reporting from Windsor and Dr. Lucy Worsley (Secrets of the Six Wives), Chief Curator at the Historic Royal Palaces, providing expert commentary, the hour-long program will air Monday through Thursday, May 14-17, at 10 PM ET, and Friday, May 18, at 10:30 PM, on PBS. (Check your local listings)
Harry At 30 (UK)
This landmark documentary captures Prince Harry before he met Meghan — reflecting on his childhood and adolescence, army career, and development into one of the most admired and recognized royals. Harry At 30 begins streaming Tuesday, May 15, on BritBox.
Harry & Meghan: The Royal Wedding (UK)
BritBox brings viewers an exclusive live feed from ITV's Royal Wedding coverage, hosted by Phillip Schofield and Julie Etchingham, from their exclusive studio on the long walk in Windsor. It offers the unique capability of a delayed start, so you can track your day alongside Meghan and Harry's. The Royal Wedding premieres Saturday, May 19, exclusively on BritBox.
The wedding will also be covered live from England by CBS, NBC, and PBS, starting as early as 4 AM ET, so set your alarms accordingly.
The Wedding Day Highlights
Relive all the magical moments of Harry and Meghan's wedding in a highlights program specially-produced by ITV. See the moment the bride's dress is revealed, the arrivals, the wedding procession, the fashions, and of course the kiss. The Wedding Day Highlights special premieres in the US on May 19, exclusively on BritBox.
NATIONAL PREMIERES
Bucket (UK)
Miriam Margolyes (Harry Potter) and Frog Stone (Shameless) star in this four-episode comedy series as the eccentric and free-spirited Mim (who believes 70 is the new 40) and her reserved daughter Fran, who embark on a road trip to both rebuild their strained relationship and to fulfill items on Mim's bucket list. Bucket premieres in the US on Tuesday, May 1, exclusively on BritBox.
Life in Squares (UK)
This three-part drama about the Bloomsbury Group of English writers, intellectuals, philosophers, and artists centers on the relationship between sisters Vanessa Bell and Virginia Woolf, as well as Vanessa's complicated alliance with gay artist Duncan Grant, as they and their friends navigate their way through life during the first half of the 20th century. Phoebe Fox (Close to the Enemy) and Eve Best (Stan Lee's Lucky Man) portray the younger and older Vanessa, Lydia Leonard (Absentia) and Catherine McCormack (Genius) play Virginia, and James Norton (Grantchester) and Rupert Penry-Jones (MI-5) costar as Duncan. Life in Squares premieres in the US on Tuesday, May 1, on Prime Video.
Keeping Faith (UK)
Eve Myles (Torchwood) stars in this eight-part Welsh thriller as Faith Howells — a lawyer, wife, and mother who fights to find the truth behind the sudden disappearance of her husband. During the ordeal, she discovers he has been leading a double life, learns that her idyllic hometown harbors dark secrets, and transforms from a carefree mother into a risk-taking detective who finds a new inner strength. For more details, read this article. The English version of Keeping Faith, an Acorn TV Original series, premieres in North America on Monday, May 7, exclusively on Acorn TV.
X Company: Season 2 (Canada)
Picking up where Season 1 left off, the new season of this excellent wartime thriller opens with the team cut off from communications with Camp X in German-occupied France. Tom (Dustin Milligan, Schitt's Creek) has been shot, so Aurora (Évelyne Brochu, Orphan Black), Neil (Warren Brown, Strike Back), and Harry (Connor Price, Being Human) must deal with the aftermath of Alfred (Jack Laskey, Endeavour) being captured by the Gestapo. Back at Camp X, Sinclair (Hugh Dillon, Flashpoint) realizes he'll have to take unprecedented risks to get Alfred out before he breaks under torture, and Krystina (Lara Jean Chorostecki, Hannibal) learns the Allies are depending on the agents to help lay the groundwork for an invasion of occupied France. X Company: Season 2 premieres in the US on Monday, May 7, at 10 PM ET, on Ovation TV.
Britain's Biggest Superyachts (UK)
This hour-long factual program centers on Sunseeker, Britain's biggest builder of customized superyachts. For the first time in the company's 50-year history, they allowed the BBC behind the scenes of their production line in Poole and into the rarefied world of the multi-millionaire's favorite plaything. In London the sales team works hard to sell over £40M worth of boats in just 30 days, and on the charter side of the business, people pay £60,000 for just a week's holiday. Britain's Biggest Superyachts premieres in the US on Wednesday, May 9, exclusively on BritBox.
Motherland: Season 1 (UK)
Written by Graham Linehan (The IT Crowd), Sharon Horgan (Catastrophe), Holly Walsh (Dead Boss), and Helen Linehan, and starring Anna Maxwell Martin (Midwinter of the Spirit), this comedy series is about middle-class motherhood — from navigating its trials and traumas, to looking at the competitive and unromantic sides of parenting. Anna plays Julia, a working single mother who's in the middle of the mum spectrum — somewhere between ultra-organized Alpha Mums such as Amanda (Lucy Punch, Ben and Kate) and mums surrounded by chaos like Liz (Diane Morgan, Rovers). Motherland: Season 1 premieres in the US on Thursday, May 10, exclusively on Sundance Now.
Safe (UK)
Created by bestselling author Harlan Coben (Tell No One) and written by BAFTA winner Danny Brocklehurst (Shameless), this thriller stars Golden Globes® winner Michael C. Hall (Dexter) as widowed surgeon Tom Delaney. After his teenage daughter goes missing, Tom begins unearthing dark secrets about the people closest to him. More details are in this article. Costarring Amanda Abbingdon (Sherlock) and Marc Warren (Hustle), Safe, a Netflix Original series, premieres globally (outside of France) on Thursday, May 10, exclusively on Netflix. You can add it to your queue now.
Patrick Melrose (UK)
Oscar® nominee and Emmy® winner Benedict Cumberbatch (Sherlock) stars as the eponymous character in this five-part limited series based on the acclaimed semi-autobiographical novels by Edward St. Aubyn. The show follows Melrose's struggles to overcome the damage inflicted by an abusive father and the mother who tacitly condoned his behavior. Read this article for more details. Patrick Melrose premieres in the US on Saturday, May 12, at 9 PM ET, on Showtime.
Little Women (UK)
This new Britified adaptation of Louisa May Alcott's classic coming-of-age story stars three-time Oscar® nominee Angela Lansbury (Murder, She Wrote) as Aunt March, four-time BAFTA winner Michael Gambon (Fearless) as Mr. Laurence, and three-time Oscar® nominee Emily Watson (The Politician's Husband) as March family matriarch Marmee. Playing the four March sisters are Willa Fitzgerald (Royal Pains) as Meg, newcomer Maya Hawke as Jo, Annes Elwy (Philip K. Dick's Electric Dreams) as Beth, and Kathryn Newton (Halt and Catch Fire) as Amy. Little Women premieres in the US on Sunday, May 13, at 8 PM ET, on PBS. (Check your local listings)
Mum: Season 2 (UK)
This acclaimed and award-winning family comedy (and one of my favorite new shows of 2017) returns with Academy Award® and four-time BAFTA nominee Lesley Manville (Phantom Thread, River) as Cathy, a 50-something mum and recent widow who must navigate the everyday realities of this new era of her life alongside the good intentions of her lovably baffling family and dear friend Michael (Emmy® nominee Peter Mullan, Top of the Lake). Mum: Season 2 premieres in the US on Sunday, May 13, exclusively on BritBox. (Video is from Season 1)
Grand Designs: Seasons 13 & 14 (UK)
Presented by designer and author Kevin McCloud (Choosing Colors), this factual series features unusual or elaborate architectural home-building projects — from underground homes and converted water towers, to buildings constructed on the principles and methods of sustainable architecture. Grand Designs: Season 13 & 14 premiere in the US on Tuesday, May 15, on Netflix.
The Split (UK)
BAFTA nominee Nicola Walker (Unforgotten, River) headlines the cast of this six-part series that mixes legal, relationship, and family drama. It explores marriage and relationships through the lives of the Defoes, a family of lawyers at the heart of London's divorce circuit who negotiate scandalous affairs, big-figure settlements, and fraught relationship battles at work while navigating their own complicated lives at home. Written by Primetime Emmy® and BAFTA-winning Abi Morgan (River, The Hour) and featuring Annabel Scholey (Britannia) and Deborah Findlay (Cranford), The Split premieres in the US on Wednesday, May 23, at 10 PM ET, on SundanceTV.
The Art Detectives: Series 2 (UK)
In Series 2 of this edutainment series, Dr. Bendor Grosvenor, one of the world's leading art detectives, and Emma Dabiri, a leading social historian, track down lost and hidden art treasures to restore, resurrect, and rehang. More than 175,000 paintings in public ownership are languishing in storage, and at least 40,000 of them are unattributed — and Bendor and Dabiri aim to identify these "sleepers," solve the mysteries, and bring these paintings back to life. The Art Detectives: Series 2 premieres in the US on Monday, May 28, on Acorn TV.
LOCAL/REGIONAL PREMIERES
The series below will air in the US on public TV stations starting in May. Broadcast dates and times vary by market, so check your local listings or contact the station that serves your area for details. If you'd like to see them but your station isn't listed, contact its Viewer Services department or American Public Television.
Detectorists: Season 3 (UK)
The final season of this BAFTA-winning comedy series finds Andy (Mackenzie Crook, Pirates of the Caribbean) landing his dream job as an archaeologist, but it's not quite what he was hoping for. To make matters worse, he, his wife Becky, and their son Stan are living with his mother-in-law (Diana Rigg, Game of Thrones). Meanwhile, Lance (Toby Jones, The Hunger Games) must deal with his daughter as a housemate, a blast from the past, an audacious theft, and a threat to his and Andy's beloved oak tree. Detectorists: Season 3 is confirmed for airing on the following public TV stations and regional networks:
| STATE | CITY | STATION |
| --- | --- | --- |
| LOUISIANA | Alexandria, Baton Rouge, Lafayette, Lake Charles, Monroe, Shreveport | |
| MINNESOTA | Minneapolis, St. Paul | |
| MONTANA | Billings, Bozeman, Great Falls, Kalispell, Missoula | |
| NEW YORK | Binghamton, Elmira | |
| OHIO | Columbus | |
| SOUTH DAKOTA | Aberdeen, Eagle Butte, Lowry, Martin, Pierre, Rapid City, Sioux Falls, Vermillion | |
| TEXAS | Austin | |
| TEXAS | Dallas | |
| WISCONSIN | Green Bay-Appleton, La Crosse-Eau Claire, Madison, Menomonie, Park Falls, Wausau-Rhinelander | |
Nigella: At My Table (UK)
Hosted by TV personality, journalist, and gourmet food writer Nigella Lawson, this series celebrates home cooking — food that makes people feel happy and welcome as they sit around the table — from Nigella's fresh takes on familiar classics to her newly-created dishes inspired by different cuisines. In the bonus one-hour holiday special, Nigella cooks up a seasonal feast, gives tips for easy entertaining, and brings some new and festive flavors to familiar and traditional fare. More than 100 public TV stations and regional networks will air the series and special, so check with the one in your area for broadcast details.
NON-PREMIERE PROGRAMS ADDED TO PROGRAMMING SCHEDULES

Titles in this section begin streaming on the dates shown below on Acorn TV and the Acorn TV channel on Amazon. (Photos courtesy of Acorn TV.)
Rivers with Jeremy Paxman (UK)
In this 2017 factual series, British broadcaster, journalist, and author Jeremy Paxman brings his love of the great outdoors and rivers to the small screen. As he travels down four of Britain's most beautiful and historic rivers — The Tweed, The Thames, The Mersey, and The Severn — he meets and shares the lives of the people who make them what they are as he champions the heritage, industry, wildlife, and entertainment along the rivers' banks. Rivers with Jeremy Paxman begins streaming May 7.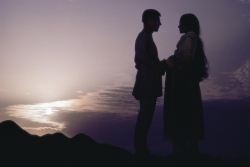 The Far Pavilions (UK/US) — Streaming Exclusive
Based on M. M. Kaye's epic novel, this classic miniseries (HBO's first) tells a tale of forbidden love against a backdrop of battle, treachery, and intrigue in British India. Ben Cross (Chariots of Fire) and Oscar® nominee Amy Irving (Yentl) star as Ashton Pelham-Martyn and Anjuli — a British soldier and an Indian princess who fall in love but are separated by forces beyond their control. Featuring Rupert Everett (An Ideal Husband) and the late, great Omar Sharif (Lawrence of Arabia), John Gielgud (Arthur), Christopher Lee (The Lord of the Rings), and Robert Hardy (Harry Potter), The Far Pavilions begins streaming Monday, May 14.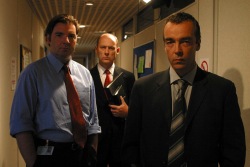 Amnesia (UK)
John Hannah (McCallum) stars in this two-part psychological thriller as DS Mackenzie Stone, a cop searching tirelessly for anything that would explain his wife's disappearance on their fifth wedding anniversary. Back at work, Stone delves into a missing person case and another case involving John Dean (Anthony Calf, New Tricks), an amnesiac who Stone becomes obsessed with, believing he is the man who supposedly vanished. Featuring Jemma Redgrave (Doctor Who), Patrick Malahide (Game of Thrones), and Brendan Coyle (Downton Abbey), Amnesia begins streaming Monday, May 21.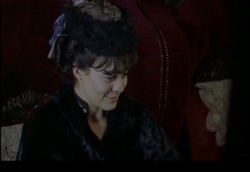 Anna Karenina (UK) — Streaming Exclusive
Adapted by Alan Cubitt (The Fall) from Leo Tolstoy's classic novel (voted the "greatest book ever written" in 2007), this BAFTA-winning miniseries stars Helen McCrory (Peaky Blinders) as the eponymous Countess, who puts her marriage, social status, and emotional stability in jeopardy after embarking on a passionate affair with Count Vronsky (Kevin McKidd, Grey's Anatomy). Costarring Douglas Henshall (Shetland), Stephen Dillane (Game of Thrones), and Mark Strong (Deep State), Anna Karenina begins streaming Monday, May 21.
Place of Execution (UK) — Streaming Exclusive
Based on the acclaimed crime novel by Val McDermid, this mystery miniseries' follows two parallel storylines: DI George Bennett's (Lee Ingleby, George Gently) investigation of a girl's disappearance in 1963 and journalist Catherine Heathcote's (Juliet Stevenson, The Politician's Wife) documentary about the unsolved case in 2008. When the aged Bennett (Philip Jackson, The Good Karma Hospital) stops cooperating, Heathcote digs further and what she uncovers could shatter lives. Place of Execution begins streaming Monday, May 28.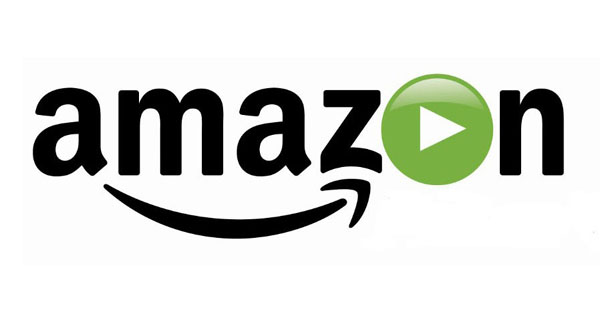 Titles in this section begin streaming on the dates shown below on Prime Video.
British Limited Series
For details about the 33 limited series titles being made available on Prime Video starting today, May 1, read this article.
Orphan Black: Season 5 (Final) (Canada)
Tatiana Maslany (World Without End) finally won a Primetime Emmy® Award for her portrayal of clones Sarah, Cosima, Alison, Helena, Rachel, et al — two of whom engaged in an epic battle in the Season 4 finale, which sets up the ultimate showdown that brings this multiple award-winning sci-fi drama to a close. Orphan Black: Season 5 begins streaming as a Prime Video offering on Saturday, May 12.
Howards End (UK)
Based on E. M. Forster's masterpiece novel, this four-part drama follows Margaret Schlegel (Hayley Atwell, Agent Carter) and her sister Helen (Philippa Coulthard, Secrets & Lies), two independent and unconventional young women seeking love and meaning as they navigate the changing world in Edwardian England. Costarring Matthew Macfadyen (Ripper Street) as Henry Wilcox and Joseph Quinn (Dickensian) as Leonard Bast, Howards End begins streaming as a Prime Video offering on Tuesday, May 29.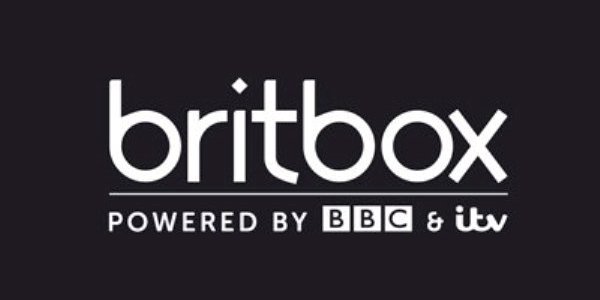 Titles in this section begin streaming on the dates shown below on BritBox and the BritBox channel on Amazon.
Lewis (UK) — Streaming Exclusive
In this original movie that launched the Inspector Lewis series, it's five years after the death of Morse and Lewis' (Kevin Whately) new partner is young Hathaway (Laurence Fox). During the detective duo's investigation of an Oxford math student's murder, two more killings occur and Lewis must decipher a cryptic clue left in the files of his late, longtime partner. Lewis begins streaming Saturday, May 5.
Vera: Season 4 (UK) — Streaming Exclusive
Two-time Oscar® nominee Brenda Blethyn returns as the frumpy, irascible, and ace detective DCI Vera Stanhope in this mystery-crime drama series based on the novels by award-winning author Ann Cleeves. In the four feature-length episodes, Vera and her able sidekick DS Joe Ashworth (David Leon, in his last season) investigate the deaths of a pensioner, a property developer, a failed novelist, and a businessman. Vera: Season 4 begins streaming Saturday, May 5.
Benny Hill (UK)
The late Benny Hill, one of Britain's top comedians, wrote and starred in his own award-winning comedy series that has been popular with millions of viewers on both sides of the pond for decades. The fast-moving format switches from comedy sketches to zany songs and inventive film sequences, while Benny himself seldom appears in fewer than a dozen guises in the course of each episode. Benny Hill begins streaming Wednesday, May 23.
__________________
Did you miss any of the new shows from previous months? Check the British TV Viewing Guide 2018 Archives to find out.
__________________
For details about the April premieres of shows from Australia and New Zealand, visit The Down Under TV Place. For those about the debuts of original-language, English-subtitled programs from Europe, visit The Euro TV Place.
__________________

Add your comments on our Facebook and Twitter pages.
Share this post/page.

British TV Premieres in May 2018: Keeping Faith, Mum, Patrick Melrose, Safe, The Split & More