Kick start this week's viewing with X Company, a gripping Canadian-Hungarian spy thriller set during World War II that will keep you glued to the telly.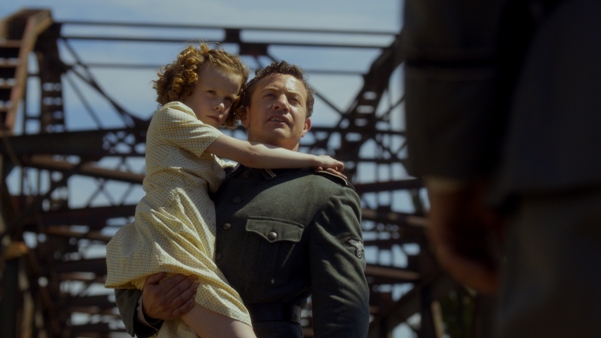 Inspired by actual events, X Company follows a group of highly-skilled young recruits as they train and conduct highly-risky missions to help the Allies during the Second World War.
The series opens in 1942 in Villemarie, France. The town is under Nazi occupation and its citizens are frightened, made more so by the message from the Germans to anyone even thinking about joining the Resistance: the body of a man hanged from a tree in the town square. In the bell tower are four young men and a woman, desperately trying to get a signal in order to send a message by Morse code.
Across the Atlantic Ocean, in Ontario, Canada, the message is received on the emergency frequency at Camp X. Duncan Sinclair (Hugh Dillon, Flashpoint, Durham County), the military man in charge of Camp X operations, must decide if the team in Villemarie should carry out an unplanned attack. If he gives the green light and if the plot is successful, the team will save every man, woman, and child in town from being massacred by the Germans.
Meanwhile, a nervous young man sits in the corridor at Camp X. Sinclair is trying his best to persuade Lieutenant Colonel George Mayhew (Adrian Lukis, Pride and Prejudice) into allowing the man, an enlistee, to join the team, despite his having failed basic training and been referred to a psychiatrist. The reason why Sinclair insists is that Alfred Graves (Jack Laskey, Endeavour, Star Wars: The Force Awakens) has a skill that practically no one else on the planet has: perfect memory.
Camp X is the only spy training facility in North America — where Canadians, Americans, and Britons train to become assassins, code breakers, saboteurs, and "unconventional warriors," including the five recruits in Villemarie: Harry James (Connor Price, Being Human, The Dead Zone), an engineering student who specializes in explosives and gadgets; Neil Mackay (Warren Brown, Strike Back, Luther), a former cop in London and Shanghai who is highly-skilled in combat and weapons; Aurora Luft (Evelyne Brochu, Orphan Black, Café de Flore), a trilingual journalist who can hide in plain sight nearly anywhere; Tom Cummings (Dustin Milligan, Schitt's Creek, Dirk Gently's Holistic Detective Agency), a Madison Avenue adman skilled in propaganda and deception; and team leader Rene Villiers (François Arnaud, The Borgias), a journalist who was in Paris when the Germans rolled in.
The team's surprise attack does not go as planned, and Alfred's demonstration of his memory skills to Mayhew and Sinclair is evidence of just how invaluable he could be to the war effort. But there are other symptoms of his synesthesia that also could prove dangerous, if not deadly to him and his colleagues and disastrous for the Allies, if Alfred is ever captured.
Each of X Company's eight first-season episodes revolves around a particular mission, from stealing codes and smuggling a British airman out of France, to preventing atomic research from getting into the wrong hands and assassinating Nazi collaborators. I'm one episode in and hooked.
It's edge-of-your-seat stuff, this thriller. Even when the team isn't racing against the clock or Germans in pursuit, nearly every scene is fraught with tension. Even one guy's drop of sweat can trigger an adrenaline-fueled heart rate increase for a viewer.
Commissioned by Canada's CBC, produced by Toronto's Temple Street Productions (Orphan Black) and Budapest-based Pioneer Stillking Films (Red Sparrow), and distributed globally by Sony Pictures Television, Season 1 features Torben Liebrecht (Homeland), Lara Jean Chorostecki (Hannibal), and Livia Matthes (Sense8).
X Company: Season 1 premieres in the US tonight, February 19, at 10 PM ET, on Ovation TV.
__________________

Add your comments on our Facebook and Twitter pages.
Share this post/page.

X Company: Riveting Wartime Spy Thriller Premieres on Ovation TV