Here's to happy surprises! Acorn TV released Series 20 of Midsomer Murders earlier today, so if you haven't logged in to your account yet, what are you waiting for? 🙂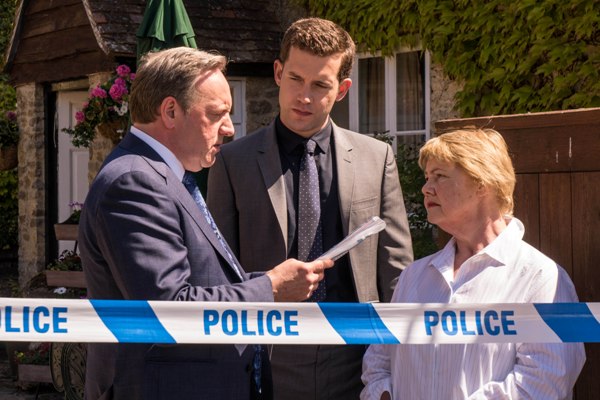 Midsomer Murders, the long-running, hit Brit mystery series, has returned to the US with Series 20, which consists of six brand-new, feature-length episodes set in England's most murderous county.
Reprising their roles for the new season — which has debuted in the US even before the UK premiere on ITV — are Neil Dudgeon (The Mrs. Bradley Mysteries, Messiah) as Detective Chief Inspector John Barnaby, Nick Hendrix (The Crown, Marcella) as Detective Sergeant Jamie Winter, and Fiona Dolman (The Royal Today, Heartbeat) as John's wife Sarah. Joining the cast is Annette Badland (EastEnders, Wizards vs. Aliens) as pathologist Dr. Fleur Perkins.
The six episodes include:
"The Ghost of Causton Abbey" — Causton is buzzing at the opening of a new brewery on the site of a famously-cursed abbey, but excitement turns to fear when a man is found boiled to death in one of the vats.
"Death of the Small Coppers" — When a butterfly collector and founding member of an elite IQ society is found murdered, DCI Barnaby and DS Winter are thrust into a crime that impacts not only on their community, but internationally.
"Drawing Dead" — Carver Valley's comic festival is in full swing when the village is shocked by the murder of a former supermodel. With a scathing comic shaming several villagers as the only lead, Barnaby and Winter are left trying to separate fact from fiction.
"The Lions of Causton" — Barnaby gets to relive his former days of sporting glory when a death at the local rugby club sends Barnaby and Winter into a muddle of rucks and old grudges.
"'Til Death Do Us Part" — Barnaby is less than impressed when Sarah drags him to a family friend's wedding. But things soon go from bad to worse when tragedy strikes, and Barnaby is called into action to catch a murderer with an apparent penchant for local brides.
"Send in the Clowns" — Things take a gruesome turn when the circus comes to town, bringing with it a chain of sinister clown sightings, threatening notes and deathly dangerous circus acts.
Guest stars include Tony Gardner (Last Tango in Halifax), Angela Griffin (Inspector Lewis), Niamh McGrady (The Fall), Ben Caplan (Call the Midwife), Tamzin Outhwaite (New Tricks), Richard Rankin (The Syndicate), Colin McFarlane (Judge John Deed), and Lorraine Ashbourne (Unforgotten).
All six episodes are now streaming in the US on Acorn TV.
UPDATE: Series 20 is also streaming on BritBox.
__________________

Add your comments on our Facebook and Twitter pages.
Share this post/page.

Midsomer Murders: Series 20 Now Streaming on Acorn TV