February 2016. A shorter month days-wise, and one with fewer than ten British TV titles premiering in the US. However, those that debut this month make for some great viewing.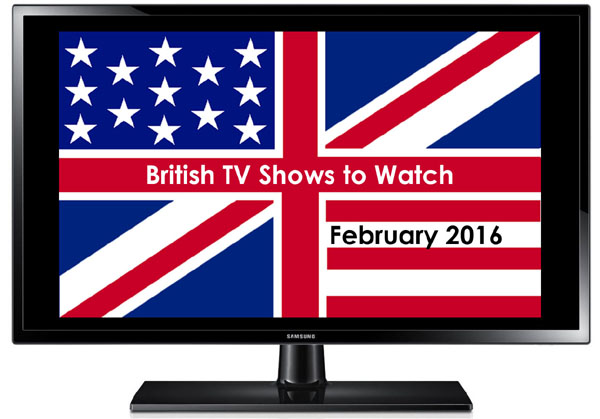 NATIONAL PREMIERES
Amy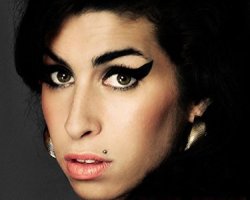 Even in death, the late, great Amy Winehouse pulls in huge crowds. Since the 2015 release of Amy, the documentary about the British singer-songwriter's life and career, the film has become the highest-grossing British documentary in history.
It is also the most lauded documentary feature film, with 31 award wins and 36 nominations to date, including an Oscar® nomination for Best Documentary Feature at the upcoming 2016 Academy Awards®, and nods for both Outstanding British Film and Best Documentary at this month's BAFTA Film Awards (see below).
Directed by multiple award-winner Asif Kapadia (Senna, The Warrior), Amy tells the story of Winehouse's life, work, stardom, substance abuse struggles, and premature death, and includes previously unseen archival footage and unreleased songs.
Amy makes its streaming debut today, 1 February 2016, exclusively on Amazon Video.
Nothing Trivial: Series 1 & 2 (New Zealand)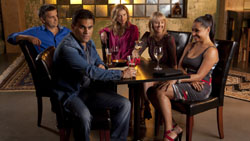 Life, love, and the pursuit of happiness. Three topics that don't usually make it into pub quizzes, but do serve as the themes for this Kiwi romantic comedy-drama. Set in the convivial and highly-competitive world of pub trivia, Nothing Trivial centers on the five late 30/early 40-year-olds who make up the Sex on a Stick quiz team and have in common being unhappy or unlucky in love.
Series 1 is about Mac (Shane Cortese, The Brokenwood Mysteries), Catherine (Tandi Wright, Xena: Warrior Princess), Michelle (Nicole Whippy, Outrageous Fortune), Brian (Go Girls), and Emma (Debby Newby-Ward, Shortland Street) being single. In Series 2, they're working out how to be part of a couple.
Nothing Trivial: Series 1 premieres today, 1 February 2016, on Acorn TV, followed by Series 2 on 29 February.
Liberty of London: Series 1 & 2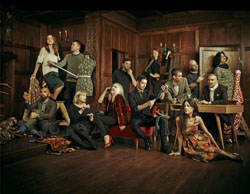 Fans of Mr Selfridge, take note. Liberty of London takes you behind the doors of Liberty, the iconic Regent Street department store, which has been drawing in shoppers for 140 years with luxury and other fine goods, including its well-known floral and graphic fabrics and prints.
Narrated by Hayley Atwell (Agent Carter, Restless) and filmed with unprecedented access to the store and its staff and customers, this docuseries is a fun, never-before-seen look at life within one of London's oldest department stores — featuring stories about Fashion Weeks in London and Paris, and VIP customer and celebrity visits, to the race to get the Christmas shop open on time, and the daily rituals at the heart of Liberty.
Liberty of London: Series 1 & 2 premiere Monday, 8 February 2016, on Acorn TV.
The EE British Academy Film Awards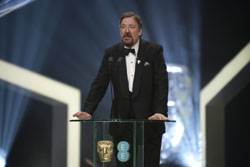 Hosted by Stephen Fry, this year's EE British Academy Film Awards takes place at the Royal Opera House in London on Valentine's Day. Leading the nominations with nine each are Bridge of Spies and Carol. Other films with multiple nominations include The Revenant (8), Mad Max: Fury Road (7), The Martian (6), Brooklyn (6), The Big Short (5), The Danish Girl (5), Ex Machina (5), and Star Wars: The Force Awakens (4).
The nominees for the EE Rising Star Award, which is voted for by the British public and presented to an actress or actor who has demonstrated exceptional talent and promise, include Brie Larson, Dakota Johnson, Bel Powley, John Boyega, and Taron Egerton.
The EE British Academy Film Awards airs Sunday, 14 February 2016, at 7:30 PM ET, exclusively on BBC America.
Adele: Live in London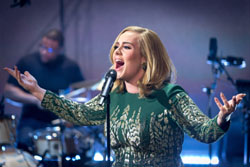 Say "Hello" to superstar singer-songwriter Adele, who opens up to talk-show host Graham Norton about the pressure she felt to follow up her hugely successful album, 21, and please her fans, while also sharing her humorous side: she went undercover to impersonate herself during an audition.
In addition, the one-hour special features the artist and her band performing classic tracks and songs from her new album, 25, as well as "Skyfall," the first TV performance of the hit single since the 85th Academy Awards, where Adele won the Oscar for Best Original Song for the theme tune to the 23rd "James Bond" film.
Adele: Live in London airs Sunday, 14 February 2016, at 10 PM ET, on BBC America.
Suspects: Series 1 & 2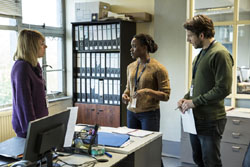 British police procedurals don't get any more realistic than Suspects. This gritty crime drama, filmed cinéma vérité (ish) style, features dialogue mostly improvised by cast members (who learned the details of the storylines) to give viewers a heightened sense of authenticity. It stars Fay Ripley (Cold Feet, Reggie Perrin) as DI Martha Bellamy, Damien Molony (Being Human, Ripper Street) as DS Jack Weston, and Clare-Hope Ashitey (Doctor Foster, Top Boy) as DC Charlie Steele.
Set in London, each episode tells a self-contained story, be it about a murder, a missing person, child abuse, or another type of crime. All begin with a news report about the crime, then follow the team of East London CID detectives as they investigate the circumstances, collect forensics from the crime scene, analyze evidence, interview suspects, and identify and charge the perpetrator.
Suspects: Series 1 & 2 premiere exclusively on Acorn TV on Monday, 22 February 2016.
Prey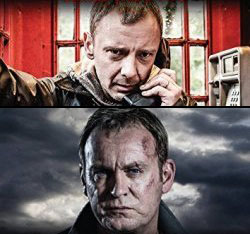 For stateside British TV fans who've been aching for the BAFTA-nominated Prey to screen in the US, your wait is nearly over. And both seasons of this thriller, costarring Rosie Cavaliero (The Enfield Haunting, A Young Doctor's Notebook), are coming.
John Simm (Code of a Killer, Life on Mars) stars in Series 1 as DC Marcus Farrow, a detective with the (fictional) Manchester Metropolitan Police, who goes on the run and does previously unimaginable things to clear his name, after evidence in his wife's murder points to him as her killer.
Philip Glenister (Mad Dogs, Ashes to Ashes) stars in Series 2 as prison officer David Murdoch, who finds himself on the wrong side of the law after a routine visit to a Manchester hospital with female prisoner Jules Hope (MyAnna Buring, Ripper Street, Downton Abbey) gets complicated by a phone call involving threats to his pregnant daughter's life.
Prey begins its premiere on Thursday, 25 February 2016, at 10 PM ET, on BBC America.
LOCAL PREMIERES
Mapp & Lucia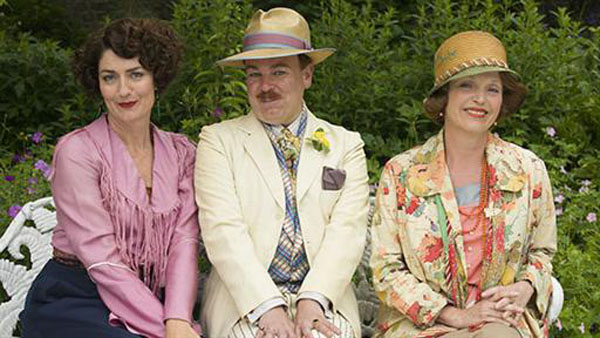 "Let battle commence!" That is, the ever so polite and utterly smarmy contest for social supremacy between the equally haughty, pretentious, and scheming Miss Elizabeth Mapp and Mrs Emmeline "Lucia" Lucas, played by Miranda Richardson (And Then There Were None, An Inspector Calls) and Anna Chancellor (Fleming, The Hour), respectively.
Set during a summer in the small town of Tilling, this hilarious three-parter, adapted from E.F. Benson's "Make Way for Lucia" stories by series writer and costar Steve Pemberton (Inside No. 9, Happy Valley), does a fabulous job of lampooning the snobberies, pretensions, and rivalries of upper-middle-class English women in 1930s England.
Mapp & Lucia begins airing in February 2016 on various public television stations. (Check your local listings.) For further details, read "Mapp & Lucia: Deliciously Wicked Comic Drama Miniseries Airing on Public TV Stations."
OTHER PROGRAMS ADDED TO STREAMING SERVICES

Behaving Badly — In this classic miniseries, adapted from the Catherine Heath novel, Oscar winner Judi Dench ("James Bond" films, Cranford) plays Bridget (a BAFTA-nominated role), a middle-aged woman who quietly fills her days with part-time work, church-going, and evening classes, after her husband of 20 years leaves her for a younger woman. Five years later, a chance encounter makes Bridget face the emotional desert called her life, stop being so "perfectly splendid" about it all, and begin to break rules and take risks. Behaving Badly begins screening today, the 1st of February, on Acorn TV.
The Woman in White — Loosely based on the Wilkie Collins novel, this mystery/thriller stars Andrew Lincoln (The Walking Dead, Afterlife) as Walter Hartright, an artist hired to instruct half-sisters Marian (Tara Fitzgerald, Game of Thrones, Waking the Dead) and Laura Fairlie (Justine Waddell, Tess of the D'Urbervilles, Great Expectations) at Limmeridge House, where a strange woman dressed in white brings disturbing warnings to the family. Laura's engagement to Sir Percival Glyde (James Wilby, Island at War, Maurice) seems to lift the darkness, but new dangers are lurking, and only the woman in white can help the Fairlies avert disaster. The film begins screening the 5th of February on Acorn TV.
Emma — This 1996 film adaptation of the Jane Austen novel stars Kate Beckinsale ("Underworld" films, Pearl Harbor) as Emma Woodhouse, a well-bred young lady who spends her time arranging (presumably) suitable love matches. When she befriends Harriet Smith (Samantha Morton, The Last Panthers, In America), she views the timid young woman as the perfect beneficiary of her efforts. However, Emma's matchmaking sets off a chain of misunderstandings and mix-ups that challenges her assumptions and draws her own heart into the fray. Emma begins screening the 12th of February on Acorn TV.
Raffles — The late Anthony Valentine (Coronation Street, The Knock) stars in this classic crime dramedy as A.J. Raffles, the dashing aristocrat-turned-criminal based on the protagonist of E. W. Hornung's "Raffles" stories. When Raffles isn't dining at his cricket club or taking wickets for England, he's often engaged in his other favorite activity: relieving the wealthy of their riches. Raffles begins screening the 15th of February on Acorn TV.
Wallis & Edward — Joely Richardson (The Tudors, Nip/Tuck) and Stephen Campbell Moore (Our Zoo, Ashes to Ashes) star in this biopic as American socialite and divorcée Wallis Simpson and Great Britain's King-Emperor Edward VIII, whose marriage proposal caused a constitutional crisis in 1936. As head of the Church of England, Edward was held to strict legal and moral standards, and objections were raised about his wedding a woman whose ex-spouses were still alive. Depicting the shocking and epic romance of the man who would give up the world for the woman he loved, Wallis & Edward begins screening the 19th of February on Acorn TV.
Anita & Me — Adapted from BAFTA-nominated actress Meera Syal's semi-autobiographical debut novel, this coming-of-age comedy-drama follows Meena Kumar (Chandeep Uppal, The Wrong Mans, Echo Beach), a 12-year-old Indian girl, whose idyllic life in Tollington is interrupted by the arrival of Anita Rutter (Anna Brewster, Material Girl, Nearly Famous) and her eccentric family. Anita is 14 years old, blond, beautiful, sassy, outrageous, and everything Meena thinks she wants to be herself. So she wheedles her way into Anita's life, only to have family matters, teenage hormones, grammar school entrance exams, and a rebel without a future threaten her sense of identity even further. Anita & Me begins screening the 26th of February on Acorn TV.
British TV additions are on the decidedly slim side this month for the other major streaming services, at least as of this writing. Hulu and Netflix have bupkes, and Amazon has released information about just one program — Poldark: Season 1 — which is available as an Amazon Prime Video selection starting tomorrow, the 2nd of February.
For updates about February 2016 program offerings, see the British TV Viewing Guide.
__________________

Add your comments on our Facebook and Twitter pages.

Share this post/page.

British TV to Watch in February 2016: Suspects, Prey, Adele: Live in London, and More