Hold onto your parkas. Actors from both sides of the pond, including Dennis Quaid, Michelle Fairley, and Ken Stott, are joining the cast of Fortitude for the series second outing.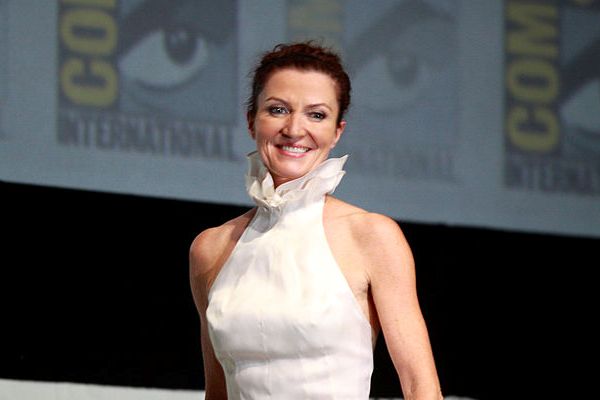 After the first season's wild ride of a finale, fans of Fortitude want to know, "What the heck happens after…?" (No spoilers for folks who haven't seen it yet.)
Well, we'll find out later this year, when the acclaimed UK/US copro between Sky Atlantic and Pivot returns to telly with its highly-anticipated new season.
Joining the cast for Season 2 are Dennis Quaid (Far from Heaven, The Big Easy), Parminder Nagra (ER, Bend It Like Beckham), Michelle Fairley (Rebellion, Game of Thrones), Robert Sheehan (Love/Hate, Misfits), and Ken Stott (An Inspector Calls, Rebus). Details about their characters have not been released yet.
Returning cast members include Sofie Gråbøl (The Killing) as Hildur Odegard, Fortitude's governor; Richard Dormer (Game of Thrones) as Dan Anderssen, the Arctic town's chief of police; Luke Treadaway (Clash of the Titans) as research scientist Vincent Rattrey; Darren Boyd (Spy) as freaky teacher Markus Huseklepp; Björn Hlynur Haraldsson (Trapped) as Eric Odegard, Hildur's policeman husband; Mia Jexen (Those Who Kill) as PC Ingrid Witry; Alexandra Moen (Hotel Babylon) as Officer Petra Bergen; Verónica Echegui (The Cold Light of Day) as Elena Ledesma, hotel staffer and Dan's obsession; Sienna Guillory (Luther) as Vincent's fellow scientist, Natalie Yelburton; and Ramon Tikaram (Jupiter Ascending) as taxidermist Tavrani.
Season 2 of Fortitude finds the residents of Fortitude, a small town on the edge of the Arctic Circle, gripped by more explosive events, including a new murder that rocks the community and plunges it into turmoil once again. (Hmm, I wonder which, if any, key character won't make it past Episode 1, as in Season 1.) And given what we've already learned from events in the previous season, nature is growing even more unpredictable, deadly, and dangerous in the stunning, icy wilderness.
Created and written by Simon Donald (Low Winter Sun), Fortitude is a Fifty Fathoms (The A Word) / Tiger Aspect (Peaky Blinders) production, in association with Sky Atlantic and Pivot. Executive Producers are Patrick Spence (Marvellous), Simon Donald (Low Winter Sun), Faye Dorn (George Gently), and Frith Tiplady (Ripper Street) for Fifty Fathoms/Tiger Aspect, Anne Mensah and Lizzie Gray for Sky Atlantic, and Jeff Skoll and Chris Loveall for Pivot.
Principal photography has started in London on Fortitude: Season 2, which will be broadcast simultaneously across all Sky territories on Sky Atlantic in the UK and on Pivot in the US in late 2016.
__________________

Add your comments on our Facebook and Twitter pages.

Share this post/page.

Fortitude: Dennis Quaid, Michelle Fairley, Ken Stott Join Season 2 Cast of Arctic Noir Thriller