Inside No. 9, the award-winning, critically-acclaimed comedy-drama from the warped minds of Reece Shearsmith and Steve Pemberton, returns for Series 3 with a star-studded cast.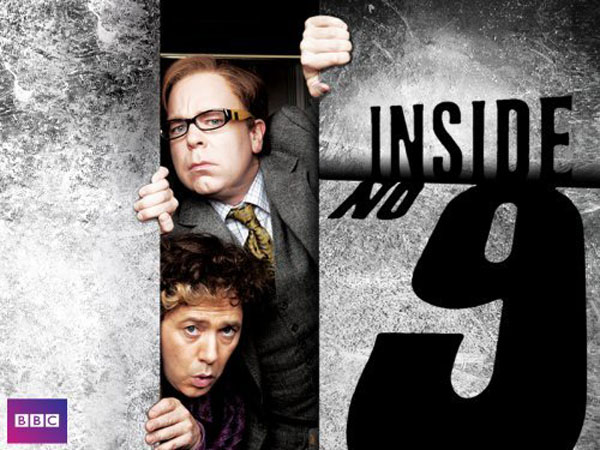 Series 3 of Inside No. 9 has started filming, and when it premieres later this year on BBC Two, viewers will be treated to a host of British acting talent alongside series creators Reece Shearsmith (Chasing Shadows, The Widower) and Steve Pemberton (Happy Valley, Whitechapel) in six new dark and twisted stories.
More than a dozen guest stars feature in the third series, including Mathew Baynton (You, Me and the Apocalypse), Philip Glenister (Prey), Sarah Hadland (Miranda), Keeley Hawes (Line Of Duty), Felicity Kendal (Rosemary and Thyme), Rula Lenska (Coronation Street), Montserrat Lombard (Ashes To Ashes), Tamzin Outhwaite (New Tricks), Javone Prince (The Verdict), Jessica Raine (Wolf Hall), Alexandra Roach (No Offence), Morgana Robinson (House Of Fools), Fiona Shaw (Harry Potter films), and Jason Watkins (W1A).
If you're not familiar with Inside No. 9, the anthology series consists of standalone episodes, each of which has its own set of characters, tone, and storyline. There is no thread between them, save for each story takes place at a particular No. 9 location. In Series 3, the new settings include a restaurant after closing time, an art gallery, and an alpine chalet in 1978.
And even the doors of some very ordinary-looking houses reveal some of the best and most intriguing stories, because once you're inside No. 9, anything can happen.
Such as in "A Quiet Night In" in Series 1, which made the list of my favorite new UK TV premieres in 2014. The episode stars Denis Lawson (New Tricks) and Oona Chaplin (Game of Thrones) as a husband and wife who are unaware that their home at No. 9 is being burgled. Two men (Shearsmith and Pemberton) clad in black are trying to steal a painting while escaping the homeowners' and their maid's notice. Nearly all of the action takes place sans dialogue, and the entire episode is a scream.
Another of my favorite episodes is "La Couchette" in Series 2, in which Shearsmith, Pemberton, Mark Benton (Land Girls), Jessica Gunning (Fortitude), Julie Hesmondhalgh (Coronation Street), and Jack Whitehall (Fresh Meat) play passengers who converge in the No. 9 sleeper carriage of a train en route to France. More akin to a dramedy mystery, the ending left me gobsmacked and guffawing at the genius of the writers.
Regarding the third series, Reece and Steve commented:
"We are most thrilled to have been handed the keys to another six No. 9s, and to have attracted such a glittering array of talent. We have reassured them that this time there are lots of happy endings and everybody makes it out alive. And like fools, they believed us."
Inside No. 9 is a BBC in-house comedy production written by Reece Shearsmith and Steve Pemberton, commissioned by Shane Allen, executive produced by Jon Plowman (Absolutely Fabulous, W1A), produced by Adam Tandy (The Thick Of It, Detectorists), and directed by Guillam Morales (Julia's Eyes).
Stay tuned for updates about the UK premiere date of Inside No. 9: Series 3 and if/when the new series will screen in the US.
__________________

Add your comments on our Facebook and Twitter pages.

Share this post/page.

Inside No. 9: Series 3 Features Philip Glenister, Keeley Hawes, Jessica Raine, and More Stars