One new show you should add to your to-watch list before the November premieres arrive on telly is the dark, riveting, critically-acclaimed Aussie crime drama The Principal.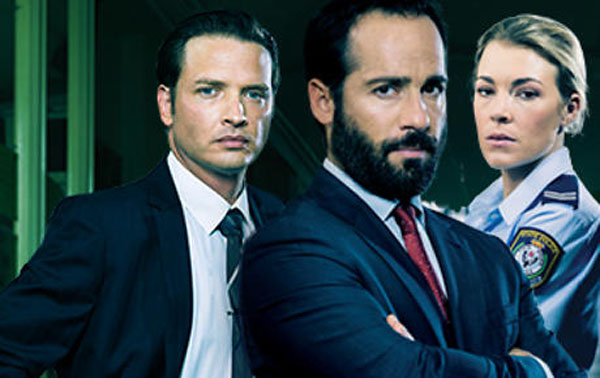 The Principal premiered in Australia on 7 October 2015, and it arrived in the US two days ago. (Binge) watch it to see why it's already a two-time award nominee.
Alex Dimitriades (The Slap, Underbelly) stars as Matt Bashir, a former history teacher and Deputy Principal of a girl's school, newly promoted to Principal of the notoriously violent Boxdale Boys High School in southwest Sydney — a school he attended in his youth. It was bad then, and it's worse now.
To say that Bashir has a rough start is an understatement. There's (another) bomb threat. A student's car gets torched. And the local butcher exacts a bit of bloody revenge at the school. The teachers aren't any better, since they're as frustrated, cynical, and disrespectful as many of the students, none more so than the full-of-p***-and vinegar Deputy Principal Ursula Bright (Di Adams, Rake, Devil's Playground). Even school police liaison officer Kellie Norton (Mirrah Foulkes, Secrets & Lies, Top of the Lake) sees the students as a bunch of s***bags. (Nice, right?)
But Matt sets himself a challenge anyway: to make a difference at the school within two weeks. The staffers are skeptical, but as he begins implementing radical changes at Boxdale, there are glimpses of the changes working. For the students, teachers, and the community.
Then the momentum abruptly grinds to a halt when a student discovers the body of bad boy Karim Ahmad (Tyler De Nawi), stabbed to death on school grounds as Bashir hits his two-week mark.
As the drama progresses, Detective Adam Bilic (Aden Young, Rectify, The Code) investigates Karim's murder with Kellie's help, the victim's brother Tarek (Rahel Romahn, Cleverman, Underbelly, who gives a tremendous performance) rages over his brother's death, and the nightmare-riddled Matt has both conflicts galore and a skeleton in his closet that, if exposed, could be detrimental to his career.
The Principal is gritty, deep, powerful. And as noir as any crime drama from the Nordic countries. It's well worth the roughly four hours to watch it from start to finish.
The four-part miniseries costars Andrea Demetriades (Janet King), Michael Denkha (East West 101), Deborah Kennedy (A Place to Call Home), and George Harrison Xanthis (Syd2030).
Written by Kristen Dunphy (Miss Fisher's Murder Mysteries) and Alice Addison (The Hunter), directed by Kriv Stenders (Boxing Day), and produced by Ian Collie (Rake, Jack Irish). The Principal is an Essential Media and Entertainment production for SBS Television, with support from Screen Australia, Screen NSW, SBS Television & DCD Rights.
The Principal is now streaming in the US exclusively at Netflix.
__________________
Add your comments on our Facebook, Google+, and Twitter pages.
Share this post/page.

The Principal: Must-Watch Australian Crime Drama Premieres in the US