The spring equinox is just three weeks away, but you wouldn't know it by the deep-freeze still holding much of the US in its grip right now. So, until the thaw, let's curl up under the covers for some hot, hot, hot Brit TV premieres and the return of old favorites this month.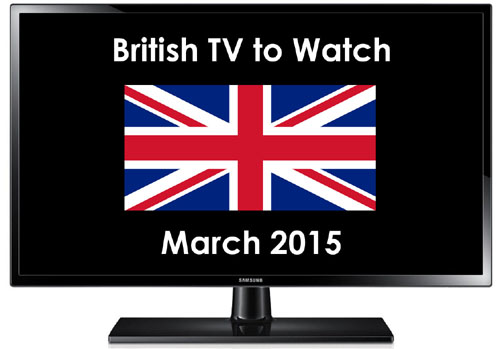 March kicked off in fine fashion with a fab finale for Downton Abbey: Season 5
 last night, so there's lots to look forward to in Season 6, such as Mr. Carson and Mrs. Hughes tying the knot. (Will they start calling each other by their given names of Charles and Elsie once they're wed?) Oh, and more of the dishy Henry Talbot (Matthew Goode, The Good Wife), please. But 2016 is a ways off, and the Brit TV goodies below are coming much sooner.
Broadchurch: Season 2
The question of "Who killed Danny Latimer?" was answered in the Broadchurch: Season 1
finale with Joe Miller being charged for murder. Now comes the trial. And the Sandbrook case, which puts DI Alec Hardy (Emmy® winner David Tennant) in a tailspin and Ellie Miller (BAFTA winner Olivia Colman) in the thick of it when the main suspect resurfaces… in Broadchurch. Both the trial and the unofficial reopening of the Sandbrook investigation are fraught with secrets and high emotions, and lives are turned inside out once again.
The second season of the BAFTA- and Peabody Award-winning drama, which has been commissioned for a third, features several guest stars, including Oscar® nominee Marianne Jean-Baptiste (Without a Trace), the legendary Charlotte Rampling (Swimming Pool), BAFTA winner Eve Myles (Torchwood), James D'Arcy (Agent Carter), Shaun Dooley (The Game), and Lucy Cohu (Ripper Street).
Broadchurch: Season 2 debuts Wednesday, 4 March 2015, at 10 PM ET, on BBC America.
Call the Midwife: Season 4
The fourth season of one of my favorite 2014 shows is as fabulous as the three that came before, and it's pretty much a given that it'll show up on this year's list of faves, too.
For the residents of Nonnatus House, 1960 brings new nurses Barbara Gilbert (Charlotte Ritchie, Fresh Meat) and Phyllis Crane (BAFTA nominee Linda Bassett, Lark Rise to Candleford) into the fold, and nurse/midwife Cynthia's (Bryony Hannah) return as Sister Mary Cynthia. Love is in the air for Trixie (Helen George), Patsy (Emerald Fennell), and Fred (Cliff Parisi), while Sister Evangelina (Pam Ferris) is exasperated by physical pains and Nurse Crane, and Chummy (Miranda Hart) takes on the temporary assignment of manager at the home for expectant mothers. And elsewhere in Poplar, new mums experience bundles of joy as well as heartache, expectant fathers have personal demons and desires to control, and Dr. Turner becomes one who needs tending to.
Call the Midwife: Season 4
premieres Sunday, 29 March 2015, at 8 PM ET, on PBS. Check your local listings. (And look for Season 5 in 2016.)
Jamaica Inn
In this most recent adaptation of Daphne Du Maurier's classic novel,
Jessica Brown Findlay (Downton Abbey) stars as Mary Yellan, whose move to Jamaica Inn after her mother's death reunites her with the only family she has left: Aunt Patience (Joanne Whalley, The Borgias). It also introduces her to petty criminal Jem Merlyn (Matthew McNulty, The Paradise), and Jem's brother and Patience's husband, the violent Joss Merlyn (Sean Harris, Southcliffe), head of a gang of wreckers.
Their corner of 19th-century Cornwall is a dark, dreary, and dangerous one, filled with foggy, boggy moors, muddy windswept grounds, and lawmen out to put an end to the planned shipwrecks, murders, and thieving. With nowhere else to go, the feisty Mary is forced to remain at the ramshackle, near-empty inn and participate in Joss' schemes. Worse yet, Mary is attracted to Jem, and not everyone she meets is whom they seem to be.
The period drama costars Ben Daniels (Law & Order: UK), Shirley Henderson (The Way We Live Now), Tristan Sturrock (Doc Martin), Christopher Fairbank (Wolf Hall), and Andrew Scarborough (Downton Abbey), amongst others.
Jamaica Inn's
three episodes premiere on successive Mondays beginning 16 March 2015, at Acorn TV.
Mr. Selfridge: Season 3
As intimated in the Season 2 finale,
 Harry Selfridge (Emmy winner Jeremy Piven) and his family are devastated by Rose's death, but life must go on. For daughter Rosalie (Kara Tointon, EastEnders), life without her beloved mother begins with marriage to wanna-be entrepreneur Serge (Leon Ockenden, Waterloo Road), the son of the trouble-making Princess Marie de Bolotoff (BAFTA nominee Zoë Wanamaker, My Family), a pair who prove that the apple does not fall far from the tree.
For Harry, it means honoring his late wife with a new venture, which causes problems with his staff, extended family, and finances. Lord Loxley's (Aidan McArdle) plan for revenge only makes things worse, but there's at least some comfort for Harry in the arms of Nancy Webb (Kelly Adams, Hustle). Others in the Selfridge sphere have challenges, too, including journalist Frank Edwards (Samuel West) and wife Kitty (Amy Beth Hayes), Henri Leclair (Grégory Fitoussi) and wife Agnes (Aisling Loftus), and club owner Victor Colleano (Trystan Gravelle), to name a few.
Mr. Selfridge: Season 3
premieres Sunday, 29 March 2015, at 9 PM ET, on PBS. Check your local listings.
The Royals
This Dynasty-meets-The–Palace drama, the first scripted series for E!, already has a second season in the works, and the first hasn't even debuted yet.
It follows the lives of the (fictional) British royal family, including the powerful, part Princess Diana/part Cruella de Vil matriarch, Queen Helena (Elizabeth Hurley, Gossip Girl), her softer-spoken, still-in-mourning husband, King Simon (Vincent Regan, Strike Back), and their children, the playboy Prince Liam (William Moseley, The Chronicles of Narnia) and his party girl twin sister, Princess Eleanor (Alexandra Park, Home and Away). Last but certainly not least, there's Helena's mother, the Grand Duchess of Oxford, played by none other than Joan Collins (Dynasty). (More about The Royals here.)
The Royals: Season 1 premieres on E! on Sunday, 15 March 2015, at 10 PM ET.
Taggart
"There's been a murder." Fans will recognize this one line of dialogue as the tagline of sorts for Taggart, the UK's longest-running crime drama. While Series 18-21
(starring Alex Norton, Blythe Duff, Colin McCredie, and John Michie) have been screening in the US for a while, the ability to stream the first seasons of Taggart,
 the ones starring Mark McManus as DCI Jim Taggart, has been a long time coming. Soon that time will be here.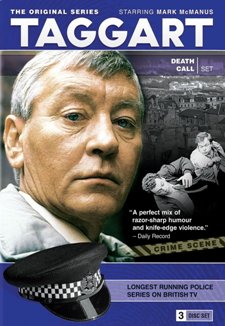 In two weeks, stateside viewers will be able to watch the eight episodes that gave rise to the phenomenon of Taggart, the much-loved, Glasgow-set show that continued with the Taggart title despite the death of the eponymous character (due to McManus' passing).
For armchair sleuths, the murder cases are compelling, and there are red herrings galore. But the real draw of Taggart is in the characters and their relationships, notably that of the tough, gruff, veteran detective, Taggart, and his interactions with everyone from his wheelchair-bound wife to his colleagues. (The brilliant McManus appeared in 31 episodes, and I hope Acorn TV makes all of them available.)
Over its 27 seasons, many a Scottish actor has appeared in Taggart, including Mark Bonnar (Line of Duty), Billy Boyd (The Lord of the Rings), Ewen Bremner (Worricker), Robert Carlyle (Once Upon a Time), Annette Crosbie (Little Dorrit), Alan Cumming (The Good Wife), Laura Fraser (Breaking Bad), Iain Glen (Jack Taylor), John Hannah (Rebus), Douglas Henshall (Shetland), Ashley Jensen (The Escape Artist), Gary Lewis (Outlander), Phyllis Logan (Downton Abbey), Dougray Scott (Hemlock Grove), and Ken Stott (Messiah). The notable exception: David Tennant (Doctor Who).
A few of them appear in the retrospective, There's Been a Murder (see spoiler-ish video below), produced for Taggart's 20th year on air. (The follow-up, There's Been Another Murder, celebrates the show's 25th anniversary.)
The first three series of Taggart begin streaming Monday, 16 March 2015, at Acorn TV.
By the way, the first two series of Rebus,
the terrific Edinburgh-set detective drama adapted from the "Inspector Rebus" novels
 by Ian Rankin, OBE, and starring John Hannah as the title character, also start streaming at Acorn TV today, 2 March 2015.
And remember to check your local listings for British TV programs that begin screening on public TV station this month, including encore presentations of David Suchet on the Orient Express and the broadcast debut of Midsomer Murders: Series 9.
__________________
Add your comments on our Facebook, Google+, and Twitter pages.
British TV to Watch in 2015: March