With the 2015 presidential proclamation designating March as Irish-American Heritage Month having been issued, and St. Patrick's Day being two weeks away, it's the perfect time to take a look at the TV shows set in Ireland that are currently screening in the US.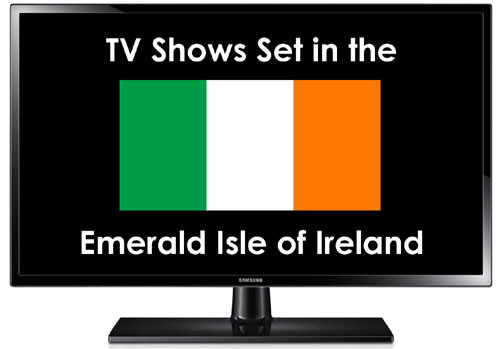 50 Ways to Kill Your Mother (Mammy)
Okay, this show isn't set in Ireland (save for a few scenes in Dublin here and there), and it isn't on Discovery Life's programming schedule at the moment, but hey, it stars my new favorite TV mum, Irish mammy Nancy Ashmawy.
As noted in this post, 50 Ways to Kill Your Mother (or Mammy, on the other side of the pond) is one of my new fave shows. The travel/reality series follows Irish broadcaster Baz Ashmawy and his septuagenarian mammy, Nancy, as he takes her around the world for an "extreme bucket list" of adventures. It's heartwarming and freaking hilarious. And a second series has been commissioned!
Full episodes of 50 Ways to Kill Your Mother aren't available for streaming right now, but you can watch clips of it on the Discovery Life website or Sky One's YouTube channel.
The Ambassador
Filmed on location in Dublin, this political drama stars Pauline Collins (Upstairs Downstairs, Shirley Valentine) as Harriet Smith, the new British Ambassador to Ireland. Averting political crises with Irish Minister Kevin Flaherty (Owen Roe, Ballykissangel), quelling the anxieties of 10 Downing Street, and handling with adroitness and diplomacy the deception, mistrust, and betrayal in her midst, are all in a day's work for her.
Harriet is s a tough cookie whose kind heart helps and hinders solving problems of state and issues at home with her two teen sons, but at least she has MI-6 agent John Stone (Denis Lawson, New Tricks) helping matters as her aide, commercial attaché, and friend.
The Ambassador is currently available for streaming at Amazon Instant Video
and Hulu. Select public TV stations also air the series, so check your local listings for details.
Amber
Before there was The Missing, there was Amber, a four-part miniseries centered on the two-year search for Amber Bailey, a 14-year-old girl who doesn't return home as planned.
Set in the Dublin suburbs, this taut thriller follows the mystery of Amber's disappearance across multiple time lines from the perspectives of four people: the teen's separated mum Sarah (Eva Birthistle, Waking the Dead) and dad Ben (David Murray, Silent Witness), Sarah's reporter friend, Maeve (Justine Mitchell, Rory O'Shea Was Here), and illegal immigrant Charlie (Dan Li, 24: Live Another Day).
Amber is currently available for streaming at Hulu, iTunes, and Viewster.
Ballykissangel
This IFTA award winner and BAFTA nominee has been on the air for nearly 20 years, and its engaging stories about the ups, downs, and sideways of the individuals who make their home in and around the (fictional) Irish village of Ballykissangel have made it a regular on many public TV stations' programming schedules.
The ensemble-cast dramedy initially starred Stephen Tompkinson (DCI Banks) as the English Catholic priest, Father Peter Clifford, and Dervla Kirwan (Injustice) as pub owner Assumpta Fitzgerald. And over its six seasons, plenty of Irish and British TV and film stars have been regular or recurring cast members, including Lorcan Cranitch (Cracker), Colin Farrell (In Bruges), Bosco Hogan (The Borgias), James Nesbitt (The Missing), Frankie McCafferty (Omagh), Victoria Smurfit (Trial & Retribution), Owen Teale (Game of Thrones), and Niall Toibin (The Clinic), amongst many others.
If your public TV station doesn't air Ballykissangel, stream it at Amazon Instant Video.
The Clinic
Set in an affluent area of Dublin, this multiple award-winning medical drama centers on the staff of Clarence Street Clinic, the medical center where relationships, obsessions, affairs, and addictions, as well as patients and medical issues, make up their daily lives.
The series features an ensemble cast and lots of guest stars that, over its seven seasons, include Liam Cunningham (Game of Thrones), Mark Dymond (Mrs Brown's Boys), David Herlihy (Single-Handed), Tina Kellegher (Ballykissangel), Dominic Mafham (Kingdom), Chris O'Dowd (The IT Crowd), Saoirse Ronan (The Grand Budapest Hotel), Norma Sheahan (Moone Boy), and Aidan Turner (Poldark).
The Clinic is addictive stuff, so if you want to get hooked, head to Acorn TV or Viewster.
Father Ted
This multiple BAFTA- and British Comedy Awards-winning series is one of the funniest shows ever. It revolves around the absurd goings-on in the lives of three Catholic priests who have been banished to (the fictional) Craggy Island for past, um, indiscretions.
Starring as the scheming Father Ted Crilly is Dermot Morgan, with Ardal O'Hanlon (My Hero) as the naive (or just plain stupid) Father Dougal McGuire, Frank Kelly (Emmerdale) as the foul-mouthed, alcoholic lecher, Father Jack Hackett, and Pauline McLynn (Shameless) as the tea-obsessed parish housekeeper, Mrs. Doyle.
Guest stars on Father Ted have included Dermot Crowley (Luther), Maria Doyle Kennedy (The Tudors), Dervla Kirwan (The Silence), Gerard McSorley (Omagh), and Jim Norton (The Boy in the Striped Pajamas), as well as celebrity chat show host, Graham Norton.
If you've never watched Father Ted, it's craic worth checking out. If you have, you already know that. Either way, it's currently streaming at Amazon Instant Video
and Hulu.
Jack Taylor
Say the name Iain Glen and… well, never mind that. (Ahem.) In this series of dark, gritty, made-for-TV movies adapted from the crime novels by Ken Bruen,
Glen (Game of Thrones, Downton Abbey) stars as the eponymous private eye, a tough-talking, hard-living ex-garda whose police career ended with a punch, but whose crime-fighting days live on in and around Galway. (More about Jack Taylor here and here.)
Jack Taylor is currently available for streaming at Acorn TV, Amazon Instant Video,
and Netflix. Select public TV stations are also airing the series, so check your local listings.
Love/Hate
This gritty, violent crime drama centers on Dublin's criminal underworld after the Celtic Tiger economic boom went bust. For the members of rival gangs, staying one step ahead of the Gardaí is a must, given their drug smuggling, murders, and other crimes. For their families and themselves, the drug use, double-crossings, and deaths take a toll. The consequences aren't pretty.
Over its five series to date (a sixth is in development), fandom has steadily grown, owing to intense storylines and great acting by Peter Coonan (Quirke), Mark Dunne (Prosperity), Aidan Gillen (Game of Thrones), Laurence Kinlan (The Game), Aoibhinn McGinnity (Trivia), Charlie Murphy (The Village), Killian Scott (Jack Taylor), Robert Sheehan (Misfits), and Tom Vaughan-Lawlor (Peaky Blinders), amongst others.
Love/Hate is currently available for streaming at Amazon Instant Video
and Hulu.
Moone Boy
"Where's me jumper?" The third and final series of British Comedy Awards winner Moone Boy premiered Monday on Sky 1, so hopefully it will make its US debut on Hulu soon, as Series 1 and Series 2 did. (It's a Hulu Original program.)
In the first of the last six episodes, parents Debra (Deirdre O'Kane) and Liam (Peter McDonald) are on a second honeymoon for their 20th wedding anniversary when they run into his ex-flame, Sharon Morgan (guest star Sharon Horgan, Pulling) at the same resort. Martin (David Rawle) and Padraic (Ian O'Reilly) are with Danny (Steve Wall, Vikings) in Dublin, where the pair save his job by hawking encyclopedias. And somehow, Martin's invisible friend, Sean (Chris O'Dowd), is left behind in Boyle with Moone sisters Tricia (Aoife Duffin) and Sinead (Sarah White), and Debra's friend Linda (Norma Sheahan).
Upcoming episodes feature more guest stars. Sir Terry Wogan (BBC Radio 2) plays the host of a home video show that Martin and Padraic want to appear on. John Sessions (Mr. Holmes) plays Dr Steven Gnot, a local conspiracy theorist and radio presenter whose investigations prompt Martin and Padraic to go hunting for UFOs. And Bronagh Gallagher (Pramface) plays Padraic's mother, Pat O'Dwyer.
Also returning to the series are Clare Monnelly as Fidelma Moone, Ronan Raftery as her husband, Dessie, Johnny Vegas (Benidorm) as Padraic's imaginary friend, Crunchie Haystacks, and Simon Delaney (The Fall) as Liam's fathers-in-bonding friend, Gerry.
The hilarious Moone Boy is currently streaming at Amazon Instant Video,
Google Play, Hulu, and Vudu.
Select public TV stations also air the series.
Single-Handed
This IFTA-nominated Irish noir mystery series has been gripping stateside viewers well before Nordic noir became all the rage. The title refers the lead character, Garda Sergeant Jack Driscoll (Owen McDonnell), who has his police work cut out for him in his hometown on the west coast of Ireland. And family secrets that come to light must also be dealt with.
Costarring in Single-Handed in regular or recurring roles are David Herlihy (The Clinic), Ruth McCabe (Silent Witness), Brian Gleeson (Quirke), Sean McGinley (Republic of Doyle), Simone Lahbib (Wire in the Blood), and Matthew McNulty (Jamaica Inn).
Single-Handed is currently streaming at Acorn TV, Amazon Instant Video
and Hulu.
Trivia
When it comes to pub trivia, some people are more competitive than others. One whose every waking moment is (mostly) about having the right answers is the socially-clueless video store clerk, Lawrence (David Pearse, Vikings).
But Trivia is about more than "Which team won the 1962 World Cup?" It revolves around the relationships of Lawrence's pub trivia teammates in County Managhan, and later his life with girlfriend Molly (Janet Moran, Love/Hate). (More about Trivia here.)
Trivia is currently available for streaming at Acorn TV and Hulu.
Although the following Irish TV programs aren't available in the States right now, fingers crossed that the excellent dramas Prosperity and Raw return to Eurochannel and Tubi TV, respectively, and the hilarious, award-winning sitcom, Mrs. Brown's Boys, and the Irish noir crime drama, Quirke, starring Gabriel Byrne, screen here for the first time.
__________________
Add your comments on our Facebook, Google+, and Twitter pages.
TV Shows Set in the Emerald Isle of Ireland