It's not what you're thinking, despite the words "kill," "mother," and "reality series" being in the title. What 50 Ways to Kill Your Mother is, is my new #1 favorite TV show.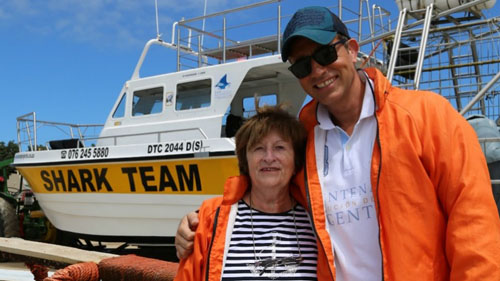 Reality shows aren't my thing, but I love 50 Ways to Kill Your Mother, known as 50 Ways to Kill Your Mammy in the UK and Ireland. This reality-cum-travel-and-adventure series fires up my wanderlust and makes me laugh, cringe, tear up, and cheer for the star, the 71 year-old Dubliner pensioner, Nancy Ashmawy — one of the cutest mums ever on TV.
Nancy's only son, Baz, the part Irish/part Egyptian RTÉ broadcast personality, isn't really trying to kill his mammy. Instead, he wants to give her the thrills of a lifetime, so he devises an "extreme bucket list" of adventures for her. (For them both, actually.)
And Nancy is game for it. And why not, with such a great perspective on life: It's okay to be scared of something, but face your fear and do it anyway. In 50 Ways to Kill Your Mother, which Baz hosts, she does exactly that.
So off they go. Sky diving and bounty hunting in Los Angeles and Las Vegas. Driving across Moroccan desert sands in the Intercontinental Rally (Go Team Mammy!). Crocodile hunting in the Florida Everglades. White water rafting in Thailand. Riding an ostrich in South Africa. And whizzing through the Cambodian jungle on a zipline.
Baz and Nancy have plenty of other adventures, too, and she is an absolute trooper through most of them (in spite of certain mishaps). You just have to love her and shout, "Yay, Nancy!" when she lets a snake charmer put a cobra on top of her head, or when the speed-averse mum takes control of the jet ski and drives it fast. (Woo hoo!)
The clincher that makes 50 Ways to Kill Your Mother a must-watch is the relationship between Nancy and Baz. The two are close and love each other deeply, no doubt about it. They hug, give each other smooches, chat openly, and share lots of laughs.
And their unscripted exchanges and asides on camera are real, from her fear about heights and dislike of tattoos, to his feelings of regret about upsetting his mum, and his sense of relief and pride when she is safe and has done something he never imagined she'd do.
Mother and son also learn a lot about each other — and grow — during their escapades abroad. What chokes me up just remembering it is Baz's sharing that his love for his mum had grown into falling in love with her. (Aww.) It's precious, really.
And it (the show) is hilarious.
Aside from the mother-son relationship and their adventures, the travel aspect of 50 Ways to Kill Your Mother means it boasts some spectacular scenery, including one of a massive rainbow that you have to see to believe.
Lastly, what has me in stitches with this show (aside from Baz and Nancy) is the music. Kudos to the person at Burning Bright Productions who selected the tunes (and to the person who approved the budget to obtain the rights), because the clips used as rugs for various segments are killers.
In the first episode alone, there are the themes from The Odd Couple, The Sopranos, The Godfather, Mission Impossible, Knight Rider, Hill Street Blues, I Dream of Jeannie, and The X-Files, plus Edith Piaf's "Je Ne Regrette Rien" ("I Regret Nothing"), Michael Buble's "You Make Me Feel So Young," The Temptations' "Papa Was a Rolling Stone," and a rendition of Richard Wagner's "The Ride of the Valkyries" from the opera Die Walküre. (Baz's "Twerking ain't got nothin' on this!" comment being accompanied by an audio clip from Robin Thicke's "Blurred Lines" in the Morocco episode is a scream.)
The six hour-long episodes that comprise 50 Ways to Kill Your Mother are fun, funny, exciting, heartwarming, insightful, empowering, and a great bit of craic, and it would be fantastic if there were a second series.
50 Ways to Kill Your Mother premieres in the US this Thursday, 15 January 2015, at 10 PM ET, on the Discovery Life channel.
For viewers who don't have cable (as well as for those who do), you can get in on the goods with Sky 1's extensive video playlist for 50 Ways to Kill Your Mammy below.
__________________
Add your comments on our Facebook, Google+, and Twitter pages.
50 Ways to Kill Your Mother: New Favorite Show from the UK