What a difference a year makes. Ten months, actually. After renewing Ripper Street for both Series 4 and 5 last spring, Amazon Prime is now killing off the hit period crime drama.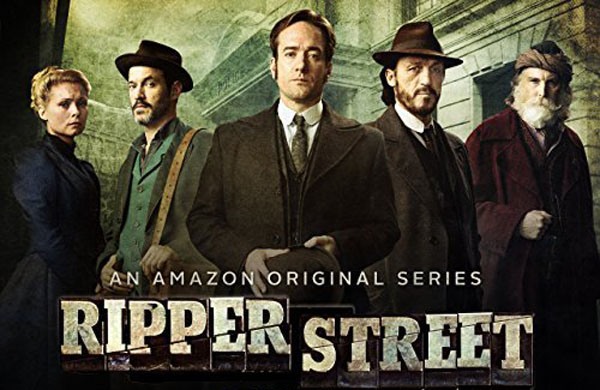 All things considered, Ripper Street fans can't complain, really. When all is said and done, we will have had five series, three more than we would have, had Amazon Prime Video UK not stepped in following the BBC's axing of the show after Series 2 two years ago.
Co-produced by Tiger Aspect and Lookout Point, the third series of Ripper Street found H Division's Detective Inspector Edmund Reid (Matthew Macfadyen), the now-promoted Detective Inspector Bennet Drake (Jerome Flynn), and former Pinkerton Captain Homer Jackson (Adam Rothenberg), as well as Long Susan (MyAnna Buring) and Rose Erskine (Charlene McKenna), reuniting following a devastating train collision in Whitechapel. It was Amazon's most-streamed show in the UK.
Series 4, which debuted on Amazon Prime UK in January 2016, is set in 1897 and brings new cast members into the fold, including David Threlfall (Midwinter of the Spirit, Code of a Killer), Jonas Armstrong (Dark Angel, Prisoners Wives), Matthew Lewis (Harry Potter films, Happy Valley), and Killian Scott (Love/Hate, Jack Taylor).
Series 5, featuring the return of Joseph Mawle (The Last Panthers, The Tunnel, Game of Thrones) as the frighteningly fiendish Detective Inspector Jedediah Shine, is currently filming in Dublin, Ireland, and will bow on Amazon Prime UK later this year.
Stateside fans of Ripper Street can stream/download Seasons 1-3 on Amazon Video, Google Play, iTunes, Netflix, and Vudu. Stay tuned for details about if/when Series 4 and 5 will screen in the US.
__________________

Add your comments on our Facebook and Twitter pages.

Share this post/page.

Ripper Street: Series 5 of Hit Period Crime Drama to Be the Last