When a miniseries is this good, calling it a television event is spot on. Such is the case with the star-studded And Then There Were None., which premieres in the US tonight.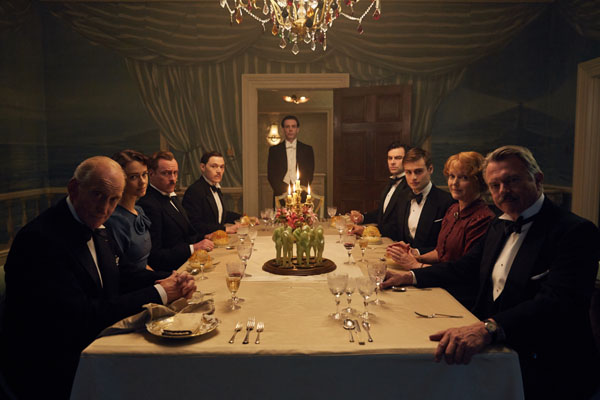 First aired on 26-28 December 2015 on BBC One, And Then There Were None blew me and more than 8 million other viewers away. No surprise, then, that it ranked as one of my ten favorite UK TV premieres last year and was a darling amongst British critics.
This first-ever TV adaptation of Agatha Christie's masterwork is sublime — from the striking production design by BAFTA nominee Sophie Becher (Fleming), to the fine acting of the ensemble cast, to the incredible whodunit/who's-doing-it story of the bestselling mystery/crime novel of all time (100 million copies sold, and counting).
Filmed in Cornwall and London and set in 1939, And Then There Were None centers on ten strangers, each with a dubious past, who end up together at the lone house on Soldier Island, an isolated rock near the Devon coast, after being lured there by the mysterious Mr and Mrs U.N. Owen.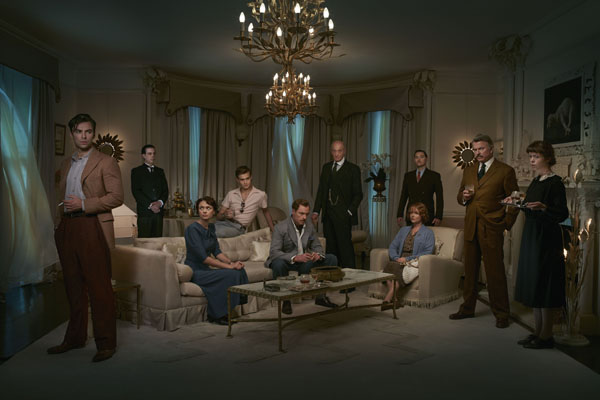 They include: Dr Edward Armstrong (Toby Stephens, Black Sails), a Harley Street doctor who specializes in women's ailments; Justice Lawrence Wargrave (Emmy® Award nominee Charles Dance, Game of Thrones), a once-formidable judge, now a frail man with a faltering memory; Vera Claythorne (Maeve Dermody, SS-GB), a former teacher/games mistress; Philip Lombard (National Television Awards winner Aidan Turner, Poldark), a soldier of fortune while in Africa and still a mercenary on Soldier Island; Anthony Marston (Douglas Booth, Great Expectations), a reckless and self-absorbed playboy; General John MacArthur (Emmy and Golden Globe® Award nominee Sam Neill, Peaky Blinders), an upstanding and decorated war hero; Miss Emily Brent (Academy Award® nominee Miranda Richardson, Mapp & Lucia), a prudish, God-fearing spinster; William Blore (Burn Gorman, Torchwood), a boorish detective; and Thomas and Ethel Rogers (Screen Actors Guild Award® nominee Noah Taylor, Peaky Blinders, and BAFTA winner Anna Maxwell-Martin, Midwinter of the Spirit), the Owens' new husband-and-wife team of butler and cook.
Funny thing about their hosts; Mr and Mrs U.N. Owen never show up. Instead, the eight guests and two servants are given a surprise during dinner: an ominous message.
Ethel's lobster soufflé might be to die for, but not their sins of the past, right? Wrong. At least according to the recording, accusing each of the ten individuals of a terrible crime from which he or she had escaped punishment.
A sick joke? Perhaps. But no laughing matter.
All are aghast at and deny the accusations leveled against them, each quick to share their story, their reason for why the tragedy in his or her past happened as it did. All except one, who tells it like it is. If he's the only person telling the truth, what lies are the others hiding?
Then the ten become nine, then eight, by morning — killed in ways that mimic the first two fates in the "Ten Little Soldier Boys" nursery rhyme, a copy of which hangs in each guest's room. And in case anyone loses count, look no further than to the dining room table centerpiece.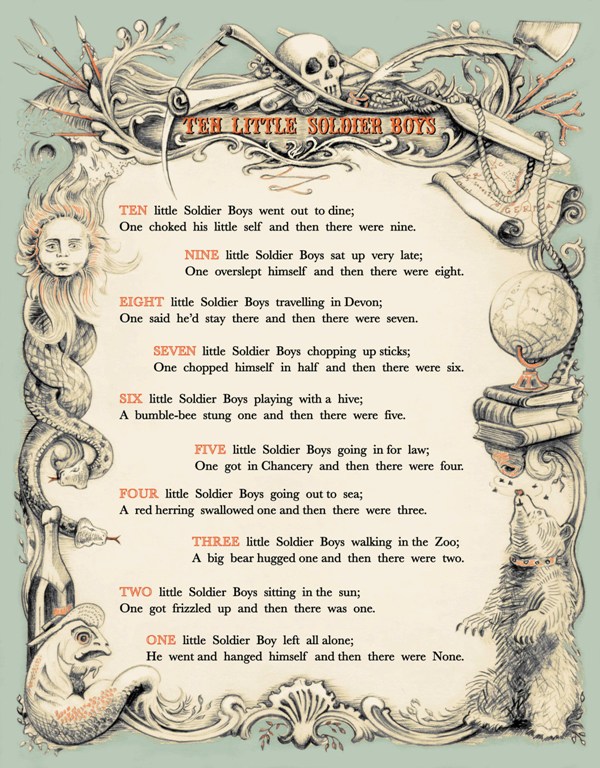 Now the freak-out really begins.
They're being hunted "like rats in a barrel."
Cut off from the mainland with no way of escaping Soldier Island and no way to call for help, the remaining eight begin to show their true colors as their calm exteriors give way to frightened hysteria.
Now the hunt is on for the mysteriously absent Mr Owen, while flashbacks reveal the truths of their matters.
Then eight become seven.
Those who remain begin to accuse each other… And the seven become six.
Tempers flare under the weight of the horror in their midst… And the six become five.
Paranoia has them in its grips… And the five become four.
A night of booze and drugs, and the realization that the killer is one of them… And the four become three.
Until another body is found… And the three become two.
The terror is palpable… Until there are none.
And Then There Were None is a delicious treat that keeps you on the edge of your seat until the final, OMG moment. Unless you've read the novel, the ending will shock you. Even if you know it already, let yourself be transported to Soldier Island to witness the descent into near-madness of some of the characters. It's unnerving. And thrilling.
(And for those viewers who couldn't get enough of the bare-chested Aiden Turner in Poldark, just wait til you get an eyeful of him in a near-naked state of undress. Yowzah. Not that this viewer is objectifying him or anything.)
A co-production of Mammoth Screen (Endeavour) and Agatha Christie Productions (Agatha Christie's Partners in Crime) for BBC One and Lifetime, And Then There Were None is written and executive produced by Sarah Phelps (The Crimson Field), directed by the award-winning Craig Viveiros (Ghosted), and produced by Emmy nominee Abi Bach (The Honorable Woman). The executive producers are Mathew Prichard and Hilary Strong for Agatha Christie Productions Ltd, Karen Thrussell and Damien Timmer for Mammoth Screen, and Matthew Read for the BBC.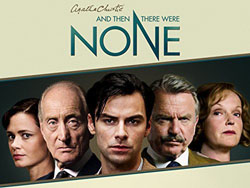 And Then There Were None premieres tonight at 8 PM ET, and concludes tomorrow at 9 PM, on Lifetime.
No cable? No worries. And Then There Were None will be available for digital download the day after broadcast (Part 1 starting Monday, 14 March, and Part 2 starting Tuesday, 15 March) on Amazon Video, Google Play, iTunes, Sony Entertainment Network, Vudu,
and Xbox Video.
Acorn releases the DVD of And Then There Were None on 19 April 2016.
__________________

Add your comments on our Facebook and Twitter pages.

Share this post/page.

And Then There Were None: Brilliant TV Event Premieres Tonight on Lifetime