A whole lotta TVing is going on at the BBC and ITV, as both have announced new program commissions. Plus there's news about a returning show and another whose cast is set.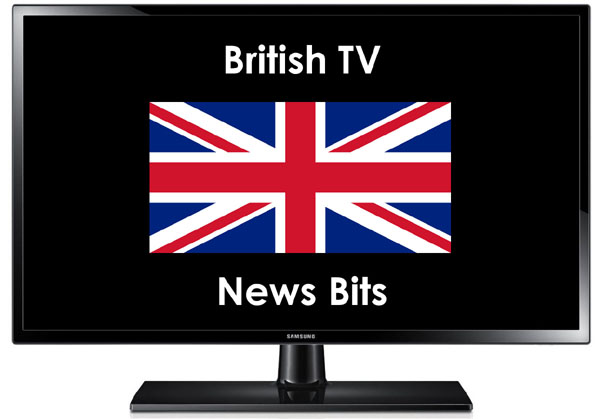 BBC
Billionaire Boy
The television adaption of Billionaire Boy, the children's novel by actor David Walliams (Agatha Christie's Partners in Crime), features an impressive cast.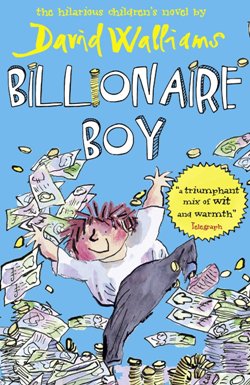 The story revolves around millionaire Len and his 12-year-old son Joe, who appears to have everything he could want, although what he really needs is a friend.
John Thomson (Cold Feet) stars as Len, a man who makes millions from inventing Bumfresh, a new toilet roll. Catherine Tate (Doctor Who) costars as Sapphire Diamond, a 40-something hand model who still likes to pretend she's 21 and is dating Len for his money. Playing Joe's shy and very nervous head teacher is James Fleet (Vicar Of Dibley), while Rebecca Front (Inspector Lewis) plays Joe's firm but fair opera-loving teacher.
In the role of the family's celebrity butler is Warwick Davis (Life's Too Short), who plays himself. Newcomer Elliot Sprakes plays Joe, the eponymous billionaire boy. And David Walliams (Little Britain) plays Mrs. Trafe, a dinner lady at Joe's school described as "dirty and old" and "dreadful at cooking."
Billionaire Boy premieres New Year's Day, from 7-8PM, on BBC One.
Hard Sun
This new pre-apocalyptic crime drama comes from Luther creator Neil Cross. Set in contemporary London, the six-part Hard Sun follows partners and enemies Detectives Elaine Renko and Robert Hicks, who try to enforce the law and protect their loved ones in a world that slips closer to certain destruction with each passing day.
Said Cross about Hard Sun:
"Imagine the world you see when you look out your window… except it's been given a death sentence. This isn't science fiction. This is the real world. There's no hero to come save us; no contingency plan. We've got five years.

"This is the world of Hard Sun… and the world of Elaine Renko and Robert Hicks.

"What's it like, trying to keep order, trying to enforce the law in a city that, day by day, slips closer to certain destruction? How do you get up in the morning? How do you get out of bed and leave your family and go out there, putting your own life at risk? And what about the predators? What about the murderers, the rapists, the thieves? What about the psychopaths, the religious nuts, the cult leaders, the serial killers? Who among them would fear a prison sentence, in a world like this? Who among them would fear legal consequences? What does a life sentence even mean, any more? What's the point of justice in the face of Armageddon?

"I've had Renko and Hicks and their world rattling round my head for a while now. I'm incredibly happy that, like me, they've found their home at the BBC. I can't wait for you to meet them."
Commissioned by Charlotte Moore, Controller of BBC One, and Polly Hill, Controller of BBC Drama Commissioning, Hard Sun is produced by Euston Films for BBC One. The executive producers are Kate Harwood for Euston Films and Elizabeth Kilgarriff for BBC One. It will film in and around London in 2016, with an expected premiere date in 2017.
Uncle: Series 3
Hit Brit comedy Uncle is returning to BBC Three for a third series of seven episodes.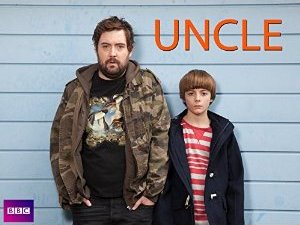 Starring Nick Helm and Elliot Speller-Gillot, Uncle follows out-of-work musician Andy, who forges an unlikely alliance with his teenage nephew Errol, and their often misguided comedy adventures. The last series saw Andy attempting to write the next song-contest hit with the help of guest star Jordan Stephens from Rizzle Kicks, and Keith Allen guest starring as Uncle Andy's uncle.
Commissioned by Damian Kavanagh, Controller, BBC Three, and Shane Allen, Controller, Comedy Commissioning, BBC, Uncle is written by Oliver Refson and Lilah Vandenburgh, directed by Refson, produced by Alison MacPhail, and executive produced by Henry Normal and Lindsay Hughes for Baby Cow Productions.
ITV
Brief Encounters
Inspired by chapters about the early days of the Ann Summers party plan business in Jacqueline Gold's memoir, Good Vibrations, Brief Encounters revolves around four women whose struggle to find happiness and fulfillment in their lives results in their becoming unlikely entrepreneurs in the early '80s. Their business: selling exotic lingerie, to the dismay (and often delight) of their loved ones.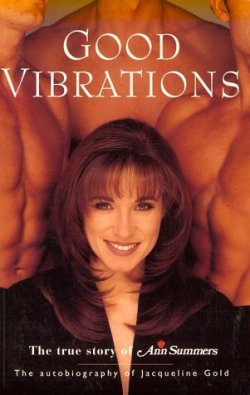 Steph, a wife and a mum, is all but invisible until Ann Summers comes into her life. It ignites the ambition she didn't know she had and grows her confidence as she strives to make something extra of her life. Her chance meeting with Nita in the school playground kick starts a sequence of events that will change both of their lives.
Nita, a mother of four, is a mix of grit and warmth. She's struggling to run a household with a husband whom she adores but who frequently strays to the wrong side of the law, despite his devotion to his family.
The 50-something Pauline dives into the deep end and agrees to host a party for Steph to stave off her loneliness. Her sunny disposition hides a secret sadness, though: While Pauline and her husband, Alan, love each other deeply, their relationship has suffered from his concentrating on building his business. It's through Ann Summers that Pauline steps out from the shadows.
And young Dawn has a lust for life. While bubbly and outgoing, she's been trapped since her mother died, looking after her father and three brothers who all take her for granted. The bug of earning serious cash with the other women gives her the incentive to finally realize her dreams with her fiancé, Russell.
Produced by BAFTA award-winning indie CPL Productions (A League of Their Own), Brief Encounters is created and written by Fay Rusling and Oriane Messina (Green Wing, Me & Mrs Jones), and executive produced by CPL's Arabella McGuigan and Danielle Lux alongside the writer-creators. The new series was commissioned for ITV by Director of Drama Steve November and Head of Drama Series Jane Hudson.
Casting for Brief Encounters is currently underway. The series will begin filming in February 2016, with an expected premiere date also in 2016.
The Good Karma Hospital
Set in the tropical paradise of Goa, India, The Good Karma Hospital follows a team of British and Indian medics as they cope with work, life, and love at the over-worked and under-resourced cottage hospital run by an eccentric Englishwoman.
With a stunning location, exotic medical cases, and unforgettable characters, this feel-good, six-part series mixes the heartbreaking with the humorous, as the doctors, nurses, and patients — be they locals, expats, or tourists — discover that the hospital is more than just a rundown medical outpost. It's a home.
A Tiger Aspect production, The Good Karma Hospital will be executive produced by Will Gould, Frith Tiplady, and Iona Vrolyk for Tiger Aspect Drama (Peaky Blinders, Ripper Street). Stephen Smallwood (Beowulf, DCI Banks) will produce the drama created and written by Dan Sefton (Mr. Selfridge, Death in Paradise).
Commissioned for ITV by Director of Drama Steve November and Controller of Drama Victoria Fea, The Good Karma Hospital will begin filming in 2016, and its cast will be announced in due course.
The Halcyon
Set in 1940, The Halcyon is an eight-part drama that tells the story of a bustling and glamorous five-star hotel at the center of London society and a world at war. It shows London life through the prism of war and the impact it has on families, politics, relationships, and work across every social strata, all set to a soundtrack of music from the era.
Produced by the award-winning independent production company, Left Bank Pictures (Wallander, DCI Banks), The Halcyon reveals how war permeates everyone's lives, from the hotel's glamorous guests, to its loyal, hard-working staff watched from within by American journalist Joe O'Hara.
Commissioned by ITV's Director of Drama Steve November and Controller of Drama Victoria Fea, The Halcyon is created and written by Charlotte Jones (Without You), executive produced by Sharon Hughff (Strike Back), and produced by Chris Croucher (Downton Abbey).
The Halcyon will begin filming in London and surrounding areas starting April 2016.
HIM
A three-part "domestic horror" and rite-of-passage drama, HIM focuses on a 17-year-old boy, known only as HIM in the miniseries, who is caught in the limbo between childhood and adulthood, and trapped between the two homes of his divorced parents, each remarried with new families. He is the cuckoo in both their nests, a reminder of the failure of their past and a threat to their new-found domestic bliss. Like any teenager, he is riding a roller coaster of confusing emotions, and tends to act out from finding it difficult to process his feelings.
But his behavior is also triggered by his struggle to contain the terrifying secret of a supernatural power he inherited from his grandfather, one that only his grandmother understands. She urges him to use his gift only for good, as she knows things could end in tragedy if he doesn't. When his 17-year-old stepsister, Faith, moves into the family home, HIM finds himself drawn to her and vice versa. They both know their mutual attraction could rupture the family, and the turmoil this causes in HIM escalates out of control, leading to both his supernatural power and those closest to him being in his line of fire.
Produced by Mainstreet Pictures (Unforgotten) and written by multi award-winning screenwriter Paula Milne (The Politician's Wife, Small Island), HIM will be executive produced by Laura Mackie and Sally Haynes, produced by Chrissy Skinns (The Last Kingdom, Mr. Selfridge), and directed by Andy De Emmony (God On Trial, The Bletchley Circle).
Commissioned by ITV's Director of Drama Steve November and Controller of Drama Victoria Fea, filming on HIM will begin in suburban London in January 2016.
__________________
Add your comments on our Facebook, Google+, and Twitter pages.
Share this post/page.

New BBC and ITV Series Commissions, Recommissions, and Casting News