The new year will be here before we know it, and with 2016 comes the US premiere of War & Peace, the limited series event that will air on cable channels A&E, History, and Lifetime.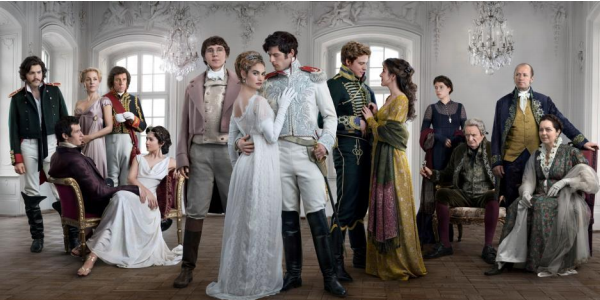 If the entire series is as good as the first two hours, then this… THIS is a must-watch in 2016.
War & Peace is a sumptuous adaptation of Leo Tolstoy's epic novel, widely considered one of the greatest novels of all time.
Set against the backdrop of the Napoleonic Wars, War & Peace follows the passion and romance, scandal and deceit, and rise and fall of fortunes of five aristocratic families — the Bezukhovs, Bolkonskys, Drubetskoys, Kuragins, and Rostovs — during the waning days of imperial Russia. The story centers on three members of those families: Pierre Bezukhov, Andrei Bolkonsky, and Natasha Rostova.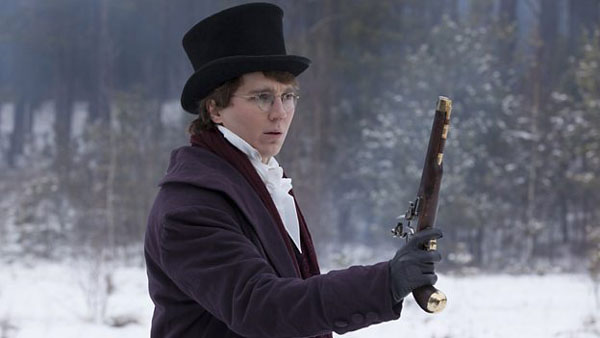 SAG Award® and Film Independent Spirit Award winner Paul Dano (12 Years A Slave, There Will Be Blood) stars as Pierre Bezukhov, the illegitimate son of a wealthy Count whose newly-inherited fortune and title immediately change his status from shunned outcast to welcomed member of polite society. His wealth also puts him at the mercy of fortune hunters eager to take advantage of his naiveté.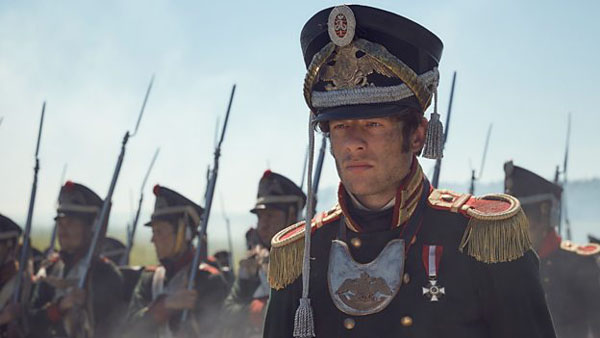 James Norton (Grantchester, Happy Valley) portrays Prince Andrei Bolkonsky, a dashing and heroic young nobleman who enlists in the army after Russia joins Austria in its war against the invading Napoleon, in order to find purpose and glory in his life, as well as to escape from the shallow St. Petersburg society and his stifling marriage. But disillusionment and heartbreak find him instead.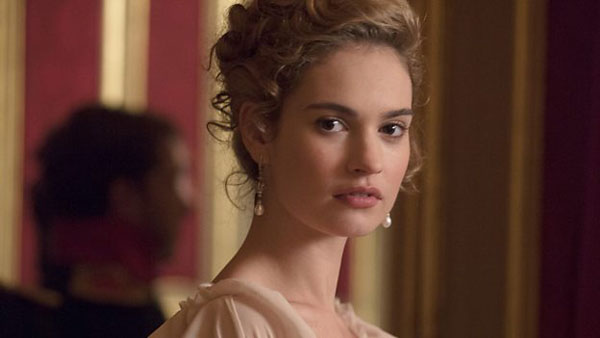 Lily James (Downton Abbey, Cinderella) plays Natasha Rostova, the only daughter of Count and Countess Rostov. A spirited teenager, she ultimately needs to wed a well-to-do man in order to save her family from financial ruin, so her desires to experience true love and romance may or may not be realized. Then again, she could be the cure for what ails Andrei.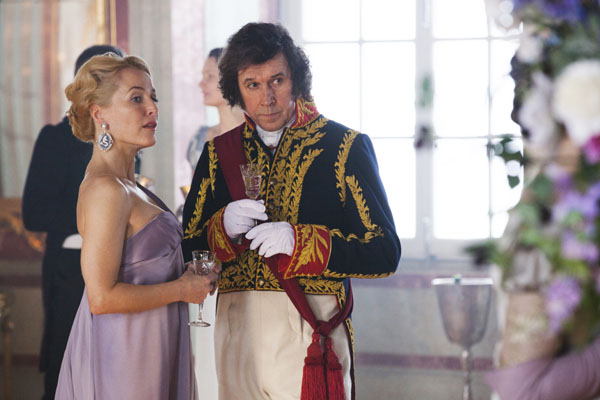 The star-studded, award-winning cast features Oscar®, Golden Globe, and BAFTA winner Jim Broadbent (Iris, London Spy) as Prince Nikolai Bolkonsky, Andrei's father; Golden Globe® winner Gillian Anderson (The Fall, Hannibal) as society hostess Anna Pavlovna; BAFTA winner Stephen Rea (An Honourable Woman, The Crying Game) as the influential Prince Vassily Kuragin; Emmy® winner Brian Cox (Nuremberg, The Game) as General Kutuzov; Cannes Film Festival winner Matthieu Kassovitz (Cauchemar blanc, Amélie) as Napoleon Bonaparte; Emmy winner Greta Scacchi (Rasputin, Miss Austen Regrets) as Countess Natalya Rostova, Nikolai's mother; and BAFTA winner Rebecca Front (The Thick of It, Inspector Lewis) as Anna Mikhailovna, the opportunist mother of Boris Drubetskoy.
Additional cast members include Jessie Buckley (Endeavour) as Marya Bolkonskaya, Andrei's sister; Jack Lowden (The Tunnel) as Nikolai Rostov, the eldest son of the Rostov family; Aisling Loftus (Mr. Selfridge) as Sonya Rostova, Nikolai's impoverished cousin; Adrian Edmondson (Jonathan Creek) as Count Ilya Rostov, Nikolai's father; Tuppence Middleton (Sense8) as Helene Kuragina, Prince Vassily's scheming daughter; Callum Turner (Victor Frankenstein) as Anatole Kuragin, Helene's playboy brother; Tom Burke (The Musketeers) as troublemaker Fedya Dolokhov; Aneurin Barnard (Cilla) as Boris Drubetskoy, a possible suitor for Natasha; and Olivia Ross (A Midsummer Night's Dream) as Mademoiselle Bourienne, a companion to Marya.
Filmed on location in Russia, Lithuania, and Latvia, War & Peace is written by Emmy and BAFTA winner Andrew Davies (House of Cards, Bleak House) and directed by BAFTA nominee Tom Harper (Peaky Blinders, Misfits).
War and Peace is a production of BBC Cymru Wales Drama, in partnership with The Weinstein Company, BBC Worldwide/Lookout Point, and Lifetime. The Executive Producers are BBC Wales Head of Drama Faith Penhale (A Poet In New York) and Bethan Jones (Sherlock) for BBC Cymru Wales, Andrew Davies, with Harvey Weinstein (Silver Linings Playbook) and Robert Walak (Woman In Gold) for The Weinstein Company, and Simon Vaughan (Parade's End) for Lookout Point. The Producer is Julia Stannard (The Great Train Robbery).
The US premiere of War and Peace will be simulcast on Lifetime, A&E, and History starting 18 January 2016. Each episode of the four-week limited series event will air on Mondays from 9-11 PM ET/PT.
__________________
Add your comments on our Facebook, Google+, and Twitter pages.
Share this post/page.

War & Peace: US Premiere Date Set for Limited Series Event on Lifetime, A&E, History Channels