DCI Banks, one of Brit TV's most popular contemporary detective dramas, is coming back to ITV for another series of three stories. Woo hoo!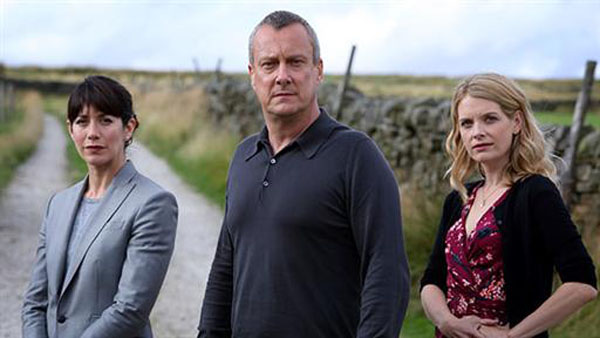 Ever since DCI Banks arrived on ITV in 2010 and stateside public TV stations in 2013, it has been racking up fans on both sides of the pond. And now we can look forward to more of its hard-hitting, British noir crime stories.
ITV confirmed today that Stephen Tompkinson, Andrea Lowe, and Caroline Catz are reprising their respective roles as DCI Alan Banks, DS Annie Cabbot, and DI Helen Morton for three new gritty, two-part stories inspired by the "DCI Banks" series of novels by Peter Robinson.
Said Tompkinson about the recommission:
"I couldn't be more thrilled that DCI Banks is returning. Series five is taking us to its most dramatic place so far and I can't wait to be reunited with the cast and crew to make our most memorable series to date."
The new series includes three self-contained stories and "an explosive serial crime story" that arcs across them, one that finds DCI Banks questioning all that he holds dear as he pits his detective skills against criminals who will stop at nothing to escape the law.
When Banks confronts a powerful adversary who has been dubbed by his superiors as too big to bring down, Banks' dogged pursuit of justice sets in motion a chain of events that rips at the very fabric of his life, both professional and personal. Banks needs his team around him, but Helen's rule-following approach threatens to undermine him, and her desire for promotion could cause a divisive rift. Spurred on by Helen's ambition, Annie pursues her own results-driven, gut instinct style of policing, and Ken (Jack Deam) faces a dilemma when he is entrusted with a secret about Annie's marriage.
The first story finds Banks drawn into the dark world of cyber shaming and self-harm when a school teacher and pupil are found dead. In the second, Annie discovers a disturbing secret as the team investigates a kidnapping within Leeds' Chinese community. And in the final two episodes, Cabbot, Morton, et al question how far Banks will go in pursuit of justice, when he enters a dangerous cat-and-mouse game to pin down a man who is seemingly outside the reach of the law.
Writing these DCI Banks stories are Chris Murray (Inspector Lewis, New Tricks, Midsomer Murders), Nicholas Hicks-Beach (Inspector Lewis, DCI Banks, Law & Order: UK) and Paul Logue (DCI Banks, Midsomer Murders, Death in Paradise). Peter Robinson continues his involvement in the creative process to ensure the stories are true to his characters and the spirit of DCI Banks.
Anne-Louise Russell (Casualty) is producing the new series. Radford Neville, who produced DCI Banks: Series 4, returns as co-executive producer alongside Left Bank Pictures Chief Executive Andy Harries. Craig Pickles also returns to direct the first story.
Produced by award-winning indie production company Left Bank Pictures (Outlander, Wallander, Zen), the new series of DCI Banks begins filming in Yorkshire in early 2016. Stay tuned for updates.
__________________
Add your comments on our Facebook, Google+, and Twitter pages.
Share this post/page.

DCI Banks: Hit Mystery/Crime Drama Returning with Three New Stories