With the long weekend over and many folks wishing it weren't, there is consolation, at least for Brit TV fans: the US premiere of both seasons of The Frankenstein Chronicles.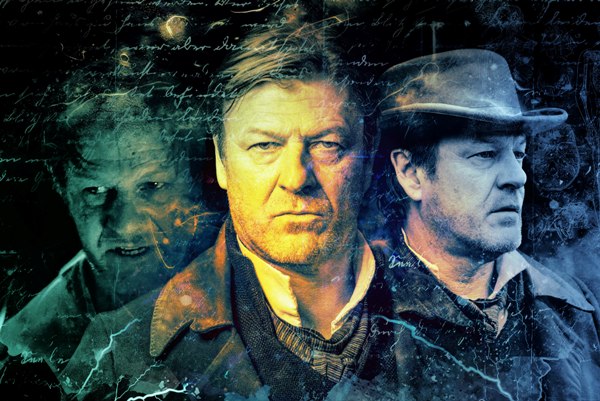 You might recall that A&E had announced back in October 2015 that the US cable channel had picked up The Frankenstein Chronicles, one of my favorite UK TV premieres of that year.
Then there was nothing. Until December 2017, when Netflix announced that the streaming behemoth would bring the supernatural period mystery-crime drama series, a re-imagining of Mary Shelley's Gothic horror novel Frankenstein, to subscribers in the US and others of its territories outside of Britain.
Well, both seasons arrived stateside today.
The Frankenstein Chronicles stars Sean Bean (Sean Bean! Broken, Game of Thrones, The Lord of the Rings, Sharpe) as Inspector John Marlott, a former soldier-turned-river policeman in early 19th-century London. Haunted by his past, Marlott has no idea (yet) of the evil that will make his life a living hell.
Season 1 opens in 1827 with the discovery of a dead child's body at the edge of the River Thames. Following the medical examination, Marlott learns that the corpse was not of one victim but an amalgam of body parts from eight children. Outraged by the finding and concerned about its impact on the Anatomy Act being debated in Parliament, Home Secretary Sir Robert Peel (Tom Ward, Death Comes to Pemberley, Silent Witness) pulls Marlott off a missing persons case to investigate and find the madman who created the monstrosity.
Young copper Joseph Nightingale (Richie Campbell, Death in Paradise, Liar) assists Marlott, and the pair meet some of the lowliest of London's lows, such as pimp and all-around nasty criminal Billy Oates (Robbie Gee, Guilt, Snatch), and uncover seriously sinister and macabre goings-on involving body snatchers, grave diggers, and even Mary Shelley (Anna Maxwell Martin, Midwinter of the Spirit) herself.
But their partnership takes a turn in an instant, leaving Marlott alone in his fight for the truth. It does not end well.
The second season, set in 1830, finds Marlott a changed man in more ways than one. Having been locked away at Bethlem Hospital, he manages to escape and begins his quest to get revenge on the man who turned his life into a waking nightmare.
However, a series of murders of local clergymen forces the police to step up their search for Marlott, who's now calling himself Jack Martins and working as a body collector of plague victims. He gets much-needed help from widowed seamstress Esther Rose (Maeve Dermody, And Then There Were None) and unwittingly endangers her life in the process. Meanwhile, there is another man in their midst who is connected to Marlott's nemesis…
Produced by Rainmark Films (The Same Sky), the series features Ed Stoppard (Home Fires), Vanessa Kirby (The Crown), Ryan Sampson (Plebs), Laurence Fox (Inspector Lewis), Paul Kennedy (The Fall), Charlie Creed-Miles (Injustice), and Samuel West (Mr. Selfridge).
The Frankenstein Chronicles: Season 1 and Season 2, a Netflix Original series, premiered in the US today, February 20, exclusively on Netflix.
__________________

Add your comments on our Facebook and Twitter pages.
Share this post/page.

The Frankenstein Chronicles Arrives in the US