Production has started on Series 2 of Unforgotten, the dark, intense, multi-stranded ITV mystery series starring Nicola Walker and Sanjeev Bhaskar.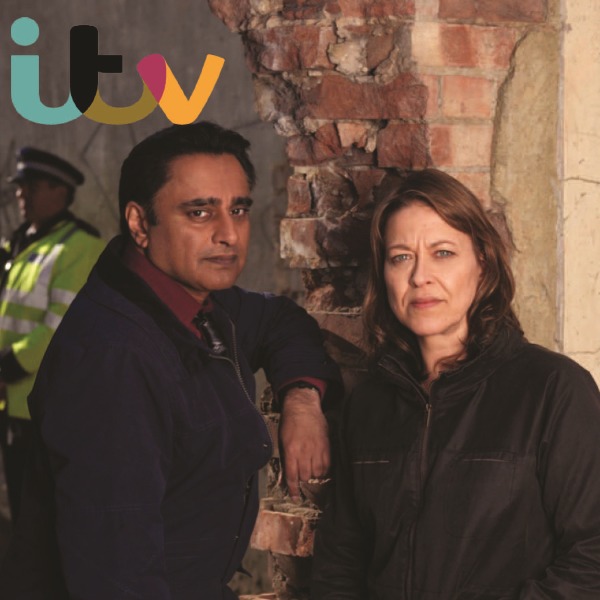 One of my favorite UK TV premieres of 2015 — mystery-crime drama Unforgotten — is returning to telly with a second series, and production started this month.
Once again leading the cast are Nicola Walker (River, Last Tango in Halifax, MI-5) as DCI Cassie Stuart and Sanjeev Bhaskar (The Indian Doctor, Goodness Gracious Me, The Kumars at No. 42) as DS Sunil "Sunny" Khan.
Series 1 centered on the impact of Cassie and Sunny's investigation into a 39-year-old cold case, and Series 2 will feature a new story that also explores the fallout from their investigation into an historic murder case.
It begins with the discovery of the perfectly-preserved remains of a middle-aged man, found in a sealed suitcase in the silt of the River Lea in northeast London. As Cassie and Sunny begin the complicated task of trying to identify the victim, story threads introduce us to four unconnected people with a link of one sort or another to the victim. They include Brighton-based lawyer Colin Osborne, pediatric nurse Marion Kelly, school teacher Sara Hamoud, and DI Tessa Nixon, a respected police officer who's just months away from retirement.
As it turns out, Tessa is the widow of the victim, identified as David Walker. He disappeared in 1990, leaving behind Tessa, since remarried, and her now 30-something son. And as the detectives continue their investigation, clues lead them across England — to the Cotswolds, East London, Salisbury, and the South Downs.
The second series of Unforgotten will continue to explore some of the themes of the first, but the primary theme will be the relationship UK society has with evil. It will pose questions about when exactly does society begin to define a good person as a bad one, and at what point in life does a damaged child stop being exempted for their crimes and allow us to simply label them as evil.
Reprising their roles for Series 2 are Peter Egan (Downton Abbey, Death at a Funeral) as Cassie's dad Martin and Jassa Ahluwalia (Peaky Blinders, Some Girls) as her son Adam.
Featuring in the new six-part series are Mark Bonnar (Shetland, Catastrophe) Rosie Cavaliero (Prey, The Enfield Haunting), Lorraine Ashbourne (Jericho, The Interceptor), Badria Timimi (EastEnders, DCI Banks), Charlie Condou (You, Me and the Apocalypse, Coronation Street), Holly Aird (Page Eight, Identity), Nigel Lindsay (The Tunnel, The Fear), Wendy Craig (The Royal, The Forsyte Saga), Bryony Hannah (Call the Midwife, Dead Boss), and newcomer Will Brown (Call the Midwife, Doctor Who).
Unforgotten is created, written, and executive produced by Chris Lang, and reunites the crew, including director Andy Wilson (Ripper Street, Endeavour), producer Tim Bradley (Death in Paradise, Primeval), and executive producers Sally Haynes (HIM, Bleak House) and Laura Mackie (HIM, Cutting It) of Mainstreet Pictures.
BBC Worldwide has sold Series 1 of Unforgotten to 126 territories, where the program has delivered solid ratings and outperformed time slot averages. There's been no word as of yet regarding the series screening in the US, so stay tuned.
__________________

Add your comments on our Facebook and Twitter pages.

Share this post/page.

Unforgotten: Nicola Walker, Sanjeev Bhaskar Return for Hit Brit Mystery