British drama River, and actors Mark Rylance and Sharon Horgan, were winners of the prestigious Golden Nymph Awards at the 56th Monte-Carlo Television Festival.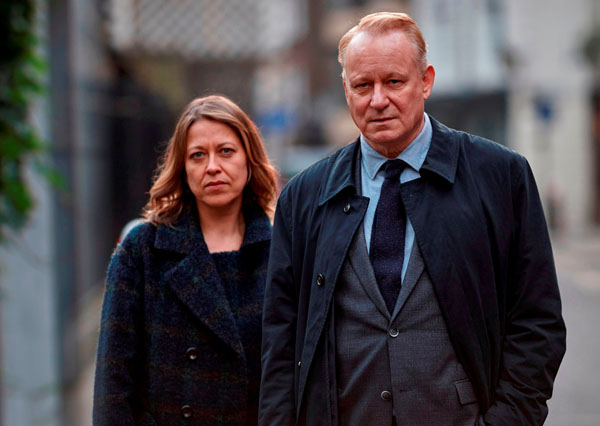 On the international festival and awards circuit, the Golden Nymph statuette is one of the most coveted in the television industry. Shows selected for the competition hail from across the globe, and this year British series claimed an award in all three fiction categories.
Drama TV Series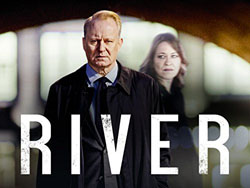 River, the mystery-crime drama created and written by Abi Morgan and produced by Kudos, won the Golden Nymph Laureate award for Best Drama TV Series.
Starring Stellan Skarsgård and Nicola Walker, he as a detective with a psychological disorder that has him communicating with certain dead people and she as his walking-and-talking-dead former partner, this utterly brilliant whodunit was my pick for the best UK series of 2015. (It also has the distinction of being the only program I have binge-watched no fewer than eight times in less than a year.)
River bested Code Black (US), Deutschland 83 (Germany), The Man in the High Castle (US), Poldark (UK), and Trapped (Iceland) for the Golden Nymph honor.
The other winners in the Drama TV Series category were Marcia Gay Harden, who won the Outstanding Actress award for her work on the US series Code Black, and Jonas Nay, who won the Outstanding Actor award for his work on the German series Deutschland 83.
Where to stream River: US: Netflix | UK: Amazon Video
Comedy TV Series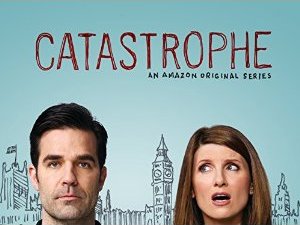 Sharon Horgan won the Outstanding Actress award in this category for her role in the hilarious, tell-it-like-it-is comedy series Catastrophe. In it she plays an Irish woman who meets, gets pregnant by, dates, and ultimately marries her American baby daddy (Rob Delaney), with whom she initially had a six-night sex romp in London.
Program nominees included Ash vs Evil Dead (US & NZ), Catastrophe (UK), Cradle to Grave (UK), Maniac (Norway), Plan B (Israel), and Better Call Saul (US), which won the Golden Nymph Laureate award.
Where to stream Catastrophe: US: Amazon Video | UK: Amazon Video, My4
Long Fiction Program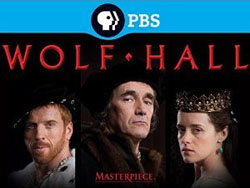 The incomparable Mark Rylance won the Outstanding Actor award in this category for his portrayal of Thomas Cromwell in Wolf Hall, the miniseries adapted from the first two "Wolf Hall" historical novels by Hilary Mantel. The drama centers on Cromwell's meteoric rise in the Tudor court, from blacksmith's son to King Henry VIII's (Damian Lewis) closest advisor.
Germany's Tannbach – Schicksal Eines Dorfes, Teil 1: Der Morgen Nach Dem Krieg (Tannbach – Line Of Separation, Part 1: The Morning After the War) won the Golden Nymph Laureate award for Long Fiction Program, whose nominees included France's L'Emprise (Woman Under Influence), Italy's Max & Helene, Germany's Nackt Unter Wölfen (Naked Among Wolves), Australia's Peter Allen: Not the Boy Next Door, and the UK's Wolf Hall.
Where to stream Wolf Hall: US: Amazon Video, PBS Passport | UK: Amazon Video
For the complete list of Golden Nymph winners, visit the Monte-Carlo Television Festival website.
__________________

Add your comments on our Facebook and Twitter pages.

Share this post/page.

River, Mark Rylance, Sharon Horgan Win at 56th Monte-Carlo TV Festival