Hold on to your hats (and crosswords), because Shaun Evans is back as Endeavour Morse in the hit mystery drama, Endeavour, which returns to telly with its third series.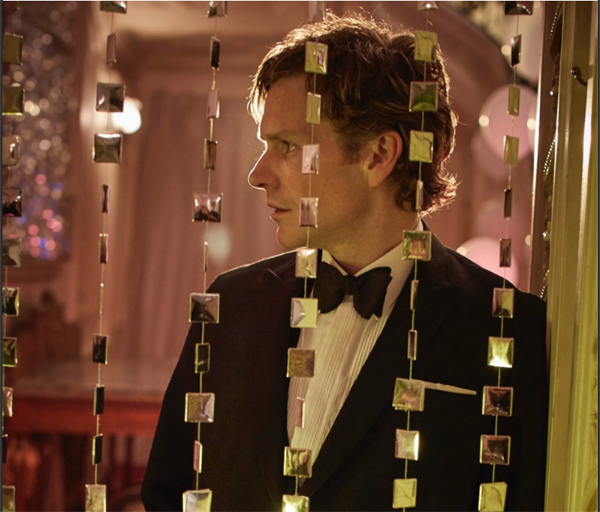 The big question is, what happened after that shocking cliffhanger in the Series 2 finale?!?
(Spoilers ahead, if you haven't seen it yet.)
When last we saw him, Endeavour Morse (Shaun Evans) had unearthed corruption within the police force, was framed for the murder of Chief Constable Rupert Standish, and sat languishing alone in a prison cell. Morse's boss, DI Fred Thursday (Roger Allam), was ambushed at Blenheim Vale, shot in the line of duty, and taken away in an ambulance with a bullet in his chest.
Since viewers first got to know Endeavour Morse as his older self in the classic Inspector Morse series (whose 25th anniversary was the inspiration for what was initially intended as a one-off Endeavour film to mark the occasion), we can safely assume that he gets out of jail and returns to duty at some point. But what state is he in, and what is his life like, directly after the events of Series 2's conclusion?
Said Shaun Evans:
"His life is on a different tangent. He's been released from prison but is suspended pending inquiry. He's moved out of his flat, he's split up with his old girlfriend and his time is his own, he's seeing what life could be like. Endeavour is reluctant to go back to the police force and he's looking for a new direction. He falls in with some very wealthy people who present him with new opportunities, and he thinks 'maybe this could be my new career, my new thing. these people could be my new friends.' But as fate would have it, as he's driving to a party, he comes across a murder scene and is slowly drawn back in. But he fights it tooth and nail until the end."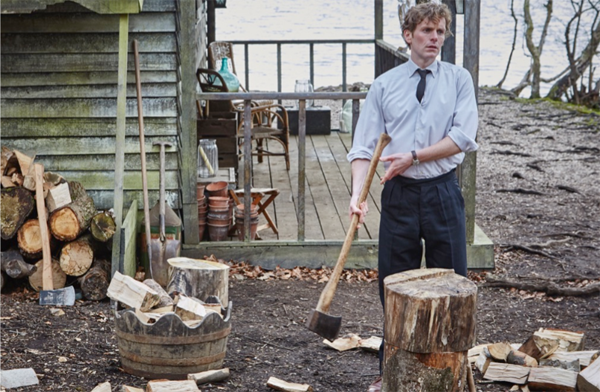 Right, then. That's settled. But what of DI Thursday? Does he survive? If yes, does he go back to work or does he retire, which he had been contemplating in the Series 2 finale, before his life became one that was hanging in the balance.
According to Roger Allam:
"Thursday is returning. At the start of Series III he goes back to work a bit too early. He has a fragment of bullet rattling around in his lung, which makes him cough a lot, but he insists on going back to work… He has moments of explosive violence, possibly as a result of the bullet in the lung, and also as a kind of flashback to his time fighting in the war. Exposing the corruption within the force in Series II hasn't changed how he feels about policing and what he feels policing should be. He's always been aware and suspicious of corruption within the force, as it's been around in the background since the pilot, if anything it's made Thursday more determined to continue on the job."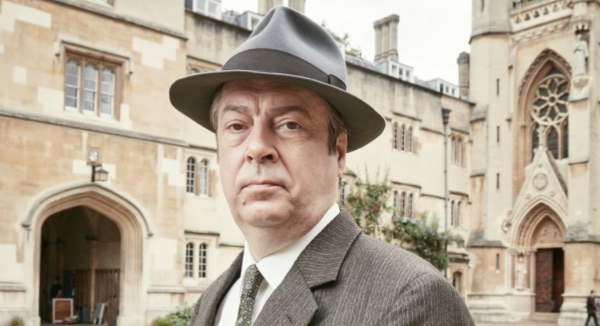 So, hurrah! One of our absolute favorite detective duos is returning intact. (A bit worse for wear, but still.)
Series 3 consists of four new feature-length films written by Russell Lewis, who created both Endeavour and Inspector Lewis and wrote for Inspector Morse. Author Colin Dexter, whose "Morse" novels have been thrilling readers since 1975, continues his association with Endeavour as a consultant to series producers Mammoth Screen.
Reprising their Endeavour roles are Jack Laskey as DS Peter Jakes, Sean Rigby as PC Jim Strange, Anton Lesser as Chief Superintendent Reginald Bright, James Bradshaw as Dr Max DeBryn, and Abigail Thaw as journalist Dorothea Frazil. Dakota Blue Richards (Skins, The Golden Compass) joins the regular cast as WPC Shirley Trewlove in the second film.
"RIDE"
March 1967. The Oxford City Police investigate the killing of young bus conductress Jeannie Hearne, whose dead body is found brutalized and abandoned in the thickets of the Oxfordshire countryside. DC Endeavour Morse isn't on the case, though, as he's been suspended from duty, pending the outcome of the internal police inquiry. Despite his anger about the findings of the Blenheim Vale case, Endeavour conducts his own covert investigation into the murder.
Guest stars include David Oakes (The White Queen), Jemima West (Indian Summers), Ben Mansfield (Primeval), Samuel Barnett (The History Boys), and Vincent Riotta (Zen).
"ARCADIA"
April 1967. As spring blooms, the Oxford City Police are baffled about what caused the horrendous house fire that resulted in the death of artist Simon Hallward. Endeavour's investigation leads him to Richardson's, an inner-city supermarket owned by the wealthy Richardson family. Then a young housewife dies, seemingly from the same mysterious tummy bug that has put half of Chief Superintendent Bright's team on sick leave.
Guest stars include Richard Dillane (Wolf Hall), Genevieve O'Reilly (The Honourable Woman), and Chris Larkin (Yes, Prime Minister).
"PREY"
Early June 1967. After Dutch au pair Ingrid Hjort disappears, the missing persons case pulls Endeavour into the worlds of night school, scientific academia, Oxford's city parks, and the Oxfordshire countryside, and leads him to the Mortmaigne family and their Crevecouer estate. And after a suspected link between Ingrid's disappearance and a similar cold case from some years ago is discovered, unconventional investigation methods threaten to cross the boundaries of police professionalism.
Guest stars include John Draycott (Midsomer Murders), Peter Forbes (Berkeley Square), Sam Coulson (Babylon), and Milo Twomey (Doctors).
"CODA"
Mid June 1967. Sparks ignite between Endeavour and the young wife of an old college mentor, after the latter recruits the detective into monitoring his spouse's movements. Meanwhile, a middle manager with a fashion line is murdered, and the heads of a notorious Oxford crime family are suspected of playing a role in the gruesome killing.
Guest stars include Mark Heap (Lark Rise to Candleford), Samantha Colley (The Crucible), Harry McEntire (The Last Kingdom), Tom McKay (The White Queen), and Tom Mothersdale (Peaky Blinders).
Commissioned by ITV's Director of Drama Steve November and Controller of Drama Victoria Fea, the third series of Endeavour is executive produced by Russell Lewis and Mammoth Screen's Damien Timmer and Dan McCulloch, and produced by Tom Mullens (Black Work).
Endeavour: Series 3 premieres Sunday, 3 January 2016, at 8 PM BST, on ITV.
PBS has not announced yet the 2016 schedule for Masterpiece Mystery!, so stay tuned for details about if/when the new series of Endeavour will screen in the US.
__________________
Add your comments on our Facebook, Google+, and Twitter pages.
Share this post/page.

Endeavour: Morse's Story Continues with Shaun Evans in Series 3 of Hit Brit Mystery