When Doctor Who returns to our screens with its ninth series in September, there will be another guest star amongst the sci-fi hit's cast: Reece Shearsmith.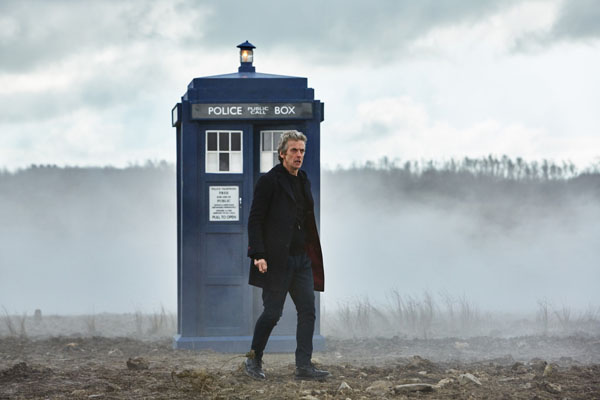 Actor, comedian, and British Comedy Awards-winning writer Reece Shearsmith (Inside No. 9, Chasing Shadows, The Widower) will appear as a guest star in a special episode of Doctor Who: Series 9, joining series stars Peter Capaldi as the Doctor and Jenna Coleman as companion Clara Oswald.
This won't be Shearsmith's first Doctor Who-related role. You might recall that he played the second Doctor, Patrick Troughton, in An Adventure In Space and Time, the docu-drama about the beginnings of Doctor Who.
Now he returns to Cardiff for a part in an adventure written by Mark Gatiss (Sherlock), directed by Justin Molotnikov (Atlantis), and produced by Nikki Wilson (The Sarah Jane Adventures).
About being cast for the show, Shearsmith said, "I am absolutely thrilled to be filming Doctor Who, as Mark Gatiss has written a fantastic role for me in a very scary episode. It has been so exciting to be part of a very singular episode – which, I can say with authority will be unlike any previous episode of Doctor Who. It's a joy to play a part in the show – certainly a badge of honour."
Mark Gatiss added, "I'm delighted to be writing again for Peter and Jenna's brilliant TARDIS team and very excited about this particular story. It's been brewing in the dark recesses of my mind for a while now! I'm also chuffed to bits to finally welcome my old friend Reece Shearsmith onto the show. He's been badgering me for ten years!"
Joining Shearsmith in the episode are are Elaine Tan (EastEnders), Neet Mohan (All In Good Time), Bethany Black (Cucumber), and Paul Courtenay Hyu (Dalziel And Pascoe).
Other guest stars for Series 9 that have already been announced include Michelle Gomez (The Book Group), who returns as Missy, Maisie Williams (Game of Thrones), Rufus Hound (Hounded), Ingrid Oliver (The Fixer), who returns as Osgood, and Rebecca Front (Inspector Lewis).
Doctor Who: Series 9 premieres Saturday, 19 September 2015, on BBC One in the UK and BBC America in the US.
__________________
Add your comments on our Facebook, Google+, and Twitter pages.
Share this post/page.

Doctor Who: Reece Shearsmith Joins Maisie Williams, Michelle Gomez as Guest Star