Add another Brit crime drama to your list of gotta-watch shows. Specifically, The Fixer, which makes its stateside debut on public television stations next month.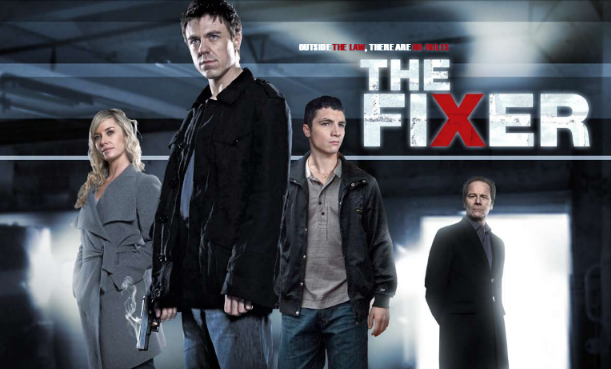 Created and written by Neil Cross (Doctor Who, Luther, MI-5) and Ben Richards (Fortitude, MI-5, Outcasts), and produced by Kudos (Ashes to Ashes, Broadchurch, Death in Paradise, Life on Mars, MI-5), The Fixer,
the 2008 Royal Television Society award winner for Best Drama Series, deals with crime drama like no police procedural does.
The fixer is John Mercer, played by Andrew Buchan (Broadchurch, Garrow's Law, The Honourable Woman). Mercer, a former Special Forces operative, turned cold-blooded killer upon learning that his sister, Jess (Liz White, From There to Here, Life on Mars), had been abused for years. For the murders of two family members, he was sent to prison for life.
But five years into his sentence, Mercer is released, thanks (or no thanks) to Lenny Douglas (Peter Mullen, The Fear, Red Riding, Top of the Lake), a shadowy figure who, officially, is retired from the police "on grounds of ill health." Unofficially, he's a "deniable operative" whose job is to "bring order where the law has failed" and ensure that criminals who've escaped the long arm of the law are dispatched. Permanently.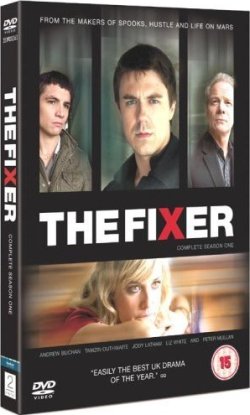 Mercer's job is to do the dispatching. One job, and he's free. In the meantime, he must share a South London flat with former cell mate Calum McKenzie (Jody Latham, Shameless, The Silence, Waterloo Road), an irrepressible bundle of "deviant energy" (and hormones) and another of Lenny's lackeys. Calum's skill: breaking and entering.
For John, assassinating a criminal who'd ordered the hit on a senior police officer is one thing, but living with Calum is another. As he says to Calum later in the series, "Sitting next to you, I can just feel myself getting stupid." Right, then.
With the cop killer taken care of, Mercer is ready for real freedom. But that bit about one job and he's free? Not gonna happen. So he goes on the lam from Lenny. Enter Rose Chamberlain (Tamzin Outhwaite, Hotel Babylon, New Tricks, Red Cap). Unbeknownst to John, Rose and her feminine wiles are a honey trap. She works for Lenny, too. Just when John thinks he's out…
Mercer's next job is to protect a racist gangland boss and police mole acquitted of murdering a young black man related to criminal Elviss Gilroy (Robbie Gee, Above Suspicion). But the plan gets botched, and Mercer must protect Calum while Rose makes nice with Elviss to get the lowdown on his dealings with Carl Cassidy (Steve Nicolson, Whitechapel), a crime lord that Lenny wants to take over the family drug business if the former does as his nephew did.
After Lenny learns that Albanian gangster Tarek Sokoli (Predrag Bjelac, Borgia) is in the UK, he opts not to send the mobster to an early grave, but to kill his reputation instead. Lenny's plan ultimately backfires, blood is shed, and one of the team is abducted.
Although Scott Glover (Ciaran McMenamin, Primeval) was just acquitted of murdering a young woman, much to the chagrin of the victim's mother (Saskia Reeves, Wolf Hall), he is Mercer's next target. But the hired assassin suspects there's more to this hit than Lenny is letting on, and he also becomes in danger of being exposed by journalist Danny Spader (Barnaby Kay, New Tricks).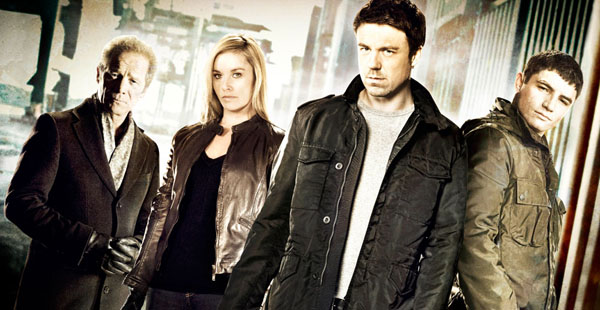 Lenny has no choice but to put Patrick Finch (Paterson Joseph, Law & Order: UK), a vigilante meting out his own brand of justice, on the hit list after his attempt to bring Finch in line fails. Thing is, Lenny's associate Hugh Berry (Jack Shepherd, Wycliffe) tries to hire Finch for a hit of his own, Finch wants Lenny dead for ruining his life, and Mercer is unaware of a small detail that Lenny left unsaid: Finch is his predecessor.
And in the Season 1 finale, the big question for Mercer is: Whom will he kill? Lenny orders him to take out Richard Blakeney (John Castle, A Dinner of Herbs), who leads a network of bent coppers and corrupt judges. Likewise, Blakeney hires John to off Lenny, and also fills the hired gun in on a secret about Lenny. With each of his targets in sight, Mercer pulls the trigger…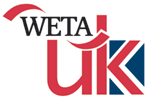 Thrilling, poignant, humorous, and relentless in its asking of whether operating outside the usual parameters of the law — under the pretext of protecting it — can ever be justified, The Fixer
is one to watch when it premieres on local public TV stations starting 1 May 2015. Check your local listings or contact the station that serves your area for broadcast dates and times.
In the DC/MD/VA viewing area, the series debuts Friday, 22 May 2015, at 6 PM ET on WETA UK.
__________________
Add your comments on our Facebook, Google+, and Twitter pages.
The Fixer: Andrew Buchan Crime Drama Premieres on Public TV Stations