Hmm, might there be three "men behaving badly" in Grantchester: Series 2, now that Neil Morrissey is joining James Norton and Robson Green on the hit show? And which public TV stations are adding the third series of Miss Fisher to their schedules? Read on to find out.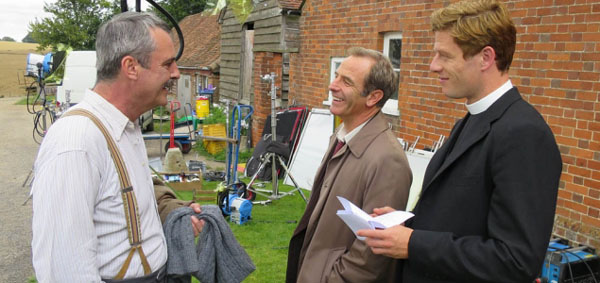 Grantchester: Series 2
What the dickens! Neil Morrissey (Men Behaving Badly, Line of Duty) is joining the cast of Grantchester for the second series of the hit Brit mystery drama.
Based on "The Grantchester Mysteries" by James Runcie, Grantchester follows the unlikely crime-fighting duo of the charismatic, charming clergyman Sidney Chambers (James Norton) and the gruff, down-to-earth Police Inspector Geordie Keating (Robson Green) in 1950s Grantchester, Cambridgeshire, England.
Morrissey will play Harding Redmond, a Grantchester resident grieving the loss of his teenage daughter Abigail (Grace Holley) after she is found dead in suspicious circumstances. Heartbroken and desperate to get to the bottom of what happened, Harding accuses Sidney of having an inappropriate relationship with her. Sidney is determined to prove his innocence, but Harding's accusations could change the way the villagers feel about him.
Of his new role, Morrissey said, "I'm really excited to be joining the cast of Grantchester. It's great to work with James Norton, Robson Green and the rest of the cast, and I can't wait to film in the actual village of Grantchester, which I know is beautiful. I'm also happy to be sporting a funky fifties moustache, my first foray into top lip decoration since I started acting."
Other actors who will appear in the new series include Claudie Blakley (Lark Rise to Candleford), Nigel Planer (Episodes), Andrew Knott (The Driver), Nicky Henson (Downton Abbey), and Oliver Dimsdale (He Knew He Was Right).
Regular cast members Tessa Peake-Jones (Only Fools and Horses), Morven Christie (From There To Here), Kacey Ainsworth (EastEnders), and Al Weaver (Southcliffe) are all returning to the series.
The second series of Grantchester, a Lovely Day and MASTERPIECE co-production, is currently in production in London, Cambridge, and Grantchester, and will premiere in the UK on ITV and in the US on PBS in 2016.
Miss Fisher's Murder Mysteries: Series 3

A few more public TV stations have joined the roster of those that will be airing the third series of the hit Aussie series Miss Fisher's Murder Mysteries when it arrives in the US later this month.
But before then, as in tonight, stations begin premiering the behind-the-scenes special Miss Fisher Uncovered. (Check your local listings.)
Click here for details about both programs and the full list of stations (as of this writing). As more stations pick up Miss Fisher, I'll update the list. In the meantime, if the public TV station that serves your area isn't on the list, contact them to let them you want the show.
__________________
Add your comments on our Facebook, Google+, and Twitter pages.
Share this post/page.

News Bits: Neil Morrissey Joins Grantchester, More Stations for Miss Fisher